IOC chief slams WADA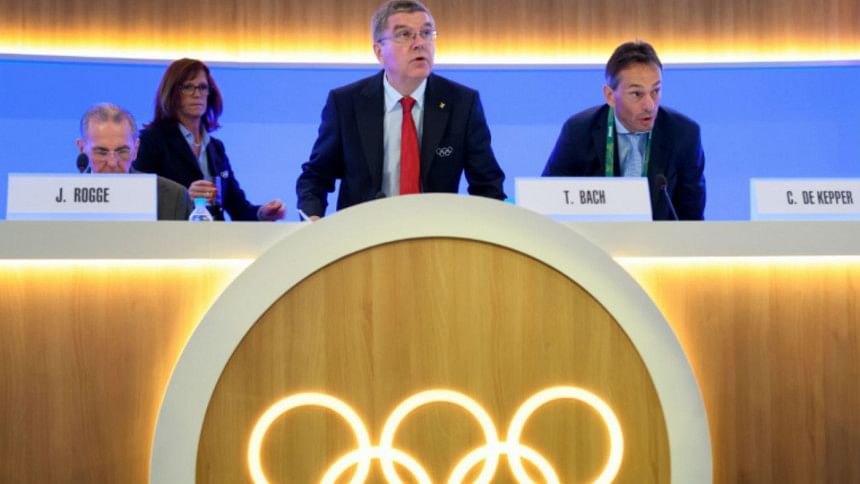 International Olympic Committee chief Thomas Bach on Tuesday demanded a sweeping overhaul of the World Anti-Doping Agency (WADA) on Tuesday as Russian appeals against bans mounted just three days from the opening of the Rio Games.
Bach rejected the "nuclear option" of ordering a complete ban on Russian athletes over accusations of widespread state-organised doping. Two swimmers could be told on Tuesday whether their demand to be allowed to compete has been successful.
In a strongly-worded speech to the IOC, Bach called for WADA to be subjected to a thorough review, laying bare a growing rift between Olympic chiefs and the body responsible for leading the global fight against doping.
"Recent developments have shown that we need a full review of the WADA anti-doping system," Bach said.
"The IOC is calling for a more robust and efficient anti-doping system. This requires clear responsibilities, more transparency, more independence and better worldwide harmonisation."
A bombshell report by Canadian lawyer Richard McLaren for WADA released last month accused Russia of organising state-backed doping with the sports ministry using secret services to evade drug testers and cover-up positive tests stretching back years.
No 'nuclear option'
Bach and the IOC came under fire after resisting calls to ban Russia completely from Rio. The IOC ordered individul federations to decide which Russians should be banned.
At least 117 competitors on a 387 Russian Olympic Committee entry list have been excluded.
Bach said the "nuclear option" of a blanket ban was unacceptable.
"The result is death and devastation. This is not what the Olympic movement stands for," Bach told delegates who voted overwhelming.
Members voted overwhelmingly in favor of a resolution backing the IOC's decision not to impose a blanket ban on Russia's athletes.
Several delegates blasted WADA.
Argentine IOC member Gerardo Werthein accused WADA of "grand-standing."
"At times WADA has seemed to be more interested in publicity and self-promotion rather than doing its job as a regulator, acting with transparency, and looking after the best interest of clean athletes," Werthein told the meeting.
Israeli member Alex Gilady meanwhile added: "I think it is not the reputation of the IOC which must be restored, but the reputation of WADA."
WADA president Craig Reedie, who had called for a blanket ban on Russia, is to address the meeting on Wednesday.
Russia's representative, Alexander Zhukov, suggested foreign governments had put pressure on the IOC to ban Russia.
"We are witnessing direct interference of politics in sport; an attempt to influence decision making process for political means. The integrity of the Olympic family is all under attack," Zhukov said.
Legal imbroglio
The feud between the IOC and WADA came as the legal imbroglio triggered by the Russian scandal continued to dog the build-up to the games.
The Court of Arbitration for Sport was expected to issue a ruling later Tuesday over whether Russian swimmers Vladimir Morozov and Nikita Lobintsev would be able to compete.
Representatives for Morozov and Lobintsev told Russian news agencies that both had been informed they would be allowed to swim in Rio.
"I can confirm that Lobintsev and Morozov are being allowed to compete in the Games," Lobintsev's agent, Andrei Mitkov, told the Interfax news agency.
In a separate drugs controversy, British cyclist Lizzie Armitstead has been cleared to race in the Olympics after winning an appeal against an anti-doping rule violation.
Armitstead faced a four-year ban after UK Anti-Doping found she had missed three tests in a 12-month period.
But CAS ruled the procedures surrounding her first whereabouts failure in 2015 had not been followed correctly.
Armitstead is seen as one of the favourites to win gold in Sunday's cycling race and is the reigning world champion.
"I have always been and will always be a clean athlete and have been vocal in my anti-doping stance throughout my career," she said in a statement.