Medvedev happy at end to Wimbledon's Russia ban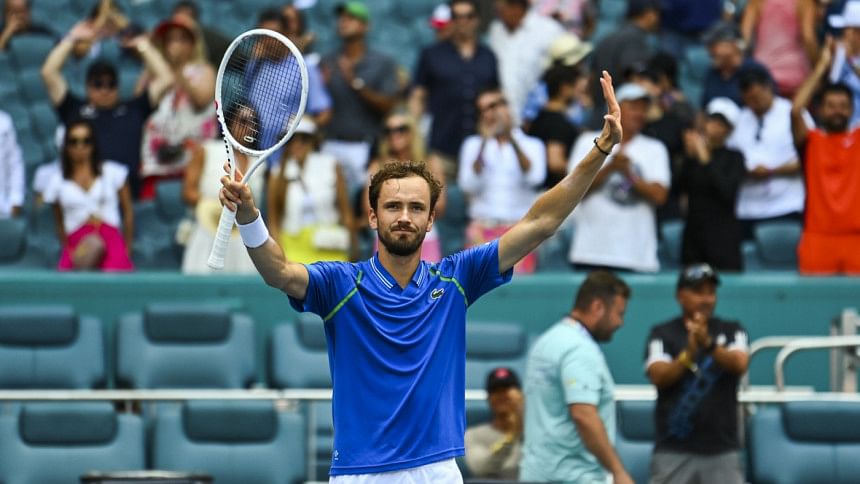 World number five Daniil Medvedev welcomed Wimbledon's decision on Friday to allow Russian and Belarusian players to compete in this year's tournament.
Medvedev reached his fifth straight ATP final with a three-set victory over fellow Russian Karen Khachanov in the semi-finals of the Miami Open, just hours after the decision from the All England Club.
"I'm happy to know about this. I always said that if I can play Wimbledon, I will be really happy to be there," Medvedev said.
"That's a tournament I love. That's the only slam where I haven't been in quarters yet. And I cannot say I hate grass at least. I kind of like it. So I really want to do well there. It's a beautiful tournament. And I'm happy that I have the chance to play this year," he added.
Wimbledon last year banned players from Russia and Moscow-allied Belarus after the invasion of Ukraine and the LTA also barred players from other events.
Elsewhere, players have been able to compete on their tours as neutrals, including at the other Grand Slams.
Competitors from the two countries will be able to enter the Grand Slam in July if they compete as "neutral" athletes and comply with certain conditions.
Players will be prohibited from expressing support for Russia's invasion of Ukraine and those who receive funding from the Russian or Belarusian states, including sponsorship from state-operated or state-controlled companies, will remain barred.
Medvedev said that would not be a problem for him.
"No, not at all, I don't have any Russian sponsors, and I'm gonna play there like we played all the last year, every other tournament to be honest, and again I'm gonna be happy to be there," he said.
"I don't know what the crowd reaction is gonna be, I can't control it, but I will be happy to play there in front of all the people, hopefully on big courts, and hopefully have some big amazing matches," he added.
Khachanov was also pleased at the news, despite not being aware of it until his post-match news conference.
"All the Russian and Russian players said before that we really would like to play there and I played quarterfinals and I'm in the last eight club. It's a really, really great and special event in tennis history so that's why I'm really happy....that we'll be able to play this year," he said.
Khachanov said that those conditions were not an obstacle for him as they were similar to how they compete on the ATP and WTA tours.
"I guess we just follow the rules I think we this is what we are doing now right? There's neutrality, there's no flag since last year, end of February, so basically we just keep doing the same like all other tournaments. I think it's nothing different," he said.
"I don't have sponsorships now in Russia so it is what it is," he added.