Revenge for India or glory for Pakistan?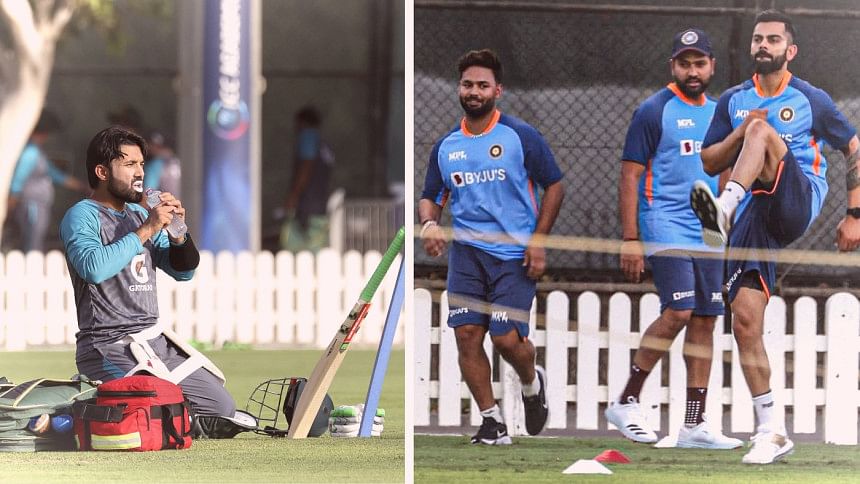 The India-Pakistan cricket rivalry is once again back in the spotlight, as the two arch-rivals are set to lock horns in a much-awaited clash at the Asia Cup 2022 on Sunday in Dubai.
Thanks to the political dispute between the two neighbouring countries, the India-Pakistan clash has turned into one of the most intense sports rivalries in the world, and whenever the two sides meet on the big stage, there is a different level of emotions and hype.
Not many from the frontline will concede it publicly but India will be keen to avenge their 2021 T20 World Cup thumping at the hands of Pakistan.
As Rohit Sharma and Babar Azam walk out for the toss in the second match of Asia Cup 2022 at the Dubai International Stadium, the memories of the last encounter between the two sides in last year's T20 World Cup at the same venue will be fresh in the minds of both players and fans.
India have a favourable head to head record against Pakistan in T20Is, having won four of the last five matches. However, when it mattered the most, in the first match for both teams in the last showpiece event, India faltered as Pakistan registered a sensational 10-wicket win in which they hardly put a foot wrong.
The India-Pakistan rivalry has generally been more intense in the hearts and minds of supporters than the players. Battles have been fought on social media by fans who believe that a win on a cricket field is conclusive proof that one political system or one religion or one nation is superior to the other.
Over the years, there have been two separate games whenever the India and Pakistan teams have met. The one on the field is a competition between two talented sets of players trying their utmost to win, bringing into the frame professional pride. Off it, the game is symbolic of something else; war minus the shooting, to use George Orwell's memorable phrase.
But that's among fans. Players show more sense. The Pakistan Cricket Board released videos from the venue of players from the two countries greeting each other with warmth and inquiring after one another's families. For them it's business as usual.
One much anticipated aspect of tonight's game is Virat Kohli's form. Indian fans have been praying for a major contribution from Kohli, who bats at 3, in the team's win. This will be his 100th T20 international, making him only the second player (after New Zealand's Ross Taylor) to play 100 matches in each of cricket's three formats.
India will again depend heavily on Rohit Sharma giving them a good start. His opening partner, KL Rahul, is undercooked after a long break since the IPL due to injury and Covid.
Suryakumar Yadav has dazzled and disappointed in equal measure in the middle order and it's anybody's guess which version turns up against Pakistan. Wicketkeeper-batter Rishabh Pant and all-rounders Hardik Pandya and Ravindra Jadeja will be the likely lower middle order. That's exactly the same lineup that India had at the T20 World Cup against Pakistan.
Meanwhile, the man who blew away the Indian openers in their last meeting, the six-foot-six-inch left-armer Shaheen Shah Afridi, is out with a knee injury this time.
A right-arm pacer with a dodgy action, Mohammad Hasnain, replaces Afridi as an option to share the new ball with the pacy Haris Rauf.
In batting, for Pakistan, the onus once again will be on openers Mohammad Rizwan and Babar Azam, and to some extent on Fakhar Zaman who will bat at one drop. If the Indian bowlers are successful in picking up a couple of early wickets, Pakistan can really find themselves in trouble.
Famous quotes on India-Pakistan rivalry
India playing Pakistan involves the sentiments of millions. You become a hero if you perform well … you are portrayed as a villain if your team loses: Pakistan great Wasim Akram
Beating Pakistan is always special because they are a tough team and we have a bit of a history regarding Pakistan: India great Sachin Tendulkar
Any game against India is a pressure game because of the tensions and expectations associated with the match: Pakistan great Imran Khan
I don't want to say it's the biggest rivalry in sport, but I saw some stats which said the soccer World Cup final attracted 1.6 billion viewers and tomorrow is likely to get 1.5 billion. It doesn't get bigger than that. I am telling our players in the dressing room, 'you do something incredible; you will be remembered forever: Former Pakistan coach Mickey Arthur said ahead of 2019 World Cup game against India.
This rivalry is huge, it's very hard to put a finger and tell you how huge. It's probably bigger than the Ashes. As far as the Indians and Pakistanis go, I don't think they watch this game as a game of cricket. It's more of a border rivalry. They want to get one upon on each other. People put their emotions into the game. For the players, it's all about keeping their emotions aside and trying to play the best way we can: India spinner Ravichandran Ashwin.
To most, the clash between India and Pakistan is the only game that matters: India great Sunil Gavaskar.
INDIA v PAKISTAN TRIVIA
1. When India and Pakistan met in the maiden edition of the Asia Cup in 1984, as many as four Pakistan batters were run-out in a failed run-chase after India posted 188 in 46 overs.
2. Shoaib Malik – whose brilliant all-round performance facilitated Pakistan's win against India in 2004 Asia Cup -- could not make the cut in the Pakistan Asia Cup squad this time. The 40-year-old, who has scored most runs (168) for Pakistan against India in the format, has played the most T20Is (9) from the two camps. However, India captain Rohit Sharma is set to match Malik's tally today.
3. While Rohit Sharma approaches 9k-plus runs, boasting a 40-plus average, in Asia Cup to join the likes of Sanath Jayasuriya, Kumar Sangakkara, Sachin Tendulkar and Shoaib Malik, his record in T20Is against Pakistan remains dismal, with only 70 runs in 8 matches.
4. Virat Kohli has scored the most runs for India against Pakistan in T20Is. The maestro has hit three fifties on his way to 311 runs with an average of 78. Kohli was the highest scorer for champions India in the 2016 Asia Cup, the last and only time the tournament featured the T20 format. On the bowling front, Irfan Pathan (6) and Umar Gul (11) leads the pack from their respective sides in India-Pakistan T20Is.
5. The 2016 edition of the Asia Cup witnessed a nerve-wracking battle between Kohli and Pakistan pacer Mohammad Amir. Despite chasing a meagre 83, India were down at eight for three with Amir in sublime rhythm. However, India won by five wickets, courtesy of Kohli's 49. His consecutive fours off Amir, including a gorgeous cover drive, remain one of the highlights of the tournament.
6. In the 2010 edition, with India needing three to win off two balls off Amir in their chase of 268, the tension was at an all-time high. However, Harbhajan Singh's six over mid-wicket to seal the game made it an Asia Cup classic.
7. In 2014, with nine-down Pakistan requiring 10 off five balls, Shahid Afridi showcased the art of hitting big under immense pressure as he powered two sixes in the final over to secure victory for his side in Dhaka.