Focus on clarity of roles as Afghanistan trial beckons
Clarity of purpose is a small subject when it comes to Bangladesh cricket, but when it comes to showing that clarity, the Tigers have been found wanting in the recent past. Newly-appointed technical consultant Sridharan Sriram was appointed to change Bangladesh's T20 approach and way of thinking and even as a big match against Afghanistan in the 2022 Asia Cup loomed, Sridharan yesterday talked about the need for clarity in certain aspects.
Sharjah has not played host to any matches in this tournament so far. Thus, there is not anything to go by in terms of what the wicket will play like. In the T20 World Cup, the Tigers' management did not always make the right call in terms of team combination. For Sriram, conditions were important but clarity of roles was more important.
"I think it's about clarity of roles. One thing we made an effort to do is be clear in communicating to the squad what to expect from everyone. Once we get there, we will assess the conditions and probably take the right call," he said.
Sriram's comment seems pretty out of place, but given Bangladesh's tendency to not pace their efforts according to match scenarios, it should be an important discussion in Bangladesh cricket. The team combination will matter greatly, but once the eleven is picked, it's about execution of roles.
Yet, oftentimes there has been confusion.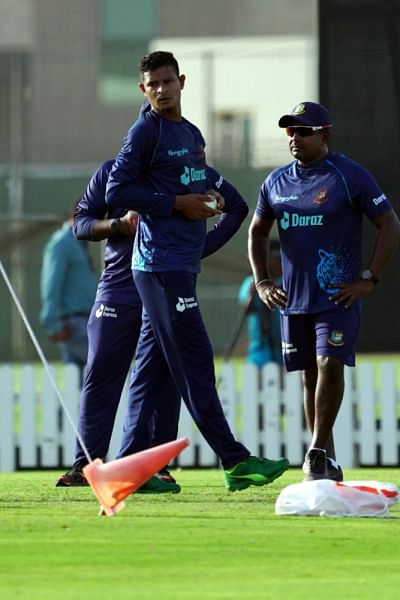 Tamim Iqbal, who had so much experience in international cricket, did not always appear to be clear about the way the team management wanted him to approach his innings.
When Mohammad Naim came into the side, he was often called out for a slow strike-rate and trying to keep his own position in the side by scoring just enough runs. He was Bangladesh's highest run-getter in T20s last year but ended up losing his place due to poor form and an unsure approach in terms of going for his shots.
After now finding his way back into the side, what do Sriram and the team management expect from Naim? While the selection in itself lacks clarity, Sriram felt that there was clear communication from their side about what they wanted.
"Naim is a very natural striker of the ball. The communication has been very clear with him regarding what we expect of him. I am sure he is going to go out there and play his natural game, which is to hit the ball. We're not worried too much about the numbers or anything, we just want to play according to the situation. Assess the conditions as quickly as possible, communicate with the partner and play his role," Sriram said.
A sense of direction may set Naim free, but on the other hand, any real clarity of roles in the side also brings with it accountability, a trait long missing in Bangladesh cricket.
Sriram was positive about the work ethic of the seniors, but opined that everyone has to play their roles.
Asked about Mushfiqur Rahim and Mahmudullah Riyad, who had both been rested on the tour to Zimbabwe, Sriram said: "I think their work ethic has been very good. The way they set an example, even showing up for optional training, they are really keen to contribute. All we ask of them is that they work hard and play their role. Once they do that, they are good enough players to succeed."
Sriram's mantra for success does not seem indecisive, but it is now left to the players to ingrain those ideas ahead of the Tigers' clash against Afghanistan today in what should be a very difficult prospect. Whether or not they find that clarity, going into the World Cup, it should provide plenty of structure to steady the dwindling mindset of both players and management.