Asia Cup to reignite much-anticipated rivalry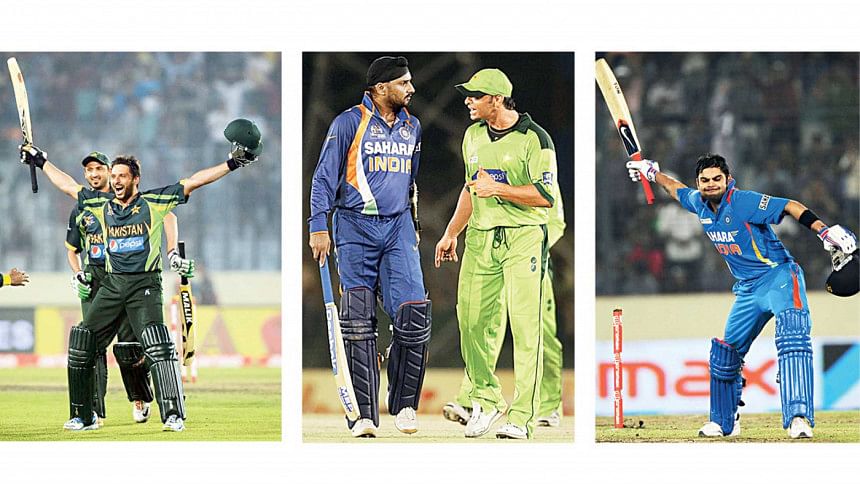 A match between traditional rivals India and Pakistan always evokes raw emotion, adrenaline and pride. The upcoming clash in the Asia Cup on August 28 is expected to be intense as India will look to avenge their loss in the T20 World Cup last year. Here we look back at some memorable India-Pakistan matches in Asia Cup history:
2018 ASIA CUP
The year marked the return of the ODI format. It saw India and Pakistan hyphenated twice but neither of the fixtures lived up to its previous reputation as India trounced their neighbourly rivals twice within a span of four days. India bettered their eight-wicket win chasing 163 in the group stage with a nine-wicket win in the Super Four match, chasing 238.
2016 ASIA CUP
This one was one of the best -- India bundling out Pakistan for 83 runs in the T20 format in Mirpur. The chase seemed like a cakewalk for them until Mohammed Amir, who marked his return to cricket in January that year and was at the centre of all the pre-match talks, gave India some real scare as he dismissed both Indian openers. Virat Kohli's 49 off 51 saved India's blushes as the side eventually won by 5 wickets with 27 balls remaining.
2014 ASIA CUP
A day after he turned 34, Shahid Afridi took the number a little too seriously. In one of the closest fixtures between the two teams in the 21st century, Afridi took India's newly famed spin duo of Ravindra Jadeja and Ravichandran Ashwin to the cleaners during his 12-ball 34 cameo, seeing off a one-wicket Pakistan win in the final over.
2012 ASIA CUP
Another match worth remembering. Pakistan put up a huge total of 329 for six but Virat Kohli smashed a fantastic 183 off 148 balls to secure a six-wicket victory for India. The takeaway for India was that Sachin Tendulkar had left (This was his last in the format) and Kohli had taken over the wheels.
2010 ASIA CUP
Most cricket fans remember this match due to the verbal spat between Harbhajan Singh and Shoaib Akhtar. Billy Doctrove had to intervene in the verbal exchange between Shoaib and Harbhajan. The drama didn't stop during the drinks break. The drama didn't stop even after the match-winning six. A television treat for the broadcasters and the fans, India and Pakistan played a 500-plus run ODI humdinger that was undecided till the 599th of the 600th delivery. Harbhajan eventually helped his side achieve a thrilling victory.
2004 ASIA CUP
Pakistan dominated India by claiming a 59-run victory. Playing at Colombo, Pakistan posted a high-scoring target of 301 runs after Shoaib Malik smashed a 127-ball 143. India were restricted to 241 for 8, despite Sachin Tendulkar's 78-run innings.