ICC CRICKET WORLD CUP 2015
Victory, a balm for the nation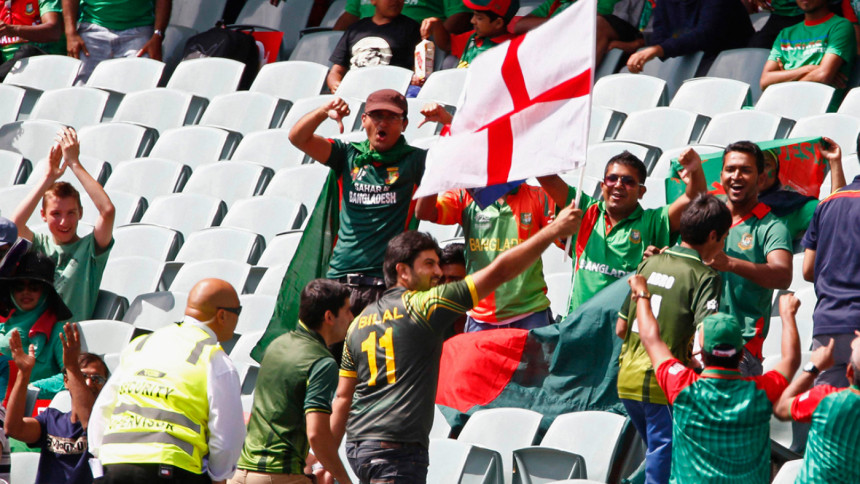 The roar and the chants are unmistakable. You only hear them at a cricket stadium in Bangladesh or if you are around the Dhaka University area, soon after a big Bangladesh win. The roar was there when Bangladesh beat England in Adelaide on Monday and if you are passing by, you would be dragged towards it.
Sohrab Hossain lives in Old Dhaka and he brought his eight-year old son Ayan to see the celebrations, a tradition that began in 1997 when Bangladesh won the ICC Trophy.
"This is his first time here," Jamal said. "He watched the match wearing the Bangladesh jersey at home. He loves watching his heroes Mashrafe and Shakib. So I brought him here, to see how everyone celebrates."
This spontaneous get-together is initiated by students who watch the match in the open area in front of the Teachers-Students Centre, or in one of the many residential halls and cafeterias and as the last wicket falls or the winning run is hit, they all gather near the Teachers-Students Centre. Depending on the time of the day, the weather and the scale of the victory, the crowd stretches out in different directions.
There are a lot of Bangladesh flags around and small groups celebrate among each other with dancing and general merry-making. The larger groups are more into cheering loudly, chanting slogans like "Bangladesh, Bangladesh!" Some climb up on one of the sculptures near the TSC.
On Monday there was the odd firecracker from time to time, some spraying colour on their friends, many taking selfies, two guys doing fire-breathing and even a conga line.
But these celebrations are not exclusive to only the Dhaka University area. Neighbourhood kids, shopkeepers, office-goers and generally people from all walks of life will gather together and start a procession. Some would even dare to spray soft drinks on others. Firecrackers are burst only if they remain in stock, but some people would generally keep them around lest Bangladesh win big.
"I have kept a few aside just for this World Cup," Kamal, a shop owner near the Bangabandhu National Stadium, said. "We knew that the Bangladesh team would win at least one big match this time. They did so last time. I have let all my employees have fun today. We all watched the game together."
A rickshaw puller soon informed that when the match was going on, there were very few cars in the street. "Now the jams have begun," he said with dread.
Dhaka has been witness to great cricket celebrations several times in the last two decades. But the latest one had that dash of spontaneity the country needed with Dhaka-ites, like the rest of the country, under blockades and strikes due to a political impasse.
Cricket often soothes Bangladesh, and this victory was the balm for the masses.