ICC Cricket World Cup 2015
'No fear' Bangladesh's mantra for New Zealand test
New Zealand v Bangladesh, World Cup 2015, Group A, Hamilton
New Zealand bowlers have picked up more wickets than any other team in this World Cup. Fifty of them. No run-outs, no obstructing the fields, no timed-out dismissals. Each wicket has a bowler's name next to it, pointing to the stranglehold the home attack has had over batsmen. They have been hard to take runs off - an economy of 4.19 - and they average 16.34 from their five games. Then there is Brendon McCullum, who has scored 249 runs off 129 balls till now.
These are statistics any opposition would find intimidating before taking on the in-form team of the tournament, but Bangladesh coach Chandika Hathurusingha has said his team has taken confidence from the win against England and is ready to fight. It's that fear of failure he has been trying to rid the team of. Bangladesh froze on the big stage - the MCG - against Sri Lanka before showing remarkable control during a 300-plus chase against Scotland, but it was against England that Bangladesh took control of the big moments and secured for themselves another showdown at the MCG.
"We were not afraid to fail. That's the key we spoke about," Hathurusingha said. "I think if we are paralysed by failure, we are not pushing ourselves, that's what we have talked about throughout this World Cup. I think the freedom to do things and believing in ourselves has been the key, not only in the England game but even in the other game, when Scotland put up 300, we were still backing ourselves to do well.
"In this group, qualifying for quarter-final is a big achievement. We were up against two host countries as well as Sri Lanka and England, so it's a huge task for us to qualify. The big thing is that we believed we could do that, to beat one of the big teams to get there."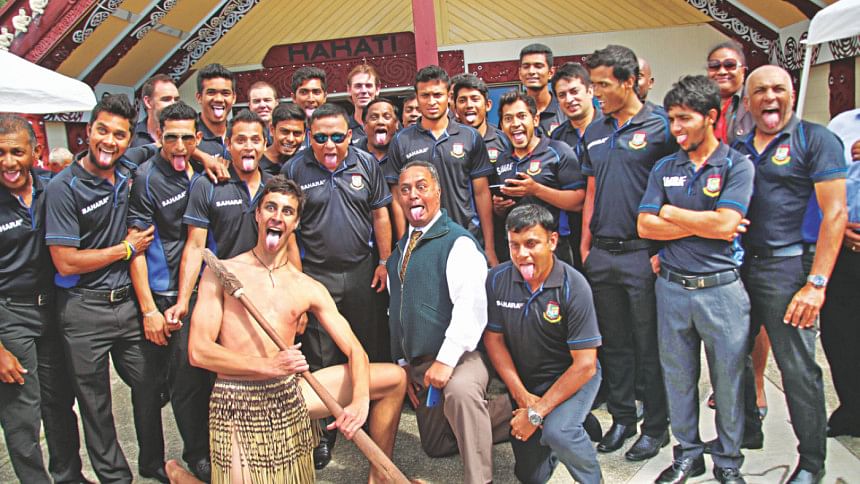 Bangladesh had beaten England in the last World Cup too, but more was riding on it this time as a loss would have left Bangladesh in a do-or-die situation against New Zealand. The win has now boosted Bangladesh's resolve further.
Things have not always gone as per plan but Bangladesh have repeatedly found a way to fight (except, of course, against Kumar Sangakkara, who has had a taste for Bangladesh for quite some time now). They had a slippery start against Afghanistan, they leaked 318 after putting Scotland in, and they lost their openers for less than ten against England. In 2014, the kind of run they had for the first nine months, it would not have been unusual to see the white flag raised early, but the outlook this year, till now, has been different.
Now, New Zealand in New Zealand, on current form, comes as a test as tough as any. Another fear to brave will be Seddon Park's pitch, which was wrapped under covers through the day. "They are one of the form teams in the competition, especially they beat other strong teams very convincingly, and they are playing in their backyard and they have all their bases covered," Hathurusingha said. "So it's a huge task for us to compete against them."
If Bangladesh have managed to switch to a calmer approach in this tournament, tomorrow will be chance to prove it's not a temporary change. Teams have not been able to counter the swing of the ball or Brendon McCullum's bat in this tournament, and best-laid plans have ended in the trash bin. Add to that New Zealand's overall aggression on the field and Bangladesh have got quite a job at hand. Hathurusingha knew where that aggrsesion emanates from and how hard it is to control.
"It's difficult, because he [McCullum] is doing the same thing - playing without fear - but again, we play to our strengths and we have a few gameplans," Hathurusingha said. "If we are able to execute those, they will be key to win this game, and he is one of the key players. We need to get him out early."
Part of that responsibility - of finding a way to stop McCullum - will be with Rubel Hossain, who also dismissed McCullum first ball during a hat-trick in 2013. Clear of the personal storm, Rubel has come out stronger and played the leading role in Adelaide, clinically ending England's innings with two quick reversing deliveries. That spell of 4 for 53 did not go unnoticed.
"Development of their skills in general has improved a lot over the last few years, always been tough at home as us losing seven games straight there would testify," McCullum said of Bangladesh. "They don't always get performances on the board travelling but we're starting to see their skills sets. What we saw with Rubel and Co as quick bowlers [v England] is a lot more dangerous than it was a few years ago.
"Passion for the game is starting to flow through and the talent is rising to the top and I expect them to become a very tough proposition over next few years. Quick bowlers will ask us some questions tomorrow, especially if it juices up a bit."
Rubel, the only Bangladesh player on Seddon Park's honours board for a Test five-for from 2010, may find the moisture in the pitch good news, but for the batsmen, and the team in general, it's time to stand up to their worst fears before the big game in Melbourne.