Would have been best if Martinez had made public appearance: Jamal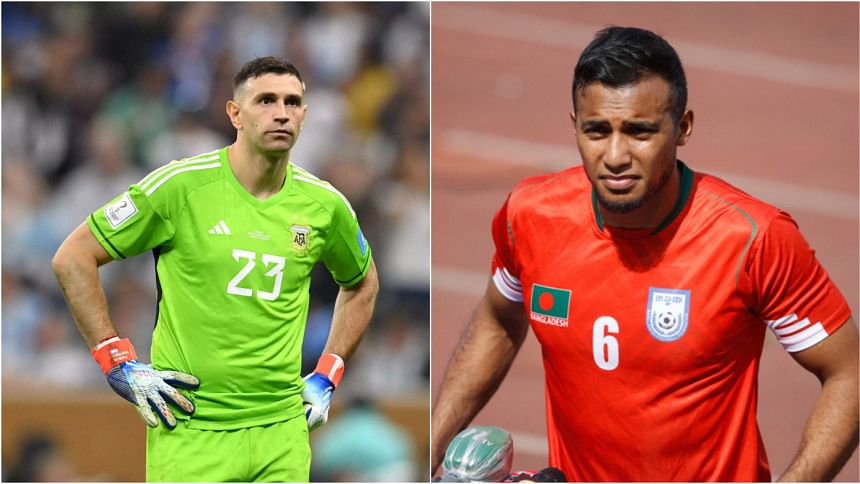 Jamal Bhuiyan said that it would have been best for Emiliano Martinez to have made a public appearance during his short visit to Bangladesh when the Bangladesh football team captain talked over the phone with Satadru Dutta, the chief of the company that brought the Argentine to the subcontinent for the first time.
Satadru called Jamal to inform him that Martinez, upon knowing that Jamal was denied an opportunity to meet with the Argentine, has left a signed jersey for him. 
"Yes, he [Satadru] called me and asked if he would send the jersey to me. I told him that I would take it from him the next time I meet him when he arranges an event as the jersey could go missing if he sends it via courier service," Jamal told The Daily Star over the phone on Saturday. 
Jamal also said that Satadru had apologised to him for what happened and informed him that Martinez also felt very bad after getting knowledge of what had transpired. 
"He [Satadru] said 'I am so ashamed [for what happened]. I did not know that you had such a fan following and that the people of Bangladesh love you so much. Even the media houses of Kolkata ran this news [of you not being able to meet Martinez]. If I knew you were there, I would have definitely arranged for you to meet him [Martinez].' He also said that Martinez and they felt very bad about the situation. 
"So, he was very apologetic," Jamal told about his conversation with Satadru. 
Jamal also added that Satadru told him that the Bangladesh captain will be the first priority in his next big event and will hand him over the jersey that time.
"And he also said 'I arrange big events and you will definitely be my first priority for my next event. And then I will give you the signed jersey if you don't want me to send it to you now through courier'. And to that, I said, 'Yes, that would be fine,'" Jamal said.
Jamal also elaborated on how he had told Satadru that the best thing for Martinez's visit would have been to have the World Cup winner meet the fans of Bangladesh. 
The crazy support of Bangladesh fans for Argentina came to the forefront during last year's World Cup when pictures of Argentina fans in Bangladesh went viral on social media. Some of those pictures were of people gathered in thousands to watch Argentina matches on big screens at TSC of Dhaka University.
And according to Jamal, for Martinez to 'feel the real love of Bangladesh', he could have been arranged for a meet-and-greet with the public at Dhaka University.  
"I also told him [Satadru] that 'Martinez did not feel the real love of Bangladesh. He just went to meet some VIPs. For him to feel the real love of Bangladesh, he should have gone to Dhaka University. A very good arrangement could have been made over there to make him feel the real love of Bangladesh.' 
"I also told him that whenever there was a game of Argentina in the [2022] World Cup, arrangements were made to watch the game at Dhaka University. So they could have arranged for a program [to present Martinez] there. That way he could have met the public,    
"Then Satadru told me that the organisers [that brought Martinez to Bangladesh] had him meet with VIPs. But I told him that it is not right. Martinez came to Bangladesh because he saw how much the people here love Argentina. So, I told him that however it happened was not right and also said that it would have been best if Martinez made a public appearance on a big stage," Jamal added. 
It created quite an uproar in the media, triggering the Bangladesh football fans, when it was learned that Jamal and goalkeeper Anisur Rahman Zico were not allowed to meet with Martinez last Monday.
Jamal and Zico were leaving the Hazrat Shahjalal International Airport in Dhaka after having arrived from Bengaluru, where the Bangladesh side exited the SAFF Championship after playing their first semifinal in 14 years. At that time, Martinez, following his 11-hour visit to Dhaka, was leaving for Kolkata. But despite wanting to meet the Argentine, Jamal and Zico were denied.      
"[Goalkeeper Anisur Rahman] Zico, [Bangladesh football team attendant] Mohammad Mohsin, and I were the last to check out from the Airport that day as we were the last to get our luggage. So, Mohsin said to me that 'Look, it's Martinez'. At first, we did not believe that it was him. Then Mohsin really tried to have me meet Martinez but the security guards, the organizers who were there did not allow it. Even the media got agitated at it [the fact that Jamal was denied an opportunity to meet Martinez]," Jamal concluded.