NSC announces 12 sports award recipients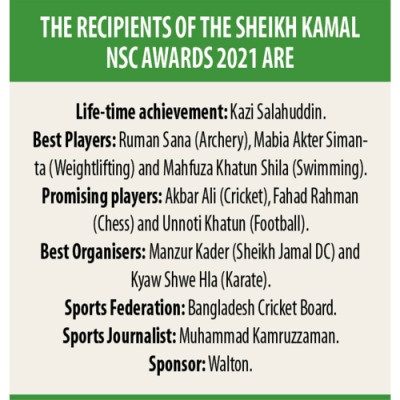 Legendary footballer Kazi Salahuddin, who also happens to be the current president of Bangladesh Football Federation and South Asian Football Federation as well, was named as the recipient of a lifetime achievement award of the National Sports Council (NSC) Awards. The current edition of this sports awards program has been revived after three decades and renamed after Sheikh Kamal, the eldest son of Bangabandhu Sheikh Mujibur Rahman and the founder of Abahani Limited Dhaka.
State minister for youth and sports, Jahid Ahsan Russel, yesterday announced 12 award recipients -- athletes, organisers, sports federation, sports journalist and sponsor -- from seven categories.
The winners will be handed the awards at the NSC auditorium today, on the occasion of Sheikh Kamal's birthday. Prime Minister Sheikh Hasina is expected to attend the award-distribution ceremony as the chief guest, however digitally.
 "The NSC awards were suspended for 30 long years but we revived it by naming it after Sheikh Kamal, the eldest son of Bangabandhu and pioneer of the country's sports and cultural movement. We will now be able to recognise more personnel and institutions through Sheikh Kamal National Sports Council Awards," said state minister Russel yesterday.