'I plan to play the World Cup'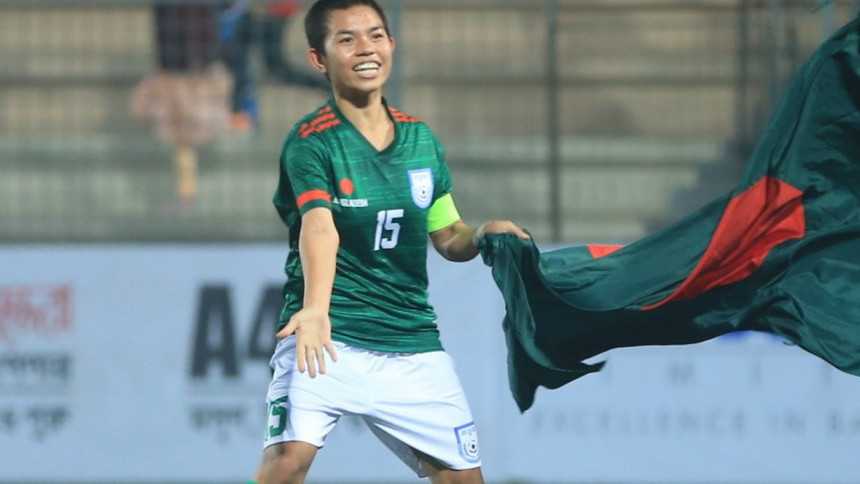 From humble beginnings in Mymensingh's Kalsindur high school team, Maria Manda has led Bangladesh's age-level women's football teams to multiple international trophies. She hit yet another jackpot as Bangladesh won the 2021 SAFF U-19 Women's Championship and the 18-year-old midfielder shared the motivation behind her team's success and her dreams while speaking to The Daily Star's Ashfaq Ul Mushfiq yesterday.
The Daily Star (DS): From Kalsindur to leading Bangladesh and becoming SAFF champions. How do you put your journey into words and what lies ahead?
Maria Manda (MM):   I have changed a lot. I have improved myself to be more than what I was back then. I want to reach new heights and make an impact on my country's progress. I plan to play in the World Cup and to do well in Asia.
DS: You have made winning a habit. What is the secret behind your success?
MM: Hard work and long-term plans. Our technical director Paul Smalley and head coach [Golam Robbani] Choton have given a lot of effort towards us and we are champions today because of our collective hard work.
DS: Is this success different from any of our previous achievements?
MM: I think this achievement is different because, during our previous accomplishments, Bangladesh had won trophies in other games as well. However, we didn't win any trophy in any event this year until yesterday [Wednesday], when we won the SAFF U-19 Women's Championship.
DS: What role do you play as a captain in the dressing room and on the pitch?
MM: My main role is to motivate everyone and keep everyone together. If we are together, we can definitely do something good. If there are any misunderstandings between the players, I try to resolve them. It's my responsibility as captain to spread the coaches' message to all the players during the match. If any player is inattentive during training, I try to make sure she pays more attention.
DS: You have talked about motivating your teammates. If any player makes a mistake during the match or training, how do you motivate her?
MM: Mistakes can happen at any time in the game. If any player makes an error, it's our job as teammates to encourage her, to tell her to keep going even if she fails. For instance, a player can take a shot off-target and get demoralised. But if we clap for her or encourage her by asking her to keep trying, she feels happy and tries again and maybe scores.
DS: Bangladesh have dominated possession throughout the tournament. As a midfielder, you played a crucial role in getting such command in the middle of the park. What was the tactic behind such an intimidating display in the midfield?
MM: Each of us had an individual role to play during the match to make sure we put pressure on the opponent. If anyone was lagging behind, others were reminding her of her role so that we could work together as a unit. As a midfielder, my role is to set up transitions in attack and also not let the opponents get past me while defending.
DS: With whom do you have the best on-field chemistry?
MM: [Smiles] I personally gel well with everyone but based on the matches we played so far, sir [head coach Golam Robbani] said that when me and Monica combine well in midfield, the team usually stay very organised.
DS: Who is your favourite player?
MM: Lionel Messi (Smiles). I really like how he plays. I also like Neymar and Ronaldo, but I am a Messi fan.
DS: Which is your favourite team?
MM:  Argentina, because of Messi (Smiles).