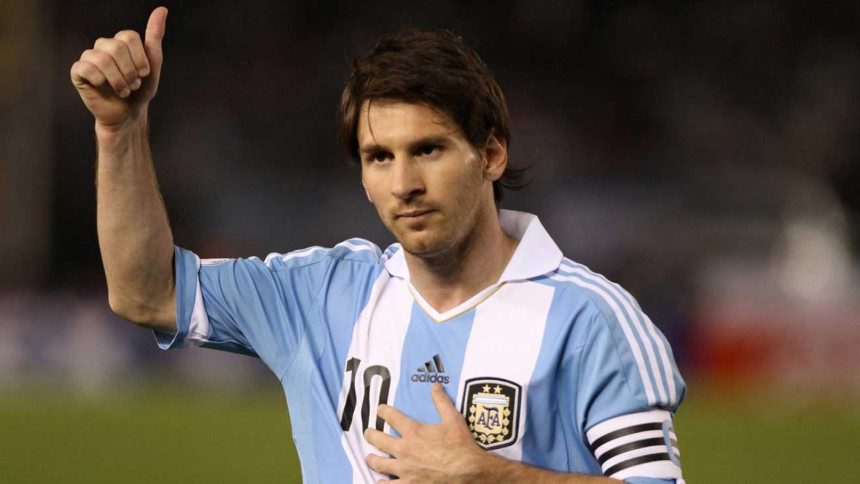 Lionel Messi has won everything possible with Barcelona but has been left staring at an empty shelf gathering dust for his Argentina honours.
And 20,000 Argentine fans will cross the Andes hoping that the jinx is ended at the Copa America starting in Chile on Thursday.
Barcelona's 3-1 victory over Juventus on Saturday provided Messi's fourth Champions League crown in 10 years. He also has seven Spanish titles and two World Club Cups and has been world player of the year four times.
But Argentina's defeat to Germany in the World Cup last year extended a national title drought lasting back to the 1993 Copa America.
"Our aim is to win this year," said Messi, who has nevertheless tasted Olympic gold with his country at the 2008 Beijing Games.
But while he was declared player of the World Cup, the Little Genius's speed and jinking runs never seem the same on the international stage as they do when he pulls on a Barcelona shirt.
Messi scored 43 goals in 38 Spanish championship matches this season -- behind eternal rival Cristiano Ronaldo on 48 -- and has the most goals in La Liga history with 286 and also a record 77 in the Champions League.
But the rate falls for Argentina, with 45 goals in 97 appearances.
Messi says he is always being asked why Argentina, who start this tournament again as one of the favourites, never win.
He wept uncontrollably after losing the 2010 World Cup quarterfinal 4-0 to Germany when Argentine legend Diego Maradona was the coach.
"It's great to play with the national team, to wear the shirt and to be captain," Messi said recently. "But getting a title would be the ultimate for me."
In 2007, Messi was part of the Argentine team that lost the Copa America final 3-0 to Brazil. In 2011, they lost to Uruguay in the quarterfinals on penalties when playing in his home province of Santa Fe.
Messi was jeered by Argentine fans for the first time in his career, according to his father Jorge.
Argentina start this tournament against Paraguay in La Serena on Saturday and also play Uruguay and Jamaica in Group B.
Argentina coach Gerardo Martino believes that this will be his country's year because Messi has been in precocious form for Barcelona after two seasons marked by injury absences.
"He is doing things I have never seen him do before. I can see that he is taking pleasure being with his counterparts in attack," added Martino who coached Messi at Barcelona for the 2013-14 season.
As Martino can choose between Messi, Carlos Tevez, Sergio Aguero and Gonzalo Higuain up front there is no reason the goals should not flow.
Messi and Tevez only arrived in Chile on Monday to join up with their teammates in La Serena after their clash in opposing sides in the Champions League final.
Barcelona's Javier Mascherano and Juventus midfielder Roberto Pereyra were also late arriving because of the final.
No matter the result in Chile, Messi will be welcomed back to Barcelona with open arms.
But a statue of Messi put up during the World Cup last year was vandalised during the tournament.
And the Little Genius will have to use his magic to lift the Copa America in Santiago on July 4 to become a real Argentine hero.