Magnificent Messi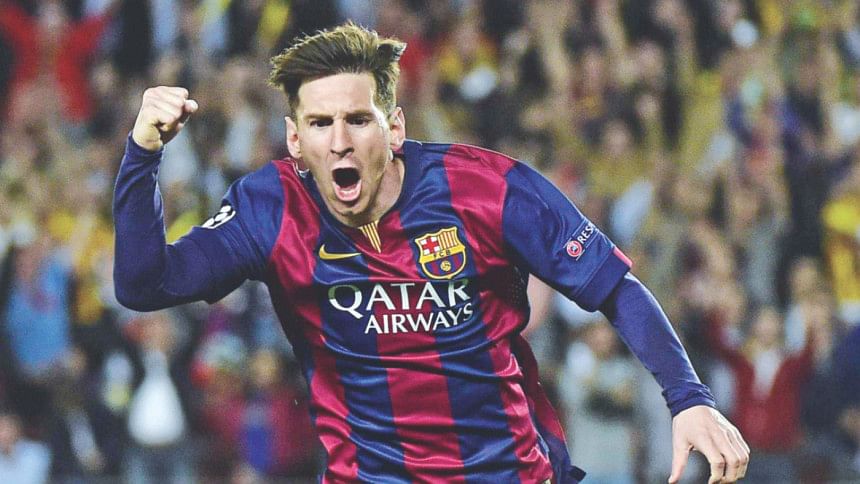 "Messi devours Guardiola," screamed the front page of Spanish sports daily Marca on Thursday as the Argentine won the battle of Barcelona legends past and present in a 3-0 win for the Catalans in the first-leg of their Champions League semifinal against Bayern Munich.
Pep Guardiola could see it coming, yet was powerless to prevent it. Stop Lionel Messi? "Impossible," he said 24 hours before the game.
"There is not a system or coach to stop talent of his magnitude," he added, and so it proved as Messi struck twice and set up Neymar in the final 13 minutes to take Barca to the brink of next month's final in Berlin.
On his homecoming to the Camp Nou after 11 years as a player and captain and then four more as the club's most successful coach ever in winning 14 trophies between 2008 and 2012, Guardiola tried his best.
An almost suicidal back three going man-to-man with Barca's front three of Messi, Luis Suarez and Neymar, who now have 111 goals between them this season, was ditched early on, but Bayern still displayed a bravado beyond almost any other side when faced with the daunting task of a rampant Barca at the Camp Nou.
Despite being plagued by injuries, most notably to the two men who tore Barca to shreds in a 7-0 thrashing for the Catalans at this stage of the competition two years ago in Arjen Robben and Franck Ribery, Bayern still had more possession.
Yet, in this test of Barca old versus Barca new, Guardiola's old friend Luis Enrique was vindicated as his more powerful, direct approach won out.
"Percentages here and there don't matter. The important thing is how much you have the ball in the opposition half because that is where you can cause damage," said Enrique afterwards.
The statistics that mattered backed him up too. Barca didn't just score the only three goals on the night, they had all of the eight shots on target too.
Given the exploits of Messi, Suarez and Neymar this season, the defensive solidity instigated by Enrique has often gone overlooked.
This was their sixth consecutive clean sheet, a 31st in 54 games this season.
"Defensively we were very good because that a team like Bayern doesn't have a shot on target is sensational," said Barca defender Gerard Pique.
Yet, with 77 minutes on the clock, Bayern looked to have done their job.
The one man mountain threatening to prove his coach wrong and stop Messi, as he had in last year's World Cup final, was Manuel Neuer. His giant frame had pulled off brilliant saves to deny Luis Suarez and Dani Alves.
Yet, even he proved fallible to Messi's brilliance. When given space on the edge of the area for the first time in the match, the four-time World Player of the Year looked towards the far corner then hooked the ball back in at the near post leaving Neuer flummoxed.
Three minutes later he left Jerome Boateng eating grass before nonchalantly dinking the ball beyond Neuer on his weaker right foot.