Shiuli Shabnam: A woman of many hats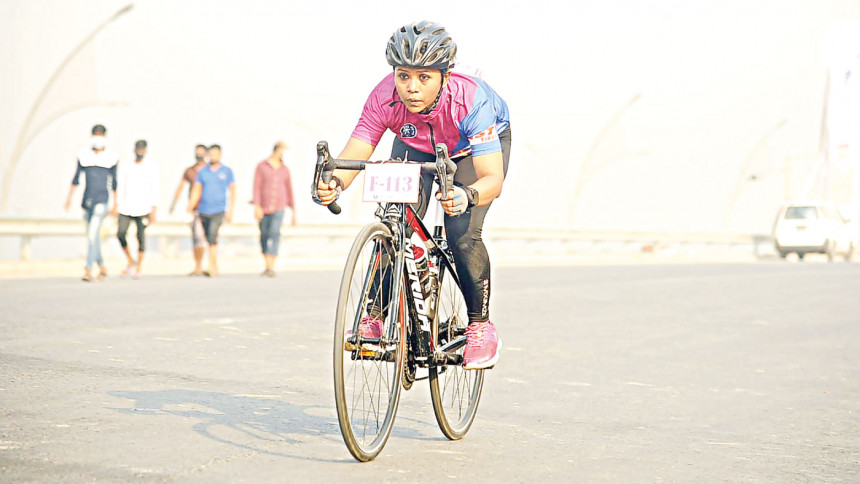 Cycling is one of the few sporting disciplines which has been a constant fixture in every Summer Olympic Games since the games resurrected in modern times in 1896. The discipline features multiple events, depending on the type of bicycle and the platform used for racing. Apart from the Olympics and other major multi-sport extravaganzas, cycling features prominently in world sporting calendar with glamorous events such as Tour de France and Giro d' Italia. Hence, it's safe to say cycling is a global sport which attract audiences worldwide. In Bangladesh, though, the situation is quite different. It is still more of an amateurish pursuit, mostly borne out of either the necessity to commute or as a healthy exercise. While there has been a few of waves in cycling in recent years among the urban youth, those waves have at best fetched a few Guinness records, but next to nothing on the professional circuit. Although there is a cycling federation active for the past five decades, most of its activities are confined within organising a national championship annually. Hamstrung by fund shortages and lack of infrastructure in the country, the federation has failed to produce any medal winner in regional platforms such as the South Asian Games, nevermind bigger platforms on a continental level.  In this issue of the Weekly Sports Special, we focus on two individual cyclists who have pushed their passion for cycling to earn accolades against all odds. 
Shiuli Shabnam is making a mark as one of the few female athletes competing at the top level of two different disciplines, while breaking barriers in the male-dominated sporting scene of the country.
Competing both as a cyclist and as a runner in various competitions, the 35-year-old has carved out a growing reputation as a unique sporting personality. She has won a number of cycling events in the country while winning quite a few long-distance running competitions.
But the biggest satisfaction, she feels, comes from the fact that she is helping break barrier for women venturing into male-dominated sporting disciplines.
It's not been long since the Cox's Bazar native started taking running and cycling seriously, but passion and commitment has pushed her to great lengths. Her passion for sporting activities and adventurism, though, goes a long way back.
"I used to do hill trekking earlier. In 2018, when I travelled to West Bengal for trekking the highest mountain there, I had to do a lot of running. So, I thought why not start running too. Later, I started cycling, too, from passion and that's how I became an athlete in two disciplines," Shabnam said while talking to The Daily Star.
A journalist by profession, Shabnam last month won a bronze medal in the 20km individual time trial event of the 41st National Cycling Championship after having won a number of cycling events over the past three years. She has also made at least 10 podium finishes in long-distance running over the same course of time.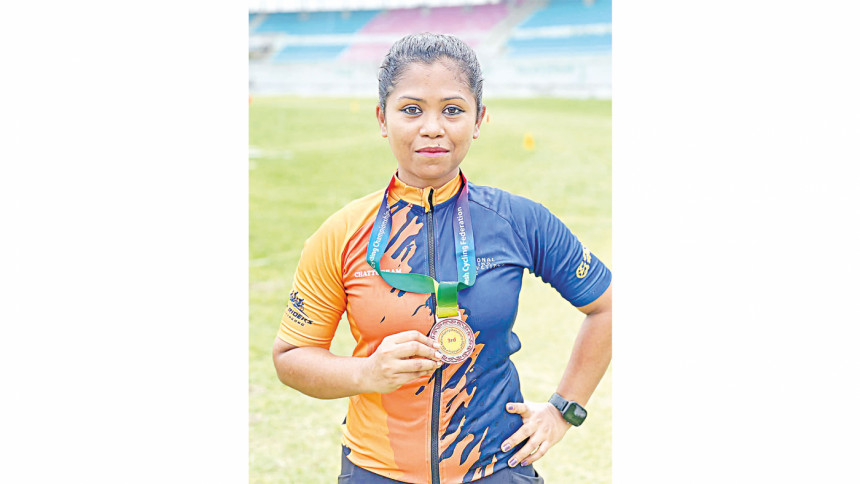 Her journey in sports has been met with opposition, but it has got her satisfaction nonetheless.
"Cycling is still a male sport in our country. Therefore, when I started cycling, I faced criticism from family and society but my husband stood by my passion," Shabnam, mother of one, recalled.
While living in Chattogram, Shabnam's tenants used to get a lot of complaints about her, especially for wearing tight dresses required for cycling training. But there was a positive side of the story, too, Shabnam revealed. "The same people started appreciating me when I won different competitions. So, I think the society will accept women in sports if they see us in sports more frequently."
When asked about the challenges as a female cyclist and runner she faced, Shabnam said, "The environment for women cyclists or runners is not yet friendly in our country. So, you would find very few women taking up cycling or running as sport. In different competitions, camps and during travels, I have to live and race with men in the same camp. And that is something that would discourage many parents to not allow their daughters into cycling or running."
Being a working mother, it's not easy for the 35-year-old to find time to keep her passion ignited. "It's very difficult for me in Dhaka. I have to wake up at around 4.30am and finish my practice by around 6.30am. Then I have to get my son prepared for his school. In the evening again, I practise cycling in my trainer's house," she said.
Cycling is not just a sport for Shabnam, she also takes it as part of activism. It's an opportunity for her to compete against men. If men get the opportunity in cycling and running, then women should too, opined Shabnam.
With the dream of representing Bangladesh at international arena in cycling and running or in duathlon, Shabnam has one appeal to the government: "Patronise and activate local sports bodies to accommodate and encourage women, not just in cricket and football."