Tamim halfway there with 5,000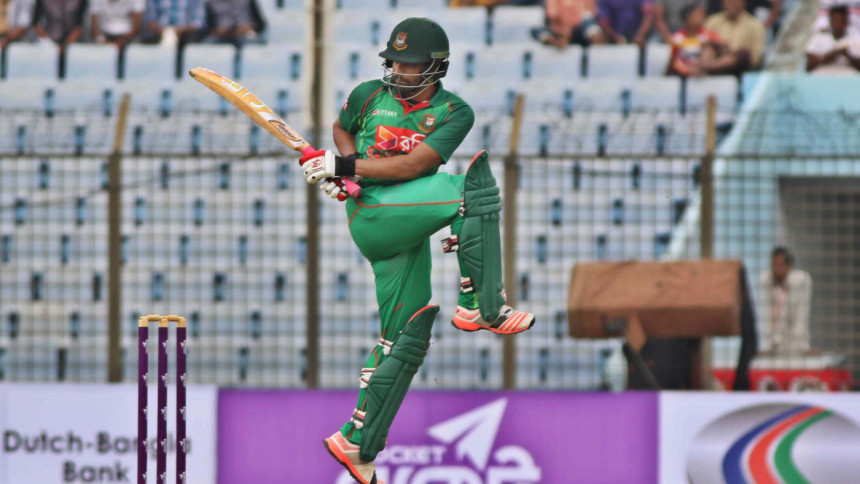 A powerful pull off Chris Woakes in the 22nd over made Tamim Iqbal the first ever Bangladeshi to score 5,000 ODI runs. Following that boundary, he stopped for a second, breathed a sigh of relief and raised his bat amidst the cheers of the fans of his hometown.
It may not have been a very big celebration, but that little display during the third ODI, suggested that he enjoyed surpassing this milestone.
However, Tamim admitted that the defeat at the hands of England, which eventually led to a series loss, curtailed the post-match celebrations to a certain extent.
"Scoring 5,000 runs is a big milestone and it obviously feels great. I would like to dedicate this feat to my father. There is no doubt that I am really happy. But had we won that game, I would have been a much happier person. But on the whole, it feels good that I am meeting the goals that I have set for my career," Tamim told The Daily Star yesterday.
"Everyone has many goals and one of my goals is to score 10,000 runs. But then again I have said this in the past, that it's not just about talking or saying these things, I have to work hard to achieve that as well. I have to hold on to my fitness levels and play really well for the next few years. That [scoring 10,000 runs] is the ultimate goal for the time being," he added.
Fortunately for Tamim's fans in Chittagong, he reached the milestone in his hometown yesterday. While the left-hander was happy about that, it was not something he had expected, considering that he needed just 69 runs to reach the landmark prior to the England series.
"I wanted to do it in the first match but unfortunately I couldn't in the first two matches. I was telling myself that maybe it was destined to happen in Chittagong," laughed Tamim.
The left-hander believes that had the hosts won the toss, the fate of the match would have been different.
"It was very difficult in the first 10 overs. Imrul [Kayes] and I batted exceptionally well and that's why we scored 80 runs. The wicket didn't see the sun for two days because of the rain and they [England] got a huge advantage. But they couldn't utilise that because Imrul and I batted very well.
"We also tackled the spin well. Yes, the way we got out, on any other days those could have been boundaries, but still I believe that we had done extremely well to reach 277 on that wicket and in those conditions," explained Tamim.
Having lost the third ODI, Tamim admitted that a number of players in the team regret to have not been able to win the first ODI, which the hosts should have won with ease considering that they had six wickets in hand and needed just 54 in the last nine overs. 
"I feel that everyone regrets losing the first ODI. This is a lesson for us. It taught us that if you do small mistakes you have to pay for it. Maybe we did. Hopefully when such a situation comes up again, we will handle it better," said Tamim.
With ODIs done, the focus has moved to Test cricket. A lot will depend on Tamim and the kind of start that he gives the hosts during the two-match Test series against England.
The left-hander believes that playing against England is the 'perfect opportunity' for Bangladesh to improve their game in Tests.
"In ODIs, we are in a position where we can consider ourselves as one of the strongest in home conditions in the world. We are playing exceptional cricket.
"Test is a game where we need to improve a lot and for this challenge, the 15 players are up for it. England are a good Test team and this is the perfect opportunity for us to improve in Test cricket," said Tamim.