'Now praise him like that'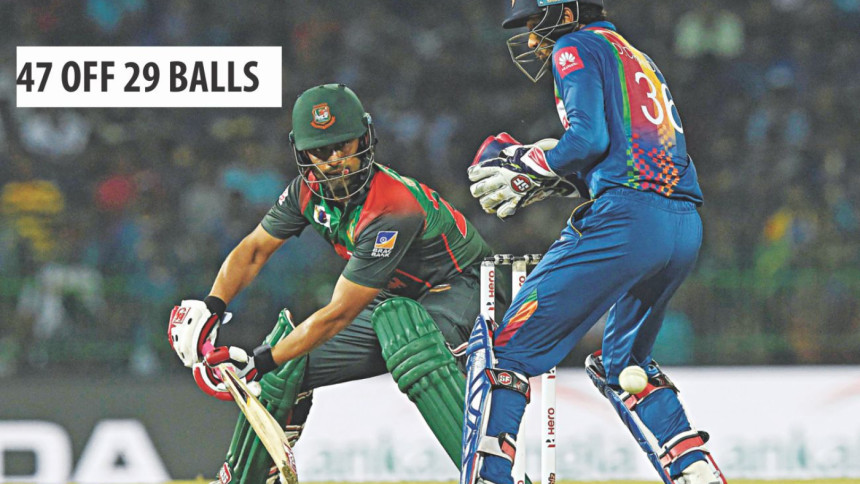 Emotions were running high for the Bangladeshi journalists covering the Nidahas Trophy after the Tigers' scintillating record 215-run chase with five wickets to spare. And those journalists were expecting a similar show of emotion from Tamim Iqbal when he walked into the post-match press conference at the R Premadasa Stadium in Colombo yesterday.
However, despite showing emotion, Tamim remained calm and composed while expressing his feelings of overcoming a disappointing run over the past few months although he did mention what the win meant to the cricketers.
"I think in the last couple of years we have been starting quite well. It has just been for the last couple of matches that we were not playing well as a team. This win means a lot to us, especially chasing down 200-plus. We have never done this in the past. You get confidence from chasing 200, you know how to play in the first six overs and the middle overs. It is a special win. It will take us forward. I hope we can come back from our bad patch of the last few months," said a composed Tamim.
When asked whether this outstanding win would act as the catalyst for the future, Tamim once again showed maturity by his choice of words and said that they wanted to play a Bangladeshi brand of cricket.
"I believe it is one format where we can improve a lot. We might not have big power hitters but we can plan and play a Bangladeshi brand of T20 cricket. We can't follow England or West Indies because we have different kinds of players. We don't have someone like MS Dhoni to come in at No 7. We don't have a Chris Gayle to take on the bowlers from the first ball.
"I think we have smart cricketers, who are different and we want to display the Bangladeshi brand of cricket. It is not about hitting sixes and fours all the time. In the middle overs we saw that by taking a lot of singles, boundaries will come. This will definitely give us a lot of confidence. It is not the end, but just the start," he added auspiciously.
When asked whether the heart-breaking one-run defeat to India during the World T20 in 2016 worked as a learning experience, Tamim said: "The guy who made the mistake in Bangalore, he didn't do it today. I always feel that there's a lot to learn from a good or bad game. The amount of criticism Mushfiqur copped with that day, I think he should be praised the same amount [today]. He handled it very well today."
Tamim also added that he believed it was Mushfiqur's best-ever knock in T20Is, before elaborating on his celebration after the win, saying it was inspired by Nazmul Islam and his snake dance.