'Approach each game positively'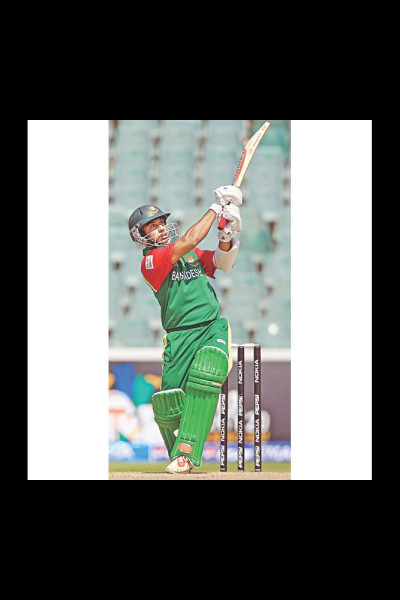 In the lead-up to the 2019 World Cup, we take a look back on World Cups past through the eyes of Bangladesh's former World Cup stars. Aftab Ahmed, who featured in the 2007 World Cup, 16 Tests, 85 ODIs and 11 T20Is for Bangladesh, was undoubtedly considered as one of the most promising cricketers during his playing days. However after a somewhat premature end to his playing days, the 33-year-old began his coaching career, a high point of which was guiding Legends of Rupganj to second position in the recently concluded Dhaka Premier League. In an interview with The Daily Star's Nabid Yeasin, Aftab shared some of his World Cup memories and more.
The Daily Star (TDS): How did it feel to represent Bangladesh in the 2007 World Cup -- the only World Cup you featured in?
Aftab Ahmed (AA): It was definitely a different experience because the focus on World Cup matches is slightly higher than the normal international matches. Every team dreams of playing in the World Cup and it is such a platform that if any player or team performs well then they get more exposure as the focus always remains greater there. So a World Cup is always special for any player.
TDS: You made some notable contributions in that World Cup, especially against South Africa as you scored 35 runs and also had an important 76-run partnership with Mohammad Ashraful. How did it feel to contribute in that historic win over South Africa?
AA: It felt great to score some runs and contribute to Bangladesh's win. I actually saw replays of those matches a few days ago. However, as I said, a World Cup is different from any other tournament or international game in the sense that a World Cup comes every four years and if any player misses the chance to perform well in one World Cup, then actually has to wait another four years. Even after that, it always remains uncertain whether or not the same player would make the World Cup squad after such a long time. Whereas in case of any other international fixture, a player could always hope to do well in the next game as there are frequent international fixtures or series but it is totally different in the World Cup's case. So players feel a different sort of pressure there and only the players with strong mentalities have more chances to do well.
TDS: Do you have any memorable experiences at the World Cup?
AA: Actually I cannot pick any specific experience in that World Cup. I played good cricket before that and went to play the World Cup and it obviously felt good. It actually becomes difficult to perform in a World Cup if a player fails to click in the first few games. I felt that pressure at the time.
TDS: As a batsman yourself, how do you think the batsmen should perform on the true wickets in England in order to do well in the World Cup?
AA: Bangladesh's current batting unit is actually very good. Players like Tamim [Iqbal], Mushfiqur [Rahim], [Mahmudullah] Riyad and Shakib [Al Hasan] are very capable of scoring big runs. But aside from these players, if the other batsmen can support them then Bangladesh can do really well. For instance, Soumya [Sarkar] is such a player that if he scores then it is of great help for any team. If you consider the Dhaka League, then you can see that it was his hundred against us [Legends of Rupganj] that turned the tide and also his double-century against Sheikh Jamal helped Abahani win by a huge eight or nine wicket margin. So if players like Soumya can score runs and provide support then it becomes very easy for the experienced players. However, for the bowlers it would be very difficult since the wickets in England are true wickets. The bowlers need to be economical and I think even conceding 40-50 runs in ten overs is a very good effort. It will be very important for the bowlers to work on slowers and yorkers as I think these will come in very handy in England and I also noticed that it is very easy to hit and score runs off length balls in England. One other thing is that if the bowlers can keep it tight with variations at the death then Bangladesh can hope to go far in the tournament.
TDS: Do have a message for the team?
AA: My only message to the squad would be to think positive and approach each game positively.