Saifuddin to be sent abroad for diagnosis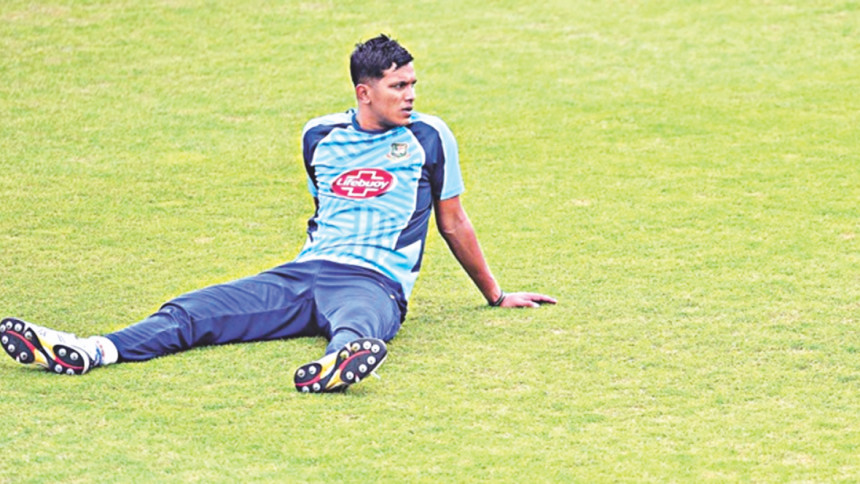 Bangladesh Cricket Board (BCB) chief physician Debashish Chowdhury yesterday informed that the board are thinking of sending all-rounder Mohammad Saifuddin abroad to gain an understanding of the back problem that has plagued the player for the past nine years.
Saifuddin recently sat out a World Cup game against Australia because of a flare-up of the back pain and also missed the recently concluded ODI tour of Sri Lanka. Debashish said that the all-rounder had been complaining about his issue for a long time and that the BCB, although aware of the nature of the injury, are yet to identify underlying cause.
"Saifuddin is suffering from chronic, lower back pain. He has been complaining of this injury for nine years now. After conducting tests, we found out that he is suffering from a facet joint problem. We have tried rehabilitation, but it did not work, and as a result we gave him injections which enabled him to play. The pain receded following the injections, but it flared up again when playing in Ireland. He was evaluated by sports doctors in England and they arrived at the opinion that there was a facet joint problem and for the second time administered injections. The injections helped reduce his pain for a few days but later, the pain came back again," Debashish said.
The nature of Saifuddin's injury is such that playing more can aggravate his situation. The BCB are looking to identify whether the all-rounder has a biomechanical problem. Since assessment is not possible here, they are looking to send the bowler to a state-of-the-art facility outside the country.
"At present it is not possible to determine the reason behind his injury here, so we are thinking of sending him outside the country for biomechanical assessment," Debashish informed.
"The BCB CEO already told us to acquire information regarding such facilities. We are hoping that in a week we will know where we could send him," he added.
In other injury developments, ODI captain Mashrafe Bin Mortaza – who was also ruled out of the Sri Lanka tour -- is currently staying away from activities that could aggravate his hamstring injury.
"Mashrafe has been advised to stay away from cricketing activity for 21 days. He does not have any rehab programme with us but we are trying to guide him so that he stays pain-free," Debashish said, adding that the skipper is not in pain at the moment.
With players like Saifuddin and Mashrafe suffering recurring injuries, questions were raised about how the management planned to manage injuries. Shakib Al Hasan had previously talked about resting players and bring in a rotation policy, which would allow more players to push for a first-team place.
"We have brought all the players under the workload management programme. There is a scientific procedure for the number of balls a bowler should bowl in a day or a week. Saifuddin is not bowling now and is under strict bowling workload management. Once he is able to bowl, he will follow the rules set by the programme. Every player has hese workload programme, which is updated every week. We provide the information to the board, which then chooses who to play," Debashish informed.