ICC Cricket World Cup 2015
"Amazed at how quickly team trusted me" Hathurusingha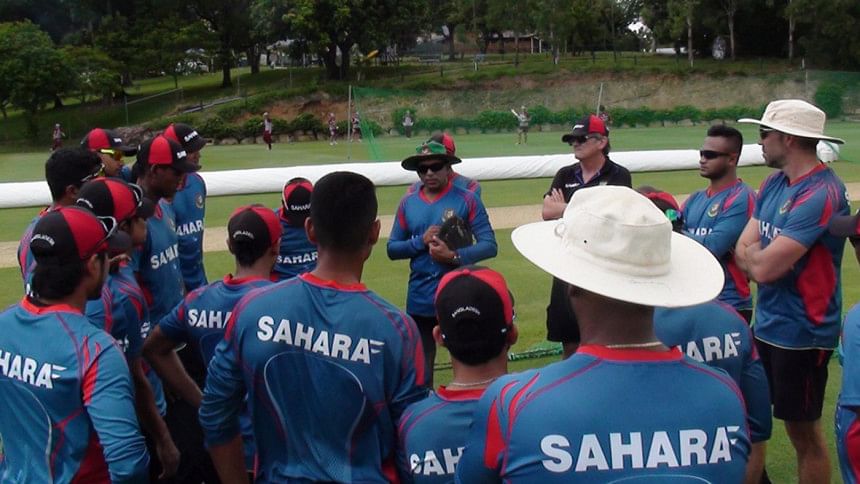 Bangladesh coach Chandika Hathurusingha has said that the side's quarter-final finish in the 2015 World Cup was largely due to the fact that the players bought into the changes he suggested. He stated he was "amazed" to have gained the trust of the team in a short span, since his appointment in May 2014.
"It is not just about believing that you will win but also believing that what you are going to do will work," Hathurusingha told reporters in Sydney. "If I tell a player to do something, he has to believe me and himself. If you notice I have changed a lot of things after I came in. You [the media] criticised it a lot but I knew what I was doing. The players trusted that, which is the key for me. I was amazed by how quickly they started to trust me. It usually takes a year, or one-and-a-half years; these boys took three to four months. A lot of credit goes to the players."
Hathurusingha insisted that the 15-man group was not the best Bangladesh could offer and said the composition of the playing XI, particularly in the game against New Zealand, could have been different if he had more options available. Soon after Bangladesh's World Cup squad was announced in January, Hathurusingha voiced his displeasure over the omission of rookie legspinner, Jubair Hossain.
"It is a known fact that this was not our best squad," he said. "I was not happy with a few of the selections. If we have our best team available, going forward we can correct a few things.
"I am not talking about the 11, but the 15. We could have had more options, which would have meant a different story. Against New Zealand we could have won the game ... It is better I talk about what we need to do to going forward rather than what happened. We need to get our combination right."
Hathurusingha also revealed the plan behind Bangladesh's batting order at the World Cup, particularly Mahmudullah's elevation to No. 4 and Mushfiqur Rahim's slot at No. 6. He explained that Mahmudullah's approach as a batsman made him a difficult choice down the order. At the same time, the middle order needed more cushion in Australia and New Zealand where a top-order collapse can cost the match. He mentioned how the use of three openers in the top order was criticised during the West Indies tour last year, but stated it was a move to "protect" the middle-order.
"Mahmudullah is not a guy who can start scoring straightaway. He needs a bit of time. He was batting at No. 7 and 8, where we were wasting his ability," Hathurusingha said. "Mushfiqur was batting at No. 4, he is my best player. For me he is the unsung hero of the World Cup. His strike rate was over 100 and average was 50. His 89 against England was a turning point.
"Mushfiqur was a key player in Australia where the game would be gone if we lost three wickets in the first ten overs. You can't come back. In West Indies, when I started with three openers in the top three, a lot of people said it won't work. I knew that if we want to win, we need to protect our middle order. I told the players and I don't know if they believed or reluctantly agreed, but they knew it would work."
Hathurusingha said that a team-first mentality from everyone in the squad was the key to their success in the World Cup and added that the players' attitude of giving excuses, by insisting on their natural game, is now on the wane. He stressed that the batting order is of little importance as long as the team is winning, and stated he would not resist more changes, if they were needed.
"Number one is the team, then it is the players," he said. "There's no point in having the world's No. 1 allrounder when we are No. 10 in the rankings. We all have to play as a team.
"I am not reluctant to change things. It depends on the opposition and where we play. I might do something different against Pakistan. The mentality and approach in the team have changed. The players used to give excuses before; they used to say this is the way I am used to playing. Everyone. I am not complaining. It doesn't matter what he is averaging if we are not winning matches."
Hathurusingha also said that cricket coaches should have a larger role in squad selection, particularly for the limited-overs formats. He cited the examples of Australia and New Zealand where the coaches are also part of the selection committee. Currently the BCB employs three full-time selectors who pick the squads, while the team management decides the playing XI. Hathurusingha hoped to be more involved in picking the squad in the future.
"It won't happen to the extent of soccer. In cricket, a captain has to lead in the middle. If the coach is responsible for outcome, he should have a role in selection," he said. "If somebody else is selecting, you are trying to win matches. You need to have the same vision as the person. It makes sense in T20 and ODI cricket, coaches should have a lot more say.
"It depends on the board. Some boards already have given that role. Darren Lehmann and Mike Hesson are selectors. You only have to look at their results. That is easy to develop a culture as well. It is beyond my control."