The Ultimate Wardrobe Solution: Refashion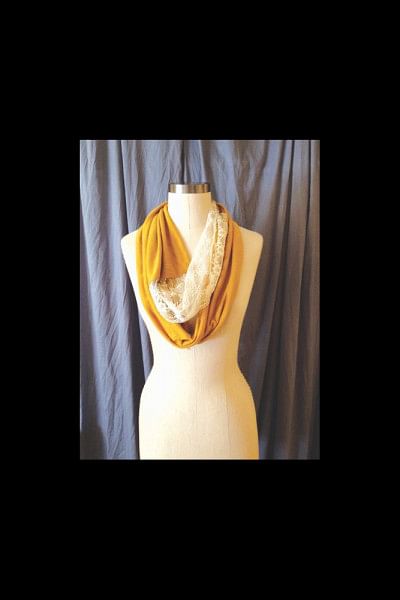 "I have nothing to wear" – how often have you heard yourself say that facing a stuffed closet?  That's right, every day. If you want your closet to always remain full of possibilities yet go easy on your pockets, abide by one simple rule: refashion.
Refashioning simply means upgrading old clothes and bringing out the best in them. Just a tweak here, a stitch there and you could do wonders with an old bunch of clothes. The neat trick that will fool people into thinking of one outfit as different outfits lies in layering a combination of shrugs, vests and scarves onto one shirt/t-shirt. Here are a few easy DIY additions you could make to your wardrobe and never run out of things to wear again:
Infinity Scarf
If you're a hoarder as yours truly, it's a fact that you have a stash of scarves and shawls you can't live with and can't live without either. It's about time you gave those a fresh chance at becoming an elegant infinity scarf. All you need to make this is an old scarf, preferably in solid colour, and some lace. Before beginning, make sure the lace is of the same width as your scarf and at least 8 inches long. Now all you've got to do is sew each end of the scarf neatly to one end of lace, thus creating a loop. There are numerous ways to fashion an infinity scarf, the simplest being single loop, double loop or shrug shawl. Bring in the rest of your scarf stash into play and mix and match different combos of laces and colours to create a whole new level of versatility in your wardrobe.
No Sew Shrug
If you thought the infinity scarf was easy, this is the epitome of simple. This shrug can be fashioned out of just a piece of 60 inches or 1½ yards of fabric. However, it's best to used silk or chiffon for this shrug rather than cotton to achieve a draped effect. Now, get that piece of fabric and bring out your scissor. Fold the fabric across in half and on the folded edge mark a point 6 inches from above and 6 inches from the edge. Take your scissor and cut a slit of about 8 inches long from that point. Then open up your fabric. You should see two slits on the fabric, one to sling each of your arms through. Voila! You now have a shrug that would look gorgeous atop any shirt which you could opt to team up with a chic belt.
Draped T-vest
If your father ever insists on throwing away his extra-large t-shirts, do yourself a favour and snatch them off of his hands and dash, for this is to become your future t-vest. Lay the t-shirt on the floor and using a sharp scissor snip off the sleeves. Then, cut along the edges of the t-shirt to detach the back and front of the shirt from each other. Finally, make a cut of about 1½ inch deep along the neckline of the t-shirt and you'll be left with a weird piece of cloth with a hole in the middle. Fret not. Sling both your arms through the hole created from the neckline: the back and front of the t-shirt should now be draping over the front creating the two flaps. Just take this moment to think of all the colours of XL t-shirts you could rob your father of. You're welcome.

Labiba Mustabina studies biochemistry and biotechnology at North South University. A tree hugger, she also claims to be a closet artist. You can reach her at [email protected].