Mirror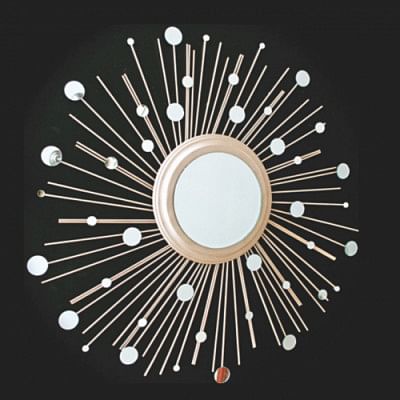 Imagine a life without mirrors: the gentle reminder of your self-pride and beholder of your beautiful reflection. Yes, it's horrible to imagine. How else would you start your day without revelling at your gorgeous smile? Read on.
Vintage marble mirror
Sure, you have a full length mirror but what about all those moments when you almost end up crashing on it in attempts to achieve the perfect cat-eye with your eyeliner? If you know exactly what I'm talking about, there is nothing more perfect than this vintage dresser mirror for you. This DIY requires nothing more than an old, glass dinner plate, a round mirror and some flat glass marbles. First, hot glue the mirror in the centre of the plate. Then glue one marble after another on the edge of the plate, starting from the centre towards the rim. You'll now have a beautiful mirror plate which you can either use as a tray or place it on one of those vintage dinner plate stands.
Sunburst mirror
If you've got an empty wall screaming for a decorative piece, put everything on hold and find yourself a round mirror. You'll also need a protractor, glue gun, skewers, silver/golden spray paint and mirror beads which you can easily avail from lace stores. If you're unable to find the mirror beads, you can use large 'dollar' beads as a substitute but in that case you'll have to place them on spray painted cardboard cut to size because they're frail on their own. First, use a thermocol piece as a 'pin-cushion' to hold all your skewers and then spray paint them in gold/silver. Flip the mirror and use a pencil to mark the centre. Now draw a circle about 1 inch smaller than the outer rim of the mirror. Then, using a protractor and ruler, make lines extending from the centre outwards with 15° difference with the next line. Do this to cover the entire circle. Now, using the pencil lines as guide, hot glue the skewers to the back of the mirror alternately on the rim of the smaller circle and the rim of the mirror. Leave it to dry overnight and you should end up with a beautiful sunburst. However, if you want to go an extra mile, hot glue the mirror/ dollar beads on the ends of alternating skewers.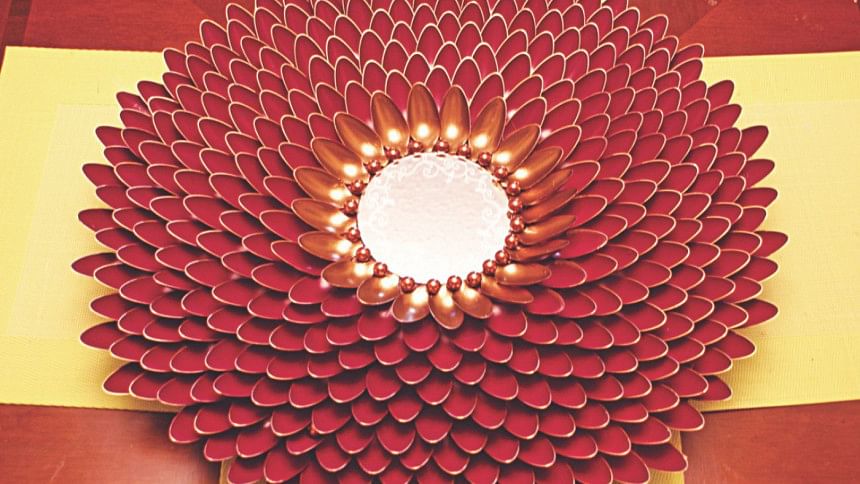 Chrysanthemum mirror
Got plastic spoon leftovers after a picnic with no clue what to do with them? Simple: cut and salvage. Get yourself yet another round mirror and place it on a piece of cardboard and cut out a circle about 6 inches bigger than the mirror. Cut the centre out from the cardboard where the mirror is supposed to be. Now, starting at the edge and making your way towards the centre, start hot gluing the spoon heads on the cardboard. When done, just paint the 'petals' in a bright, flaming colour and attach the mirror at the back. 
Labiba Mustabina is a biochemist in the making. A tree hugger, she also claims to be a closet artist. You can reach her at [email protected].