Make Your Own Candles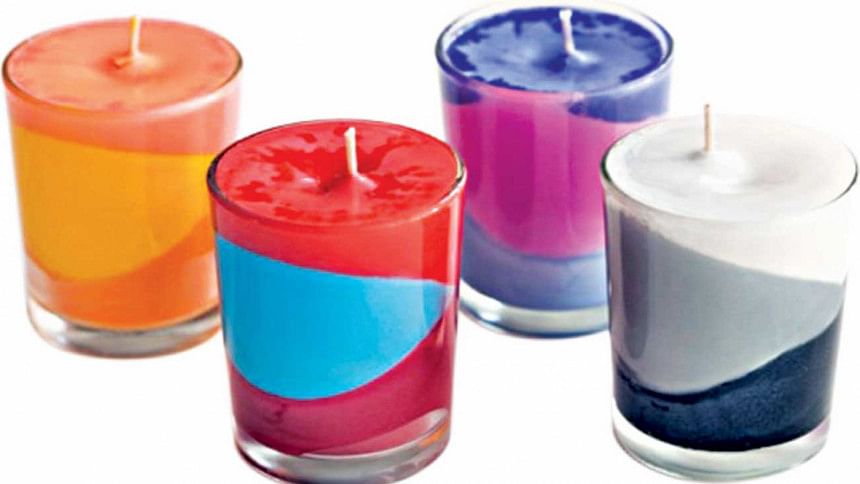 This DIY is super easy, requires no expense and is perfect if you're bored and definitely broke. You'll end up with something beautiful, capable of illuminating any corner of your house with its aura. Not to forget that scented candles make for beautiful gifts and can save you all that money on Valentine's Day (cue broke boyfriends), birthdays, Mother's day and so on. Still not convinced? Think of this as a lesson in case someday the world sinks into an era with no electricity. That just might make candles the new currency and you'll find yourself equipped with a skill that'll make you very, very rich.
Remember all those useless tiny bits and pieces of wax left from a candle burning all the way down? Turns out they are not as useless. You can recycle these to make your brand new candle. However, it also shouldn't look like it was built from ruins. Therefore, to glam it up you'll need to use the unsung hero of your stationery stash: wax crayons. If you do not have any, steal some from your sibling and replace later. Next, you will need the mould to give your candle a shape. This could range from tiny glasses, jars, muffin trays or absolutely anything that has a shape and can hold hot wax without leaking. You can leave the mould intact if it's a vintage teacup, or else use Pringles cans: they can be ripped off easily after your candle solidifies. Furthermore, you'll need string to form the wick, a big metal cooking pot and a smaller metal pot. 
Now, for the making:
* Use the two metal pots to set up a double boiler pot. Basically, fill the bigger pot with water up till a quarter of its volume and place the smaller pot within it.
* Fill the smaller pot with all your scrap wax leftovers (this should stabilise the smaller pot bobbing up and down on the water) and turn the gas on.
* As the wax melts, remove any remnants of old wicks using a fork. This is the cue for throwing in the wax crayons for colour. You can always add white crayons to lighten a colouror mix two different crayons to create your desired colour. 
* Prepare your mould by placing the string in the centre and hold it in place by tying a knot on a stick and lay it across the top of the mould
* Pour the melted wax in the mould and let it rest overnight for best results. Et voila, you've manifested a candle.
Or you could kick it up a notch.
For layers in different colours, pour a layer of wax into the mould and allow it to solidify followed by another layer of different colour. Also, making scented candles has never been easier. Despite what Google says, essential/fragrance oils are almost impossible to find here. In that case, make your own. Throw in flower petals, coffee beans, cinnamon sticks, orange or lemon slices into some olive oil and heat. Strain and store the oil in a dark bottle. Then, simply add spoonfuls of your homemade fragrance oil while melting your wax. And that, kids, is how to make your own (scented) candle.
Labiba Mustabina studies biochemistry and biotechnology at North South University. A tree hugger, she also claims to be a closet artist. You can reach her at [email protected].