The Blackcaps Aren't as Weak as You Think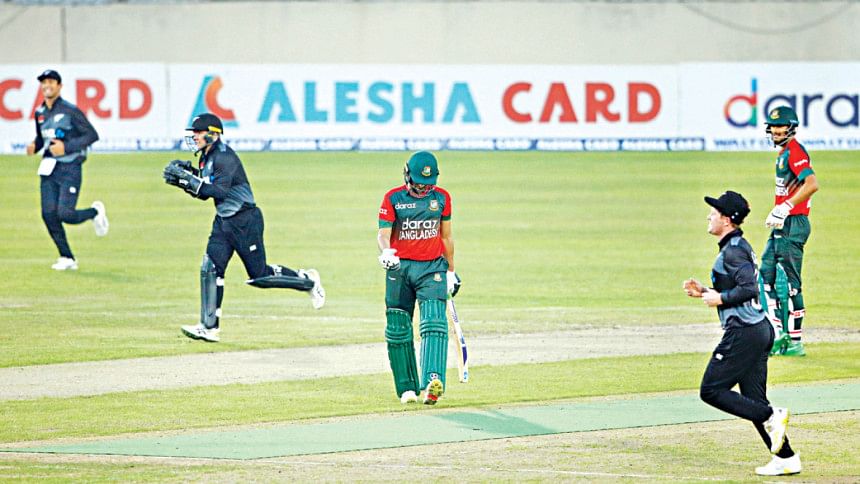 The New Zealand squad, that's currently touring Bangladesh, has been labelled as a second-tier squad as they're missing key players like Kane Williamson, Tim Southee and so on. The team is also being led by a not-so-regular-face in T-20I, Tom Latham. Despite all that, this NZ squad is not a weak side, by any means, something that was proven to us in the 3rd T-20 match between them and the Tigers.
So let's take a closer look at the New Zealand squad before the last couple of matches that will decide the series.
You probably haven't heard the name Ben Sears before this series. Growing up watching his dad open the innings with the ball for Wellington from the ripe age of 4, Sears only had one thing on his mind- bowl faster than his dad. At the age of 13, batsmen trembled just by seeing Sears run down the aisle. The very same man that discovered Sears on that school cricket day is the man who's going to be his coach on his possible blackcaps debut. 
Interim coach, Glenn Pocknall even was his coach in Wellington Firebirds and upon his decision, Sears got the chance to wreak havoc in Super smash T-20. Sears picked up 9 wickets in 7 matches at an average of 16.77 with an economy of just 6.86.  What the records won't tell you is how he knocked over batsmen, and how Neil Broom was beaten all ends up for pace. Coach Pocknall and his teammate Devon Conway have even gone on to say that in terms of pace, he is right up there with the likes of Lockie Ferguson, Adam Milne.
If you follow u-19 CWC, you'll know that Sears came to Bangladesh back in 2016 where Miraz was the man of the tournament. Another kid, at just 16, landed in Dhaka and was overwhelmed with the humidity. Rachin Ravindra was named by his father inspired by Sachin Tendulkar and Rahul David. Rachin after that world cup started to find cricket a bit too hard for his liking but he eventually shrugged that feeling off and got back to his feet. Rachin had a pretty bland super smash T-20 with the bat but with 6 wickets he proved to be a decent all-rounder. He has been phenomenal in List-A and first-class for the Kiwis and he'll be hoping to bring that form to the shortest format as well.
Then there's Colin Mcconchie whose life turned around when the head coach Gary Stead told him to work on his batting. Colin became the fifth-highest run-scorer in super smash, amassing 298 runs at a SR of 120.16.  He has a decent off break up his sleeve as well, which will come handy in these slow pitches.
The Blackcaps also have their highest wicket-taker (17) of super smash in Blair Tickner and highest run-scorer in Fin Allen (512 runs at a SR of 193.3). If Fin Allen misses out due to Covid they will have the seasoned Matt Henry, who also was the second-highest wicket-taker in super smash (14). They have Hamish Bennett in the side who has been within the top five wicket-takers in two consecutive seasons. Despite their lack of experience, this squad can turn a few heads around, given the fact that they are seasoned T-20  performers. They'll be looking forward to replicating the numbers they've been selected upon, and claim a spot in the national team by racking up numbers.
Alavi Ashraf Eram likes to blabber about his favourite movies, songs and sports. Drop him your movie critiques at fb.com/alaviashraf.eram