Life in the Hallowed Halls of DU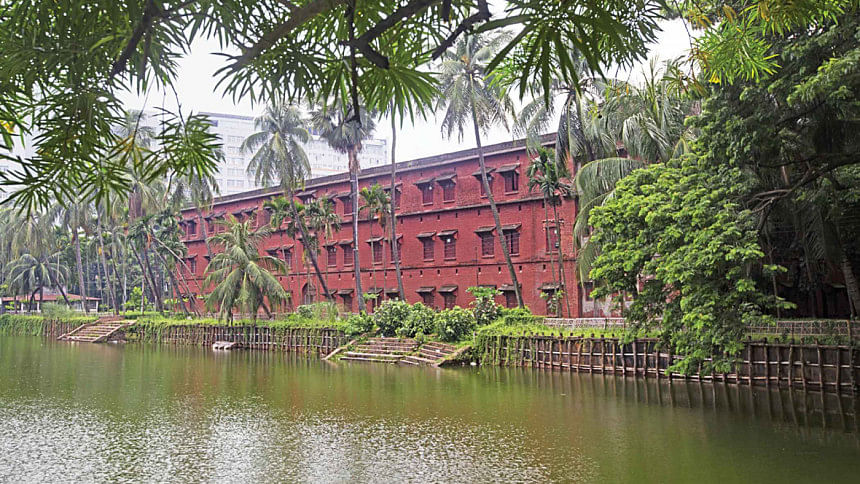 The University of Dhaka (DU) occupies a special place in the hearts of Bangladeshis as the flagbearer of our struggle for independence, which eventually led to the birth of our nation.
Exactly a hundred years ago, on July 1, 1921, the university formally began its academic activities with just three faculties, 12 departments and three residential halls for students. Today, on its centenary, DU remains more than just a prestigious educational institution, it is a symbol of pride for our nation. Revered as the country's highest echelon of academic excellence, DU continues to groom outstanding, illustrious students, many of whom have gone on to earn national and international recognition.
Adorned with iconic historical landmarks, the campus of DU was never quite the exclusive possession of its students, but remains a noteworthy socio-cultural hub of Dhaka. For this story, we reached out to the residential students of DU to learn about their daily hall life, and their thoughts on this momentous occasion.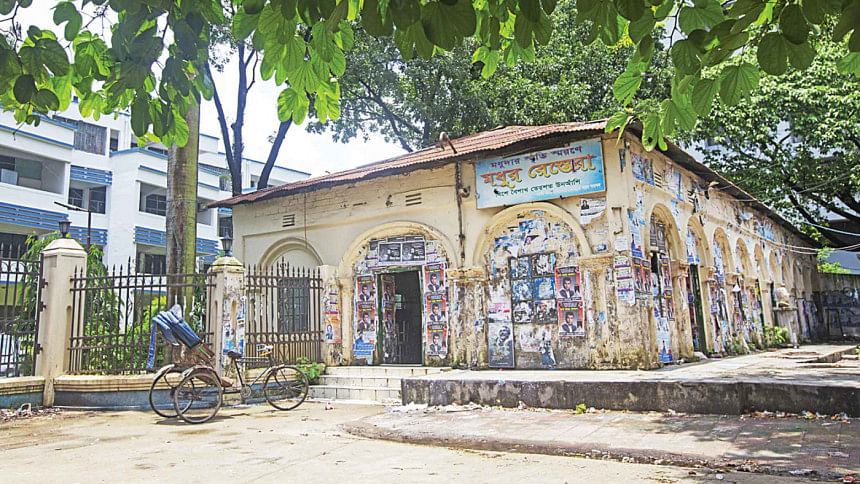 The hall residents usually start their mornings early, since classes in DU can be scheduled as early as 8 AM.
"I am accustomed to waking up early due to my classes, so I usually stroll through the hall field because the fresh, cold morning breeze feels very comforting. As I head towards my department by passing through the Curzon Hall, I'm always captivated by the beauty of this Indo-European architecture," says Mayisha Chowdhury*, resident of Kabi Sufia Kamal Hall, while describing her early morning routine.
About his quotidian afternoon activities, Abdus Salam, resident of Masterda Surja Sen Hall, says, "During lunch break, I grab a bite from the Math department canteen or from the food carts located beside the Central Shaheed Minar. Most of the time, I return to my room after I'm done with my classes to take a quick nap."
Evening is the time of the day every student looks forward to, as some of them head out for work while others engage themselves in a variety of recreational activities.
"My job as a tutor keeps me occupied for three evenings a week. But, when I'm free, I enjoy the evening playing football with my teammates," adds Salam.
The campus of DU offers the perfect hangout spots with plenty of open space, privacy and food carts, the need for which restaurants can't compensate, and the hall residents take full advantage of it. Teeming with life, students are frequently seen occupying their favourite spots, passing time or making memories, often losing track of time completely.
"The pond by Dr Muhammad Shahidullah Hall bears witness to the birth of many friendships and relationships, and the pond itself has its own share of enigmas and superstitions. Being my most favourite hangout spot in the entire campus, I often sit at the eastern ghat with my friends and talk about everything," says Farzana Akhter*, a resident of Shamsun Nahar Hall.
As the night sets in, a sense of responsibility and purpose drives the students to re-evaluate their priorities: some focus on their studies, some pursue their passions, while others hone their skills, all in the hopes of fulfilling their ambitions.
"The two-three hours after 10 PM is reserved only for myself. This is the window when I get things done. On full moon nights, I race either to the pond by Shahidullah Hall or its rooftop, where I sing out my favourite lyrics or recite the verses of my favorite poetries as I bathe in moonlight. On certain occasions, I even write down a verse or two of my own," Abrar Tazwar, a resident of Dr. Muhammad Shahidullah Hall, recounts his experience.
Late night hangouts around the Kola Bhaban, VC Chattar, Madhu'r Canteen, Social Science Chattar, watching nerve-wracking matches in the hall common rooms, enjoying games of carrom, badminton, and finally wrapping up the night with Bukhari's chaap or Mintu's khichuri are some of the many experiences which will remain evergreen in the hearts of residential students.
The residential halls, often considered as a home away from home by their residents, are centres where students from a diverse variety of socio-economic and cultural backgrounds coexist.
"Hall life taught me how to socialise with others, made me more empathetic and introduced me to my wonderful roommates. And with their continuous love and support, I managed to keep my homesickness in check," says Rabita Ahmed*, a resident of Ruqayyah Hall.
Arpita Roy Shawon, a Bangladesh-Kuwait Maitree Hall resident, shares, "I'm proud to have the Maitree Hall as my residence. When the seniors who left the hall years ago come for a visit, especially during Saraswati Puja, I feel thrilled to meet them and hear about their recollections. Since my hall is small compared to other residential halls, the bonding and companionship between my hallmates are even more intimate."
When asked about the perks of living in residential halls, students we spoke to unanimously agreed that the personal freedom and the sense of solidarity among the hallmates is what they love the most.
However, the list of inconveniences which the students face in their hall life is long. "The gono roomsof DU residential halls where a large number of students are crammed together in extremely unhygienic conditions is a major issue faced by the first-year students who have no choice but to stay at their respective halls," says Hossain Khalid, a resident of Jatir Janak Bangabandhu Sheikh Mujibur Rahman Hall.
"Though cheap, the foods at the hall canteens aren't exactly healthy. In most cases, proper hygiene is not maintained," adds Mayisha*. Hall life can be miserable if a student falls sick often or ends up with unsupportive roommates.
Despite having their fair share of complications, both DU and its residential halls are adored by the students. Students we spoke to appeared to be pretty excited about the centenary of the institution.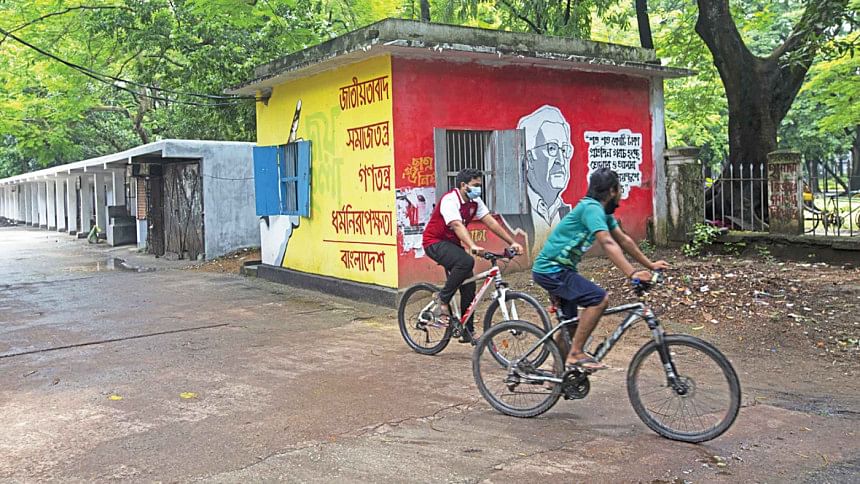 In this regard, Arpita comments, "I certainly consider myself very fortunate to witness this historic occasion being a current student of DU. In the 100 years behind its glorious past, the University of Dhaka always played the leading role in tackling national crises, and I believe it will continue to be at the frontline in case any crises arise."
Regarding expectations from DU, Shakib Al Fahad, a resident of Bijoy Ekattor Hall, says, "As DU turns 100, I expect to see modernisation of its classrooms and laboratories. The DU authorities need to renovate the old residential halls, prevent non-students from illegally occupying hall seats and take solid measures to ensure the quality of canteen foods. In addition, I desire to see a litter-free and drug-free campus."
Khalid adds, "The university and the hall authorities need to take the accommodation crisis seriously, fix the longstanding accommodation scarcity and remain vigilant at all times to keep politics out of hall seat allotment. I earnestly hope that DU would prioritise academics and research over picking sides. Through the introduction of modern methods of learning in the classroom, DU should be committed to realise its full potential and strive to be an educational institution of global standard as it once was in the past."
If not for the outbreak of the Covid-19 pandemic, DU's 100th anniversary would have been celebrated in an extravagant manner on campus. "I'm sad that we have to celebrate such a wonderful occasion from home. I would have loved being on campus with my friends, enjoying the centenary celebration programmes and taking lots of photos to commemorate the occasion," says Farzana*.
It is no exaggeration to say that the 100th anniversary of DU is significant not only to its students, but to the nation as a whole. Years down the line, when DU alumni look back, they will inevitably get the sense that it was all better back then. Going down memory lane, the residential students would certainly never run out of intriguing recollections to share with generations to come.
*Names have been changed upon request.
H. Rainak Khan Real studies Geography and Environment at University of Dhaka and can often be found wandering in the vicinity of Curzon Hall.