Air pollution, depression, and our health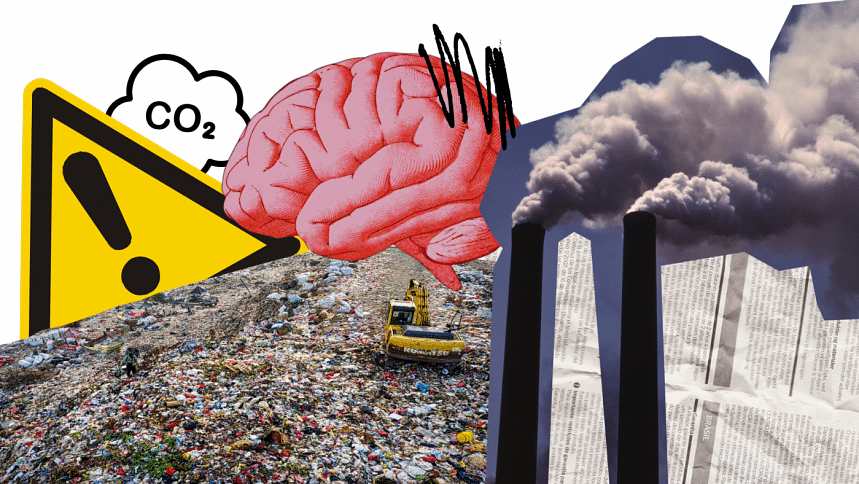 Dhaka's rapid urbanisation and industrialisation have led to a significant increase in air pollution levels. From 2018 to 2021, Dhaka has been listed as the second most polluted city in the world. However, in order to understand the ramifications of air pollution, we must first understand what the term refers to.
Air pollution encompasses a wide range of pollutants such as gases, metals and chemical compounds, and particulate matter (PM). It is the impact of PM on the body and brain that is responsible for the majority of the detrimental physical and mental health consequences of air pollution.
Both human activity and natural processes contribute to the presence of PM in the atmosphere. Windblown dust and wildfires carry PM, which is mostly created through the burning of fossil fuels (for example, from automotive exhaust), industrial activities, and large-scale agricultural operations, which explains why there is so much of it present in Dhaka's atmosphere.
PM with diameter less than 2.5 micrometres, or fine particulate matter, is easily inhaled and absorbed into the circulatory system. Fine particulate pollution is considered more hazardous than larger particles. High levels of air pollution may lead to low respiratory tract infections, depression, and other health issues. The most susceptible groups, according to a World Bank report from 2022 discussing the health impacts caused by air pollution, include young children under the age of five, the elderly, and people who have comorbid conditions like diabetes, heart disease, or respiratory issues.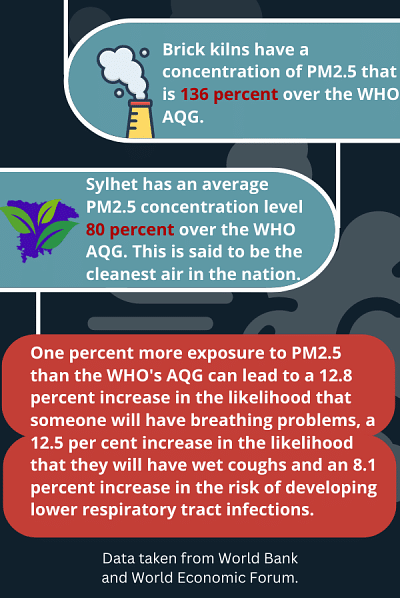 "Ambient air pollution puts everyone at risk, from children to the elderly. In 2019, air pollution was the second largest cause of death and disability in Bangladesh, and costed about 3.9 to 4.4 percent of the country's GDP," said Dandan Chen, Acting World Bank Country Director for Bangladesh and Bhutan in the 2022 World Bank report mentioned above.
While the impact of air pollution on physical health is usually emphasised, the impact on mental health is unfortunately often overlooked. Studies have shown that air pollution has a significant impact on mental health. People who breathe polluted air have changes in the parts of their brains that control emotions, which may make them more prone to mental health problems like anxiety and depression in comparison to people who breathe clean air.
Inflammation and oxidative stress in the brain have also been linked to air pollution, which can negatively impact cognitive ability and even induce neurological damage. On the other hand, air pollution has been connected to decreased attention span, memory and learning skills, and an increased risk of developmental issues in children and adolescents.
What is concerning is that the report from World Bank in 2022 makes a claim that a one percent increase in exposure to PM2.5 above the WHO AQG is linked to a 20 percent increased risk of depression.
The same World Bank Report from 2022 finds that the highest rates of depression are seen in places with heavy traffic and construction (13.7 percent). Furthermore, 13.7 percent of women and 11.8 percent of men report having depression, respectively. The tendencies of the rising depression prevalence among women and a rise in depression with age are consistent with findings in other nations.
When combined, these findings suggest a potential vulnerability of aggravated depression levels with worsening air quality. Time spent outdoors is typically associated with well-being and reduced adverse mental health outcomes. In Bangladesh, exposure to PM2.5 and the amount of time spent outdoors are both found to contribute to depression.
Furthermore, a systematic review from 2019 analysing the association of PM2.5 with depression, anxiety and other mental health issues, discovered a substantial correlation, showing that depression rises with increased levels of PM2.5 exposure.
"With more evidence showing a pronounced impact of climate change on physical and mental health, Bangladesh needs to build on its success in adaptations to ensure a stronger health system that averts outbreaks of emerging climate-sensitive diseases," said Mercy Tembon, World Bank Country Director for Bangladesh and Bhutan in a World Bank Report from 2021 that discussed the impact of climate change on health and mental wellbeing in Bangladesh.
Research indicates that as climate change intensifies and carbon emissions remain unregulated, air pollution will worsen. Given the data and statistics available, it is clear that the youth of Dhaka are definitely susceptible to impacts of air pollution, and not just their physical health but their collective mental health is also at a huge risk.
Reference:
1. World Bank (December 03, 2022). Breathing Heavy: New Evidence on Air Pollution and Health in Bangladesh.
2. World Bank (October 07, 2021). Bangladesh: Climate Change is Affecting Health and Mental Wellbeing.
3. World Economic Forum (November 29, 2022). This is the impact of air pollution on your brain and mental health.
4. Environmental Health Perspectives (December 18, 2019). Air Pollution (Particulate Matter) Exposure and Associations with Depression, Anxiety, Bipolar, Psychosis and Suicide Risk: A Systematic Review and Meta-Analysis.
Sumaiya is just trying to make it through each day; give her toxic positivism at [email protected]