How to deal with a quarter-life crisis?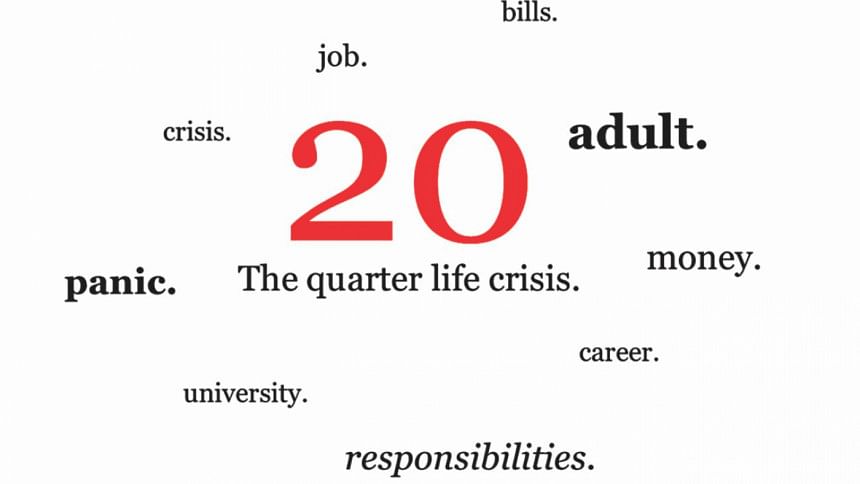 The worst mornings are when you wake up to an epiphany that a quarter of your life is done and dusted with.
This panic-stricken realisation can occur in the foulest of times. It will keep you tossing and turning at 4 am, ruin your attempts to feel wholesome during a nice shower and can even attack you in the middle of the stage when you suddenly register that you are dancing not at your friend's elder sibling's holud but at your VERY friend's holud.
So how do we deal with these moments?
1. STOP COMPARING
Like the wise Meredith Grey once said, we love hitting ourselves with the hammer and this right here is a profound example. We keep forgetting that life cannot be graded and fall into the toxic allure of comparisons. Social media is one vital determinant in controlling our confidence bars. These days the catalysis has been enhanced more as people your age are getting promotions, graduating or tying the knot. It's a flood of congratulations out there and you are not receiving any of that which can cause your mood to take a nosedive. What we have to remember is that people only exhibit the best aspects of their lives on social media; their highlight reels. We tend to compare that to our very worst which does not even make sense. 
2. ENGAGE YOURSELF MEANINGFULLY
One's life should be more than just waiting for the next episode of Game of Thrones. Letting routine become the focal point of one's days can get very dissatisfying. It is easier to get trapped in one's comfort bubble and laze around in it but embracing change and popping that bubble will be worth it in the long run. Get yourself a new hobby or try to learn something which intimidates you. The challenges you overcome will establish a sense of achievement. Keep yourself productively busy and not just busy. Often times, we only focus on the results or the end-product of something but ignore enjoying the process of it.
3. DON'T LET FAILED RELATIONSHIPS OR SINGLEHOOD BRING YOU DOWN
The significant other is a very important stakeholder of one's life. These are the people you will be sharing most of your meals with. What you have to decide is if you like sharing meals with them or if it feels like a drag. All I am saying is, for those who are in relationships, do not let it feel like chewing gum stuck to your sole (soul).
For the ones who are single and operating in "looking for the one" mode, do not question yourself every time you become a third wheeler. Don't let your time on earth get ruined by the delayed arrival of your love interest. In the meantime, get a dog.  
4. KEEP TRYING!
Sometimes, the best source of motivation is yourself. Immersing yourself in what drives you can become a getaway from all this turbulence. Even, if you are still unaware about what exactly drives you, then that is okay too. Choose to face your life one day at a time and try to be the best version of yourself and not of someone else. 
All these approaches do not come with a guarantee. The subjectivity of everyone's scenario does not allow any penned down thumb rules that you can simply apply to shake off this crisis. Still, try to perceive everything with positivity and acknowledge that your life has already begun. Becoming more aware of one's present can be a way to deal with this too. Take a moment to breathe, appreciate being alive, head over to your favourite coffee shop and try to smile at life until the poorly made coffee ruins it for you. Don't be so hard on yourselves, my precious earthlings.
Iqra suffers from wanderlust, dreams of discovering the Loch Ness Monster and occasionally complains about Economics. Tell her to get a life at [email protected] or www.facebook.com/iqra.l.qamari