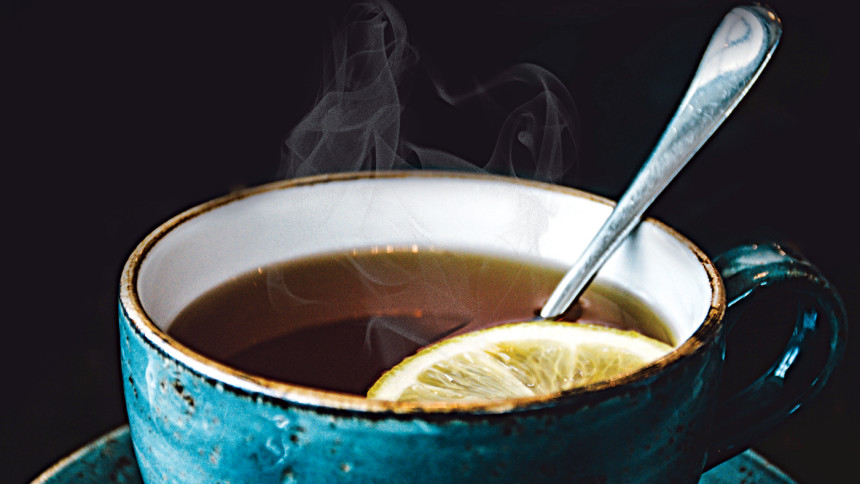 The boy stumbled a bit as he made his way through the quiet neighbourhood. His guitar bag felt heavy on his shoulders, and he struggled to keep the umbrella up right. He looked up at the grey sky and wondered for the umpteenth time as to why the weather had changed so suddenly. Before the rain came pouring down, he took shelter on the porch of a homestead. It looked like a small, cosy house and there was a chair out near the steps. He stood panting for a bit, trying to catch his breath and wondered how late he would be before he could go home. He was so absorbed in his thoughts that he didn't notice the old lady until she poked him on the elbow.
 "I thought you had fallen asleep standing up!" she said with a laugh, "Why don't you come inside for some tea? You'll catch a cold out here."
 The boy bowed his head and followed the lady into her home. He realised that the interior was just as comfortable and cosy as he thought. To the right was the kitchen where he could hear the kettle coming up to a boil. To his left was a small sitting area while a narrow corridor led straight to two rooms at the end. He dropped his umbrella near the door and propped the guitar bag up on the wall. The old lady asked him to make himself comfortable while she prepared the tea. He took a seat on one of the sofas while she placed the tray on a table in front. The tea smelled lovely and there were a few cookies placed on the side as well. The boy carefully took a sip.
"It tastes nice, doesn't it?"
He nodded.
The old lady smiled, "I've been perfecting my craft for quite some time now."
The boy added that the cookies tasted very good as well.
"Now you're being too polite, young man," she said with a smile.
The memories seemed hazy at first, but they slowly came into focus the more he looked about the house. He glanced at the old lady and wondered why there was an aura of sadness around her… 
"You don't come through this neighbourhood very often, do you?" the lady asked as she sipped her tea.
The boy shook his head and said that the rain caught him off guard and he wanted to take a short cut. He gave another look at the rain pattering outside the living room window.
"Oh, don't be so annoyed. After all, you wouldn't have had this great afternoon tea if the rain didn't make a surprise appearance. Plus, I find it to be quite calming sometimes." 
 The boy smiled a bit and asked why.
"I'm too old to move about much so I'm almost always at home. I've gotten quite fond of listening to the rain outside my window. What's that? Oh yes, yes, my son comes to visit me often and takes care of me. I rarely get any visitors other than that."
 The boy asked if he could play a song to cheer her up and she said that it would be absolutely wonderful.
He got up and came back with his guitar. She remarked on how well kept it looked.
"It's been a while since I heard someone play the guitar."
The boy lightly strummed and played a soft tune, carefully shifting through chords. He was awfully conscious of the rain. After he finished, he realised just how nervous he had been.
"That was beautiful."
The boy flushed a little and said that his voice must have sounded quite hoarse.
She smiled and told him it sounded very heartwarming.
Her calm voice tugged at his heartstrings, and he fought the tears that would come…
"What's wrong, young man?" asked the lady with a concerned look, "Do you feel ill? Maybe you would like some more tea."
She got up to get some just as the boy spoke.
"You're not really here, are you, dadu?" his own voice surprised him.
The lady stopped and didn't turn around. "What do you mean?"
"I mean that if you're not really alive, then…"
She looked back at him with a sad smile.
"Who am I really talking to?"
She didn't meet his eyes. "You've been coming here for a long time, haven't you?"
He looked at the empty sofa as the tears slowly trickled down.
"Yes. Why did you decide to appear now?"
She said, "I think it was because of the rain and to hear you sing one last time."
The lady tilted her head and came close to him.
"Close your eyes and listen to the rain outside."
The boy shook his head, "But if I do, you will disappear."
"No, I won't," she gently wiped the tears from his face. "People never really disappear as long as you remember them. I'll always listen to you sing. Now close your eyes."
The boy did as he was told. He said, "I never felt annoyed at the rain, dadu. It always reminded me of you."
There was nothing but silence that answered him.
After what felt like an eternity, he opened his eyes to see her gone. The tea and cookies remained on the table, and he saw that the kettle was taken off the stove. He smiled a little at that and gave one last look at the rain. He remembered the song he had sung to her.
I wish that heaven had visiting hours,
And I would ask them
If I could take you home…
The writer is a student of Islamic University of Technology, Malaysia.