Uttara University VC Dr Eaysmin Ara Lekha honoured with Bishwa Manav Shiksha Award 2023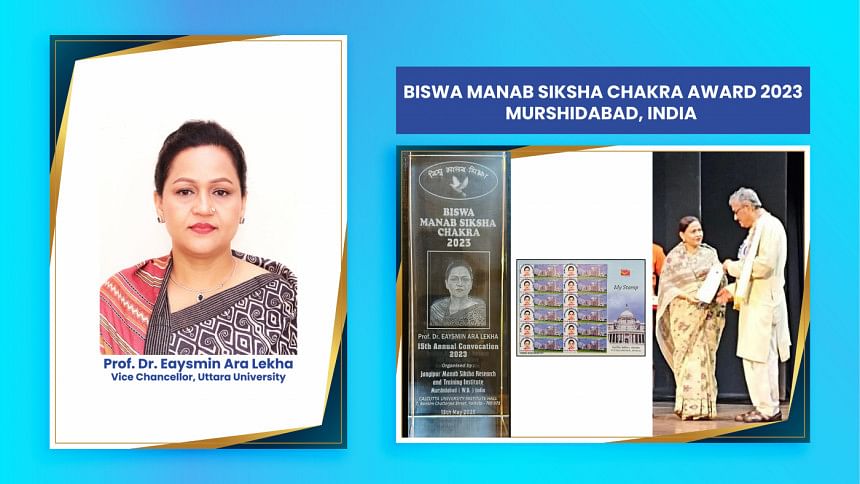 Professor Dr Eaysmin Ara Lekha, the VC of Uttara University, Bangladesh, was bestowed with the prestigious Bishwa Manav Shiksha Award 2023 in India. The distinguished honour was presented by the Jangipur Manav Shiksha Research and Training Institute during their 15th convocation ceremony held on May 15.
The convocation ceremony, which took place at the Calcutta University Institute Hall, witnessed the presence of several notable personalities, including Dr Sujit Basu, former VC of Visva Bharati University, renowned writer Syed Hasmat Jalal, and Namita Roy Mallick, former director of the Information and Cultural Department of West Bengal. These esteemed individuals, along with many other distinguished guests from India, graced the occasion.
Highlighting the exceptional contributions and accomplishments of Professor Dr Lekha, the Bishwa Manav Shiksha Award acknowledged her outstanding work as an educator, social worker, and entrepreneur.
The esteemed recognition resonates not only within the academic community but also across various sectors influenced by her impactful endeavours.
As a testament to her remarkable achievements, the ceremony also marked the release of a commemorative postage stamp featuring the image of Professor Dr Lekha. This gesture symbolizes the profound impact she has made in the field of education and serves as a source of inspiration for aspiring individuals in the academic realm.
The Jangipur Manav Shiksha Research and Training Institute's decision to bestow this esteemed award upon Professor Dr Lekha underscores her significant contributions to education, both in Bangladesh and beyond. Her dedication and unwavering commitment to advancing knowledge and fostering social change have truly set her apart as a beacon of inspiration and an exemplary figure in the realm of academia.