UIU holds inaugural ceremony of 6th UIU-ICSD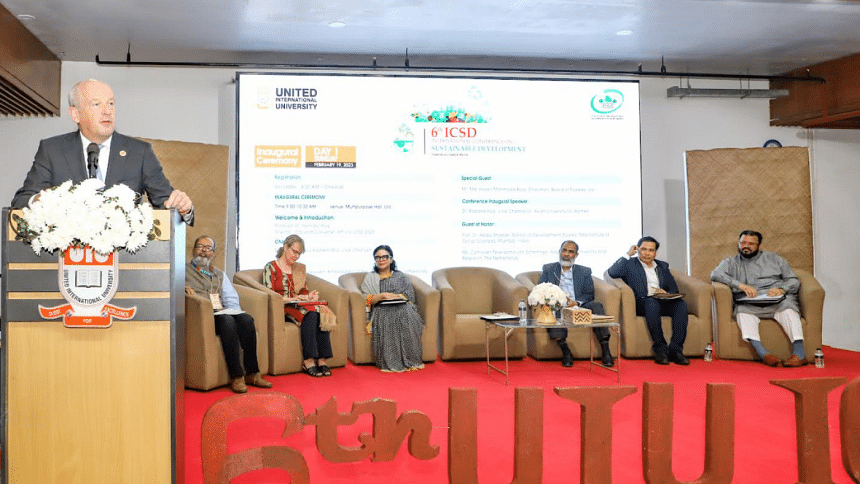 The inaugural ceremony of the 6th UIU-International Conference on Sustainable Development (UIU-ICSD) was held on February 19 at United International University (UIU). The Institute of Development Studies and Sustainability (IDSS) of UIU organises this conference every February. 
Anne van Leeuwen, Ambassador of the Kingdom of the Netherlands to Bangladesh was present as the Chief Guest. Muinuddin Hasan Rashid, Chairman & MD, United Group was present as the Special Guest. Prof. Dr Abdul Shaban, School of Development Studies, Tata Institute of Social Sciences (TISS), Mumbai, India, and Catharien Terwisscha van Scheltinga, Senior Researcher, Water Management in Deltas, WUR, Netherlands were present as the Guests of Honor. Dr Rubana Huq, Vice-Chancellor, Asian University for Women (AUW) was present as the inaugural speaker with the chair of Prof. Dr Md. Abul Kashem Mia, Vice Chancellor, UIU in the inaugural session. Prof. Dr Hamidul Huq, Director, IDSS and Convener, 6th UIU-ICSD 2023 started the inaugural ceremony with his welcome speech and spoke about Bangladesh Delta Plan and sustainable development in Bangladesh. 
Some insightful thoughts and steps for SDGs attainment came out of this session. A rich audience having representatives from government, universities, research organisations, foreign missions, national and international NGOs, and civil society made the inaugural ceremony a success.
This ICSD aims to create a research-based knowledge sharing platform to notify policy decisions and research activities towards attaining the challenges of sustainable development at national, regional and international levels.
This time, the conference received a total of 155 papers under eight different themes and 116 papers were selected out of them. Besides Bangladesh, papers also came from Asia, North America, and Oceania countries like India, Japan, Nepal, Australia, Netherlands, USA etc.