St. Joseph and Scholastica Uttara win at Scholastica Interschool Debate Tournament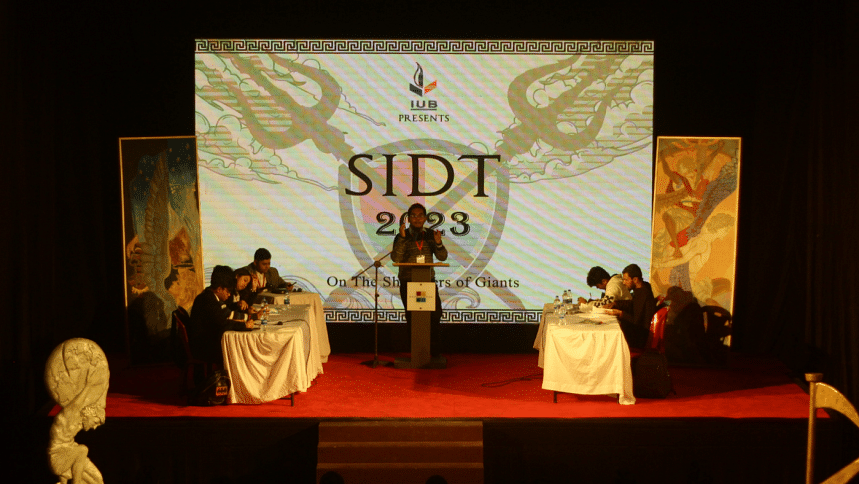 On January 6, Scholastica Debate Club returned with their flagship event "Scholastica Interschool Debate Tournament (SIDT)".
SIDT is a long-running annual venture of the Scholastica Debate Club and has made a name for itself in the Bangladeshi debate circuit. This year, it returned after a two-year hiatus caused by the pandemic. A total of 40 teams from 23 institutions participated in the tournament this year.
The tournament was held over the course of two days, with four preliminary rounds, after which the 12 qualified teams (the teams with the highest combined speaker scores) proceeded to the out rounds. The breaking teams got to celebrate by breaking large blocks of ice with a mallet as per long-winded SDC tradition. The break announcements were made at the end of the first day, the break night.
In the grand finals, JDC1 from St. Joseph Higher Secondary School was crowned the Open champions and WDA1 from Sir John Wilson School ranked as the Open runners-up. In the novice finals, SDC1 from Scholastica Uttara was crowned the Novice champion while DGBDS 313 from Dhanmondi Government Boys' High School became the runners-up.
The top five Open speakers and top three Novice speakers were also awarded crests with the overall best speaker title awarded to Sahib Rahman Khan from NDDC 1 (Notre Dame College, Dhaka).
The event started off with a festive opening ceremony and the winners were announced in the closing ceremony, where the club's faculty advisor Majed Mohd. Abdurrahman delivered a speech to inspire the young debaters, adjudicators, and organisation committee.
The title sponsor of the event was Independent University, Bangladesh (IUB). The event was co-sponsored by Radiant Pharmaceuticals Ltd. and powered by Square Pharmaceuticals Ltd. Associate sponsors of the event included Unilever Horlicks and Prime Bank, food was sponsored by Well Food, and the media partners were SHOUT and Samakal.