NSU and Calcutta University strengthen ties through collaborative seminar on history and heritage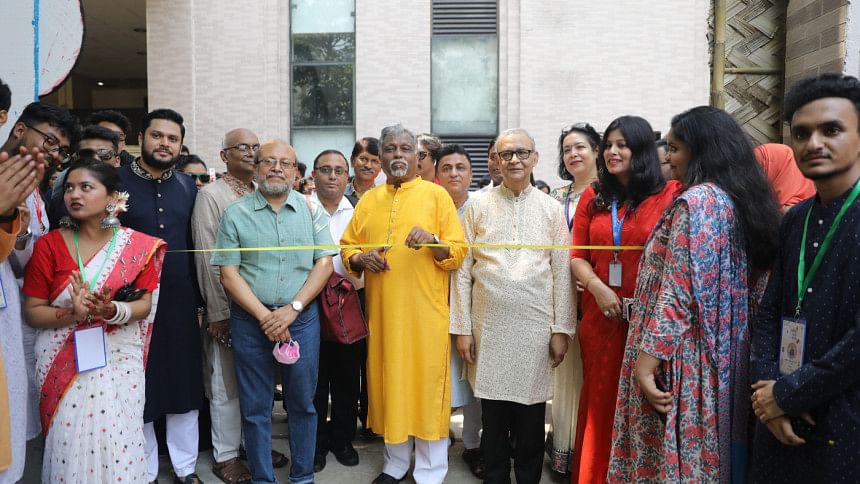 To foster friendly ties between Bangladesh and India, scholars from North South University (NSU) and Calcutta University (CU) discussed various historical and current issues today. The special seminar, titled "Aspects of Bangladesh-West Bengal: History and Heritage" was organised by NSU to celebrate the 162nd birthday of Nobel laureate Rabindranath Tagore. Faculty members delivered five talks from both institutions, and NSU VC Prof. Atiqul Islam chaired the event.
CU VC Professor Asis Kumar Chattopadhyay joined the seminar online, emphasising the need for research and cultural collaboration between the two universities. Prof. Atiqul Islam highlighted the impact of Sufism on Islam in the region and stressed the importance of cultural and research cooperation to maintain communal harmony.
Among the topics discussed were the cosmopolitan character of West Bengal, the historical evolution of Dhaka city, the colonial drug trade in Bengal, and society and culture in mediaeval Bengal. The seminar also addressed the vulnerability of the Bengal Delta to climate change and natural disasters.
Deliberating on Cosmopolitan Kolkata, CU Department of History Prof. Dr Kingshuk Chatterjee observed that the cosmopolitan character of West Bengal has receded after the partition of India, which is a worrying trend. NSU Professor of History and Philosophy Department Dr Sharif Uddin Ahmed highlighted how Dhaka City, the Queen of the East, evolved through various milestones of history. Dwelling on the Colonial Drug Trade in Bengal, NSU Professor of History and Philosophy Department Dr M. Emdadul Haq observed that the British ruler earned more than 50 percent of its revenue from the drug business in the region.
On the issue of Society and Culture in Mediaeval Bengal, Prof. Dr Amit Kumar Dey of the History Department at Calcutta University observed that to ensure friendship between Muslim and Hindu communities in the region, historians must reconstruct the past and with the help of empathetic political leadership in the region, it will be possible to maintain a balanced connection with people of neighbouring countries.
Dwelling on the Bengal Delta: Its Vulnerability to Climate Change and Natural Disasters, Prof. Dr Md. Sirajul Islam of NSU's Director of the Centre for Infrastructure Research and Services observed that the Bengal Delta poses a significant threat to the region from a climate change perspective. He stressed fast-tracking collaboration between Bangladesh and India in this area.
Earlier in the day, a daylong Boishakhi Mela was held at the NSU playground, featuring 45 different stalls, Nagardola, puppet dance, and more. Students from both universities attended the fair, including a CU's Department of History delegation. The day concluded with a captivating cultural performance by Calcutta University students at the NSU Auditorium.