Deshi Ballers organises women's basketball tournament at BKSP for the first time in history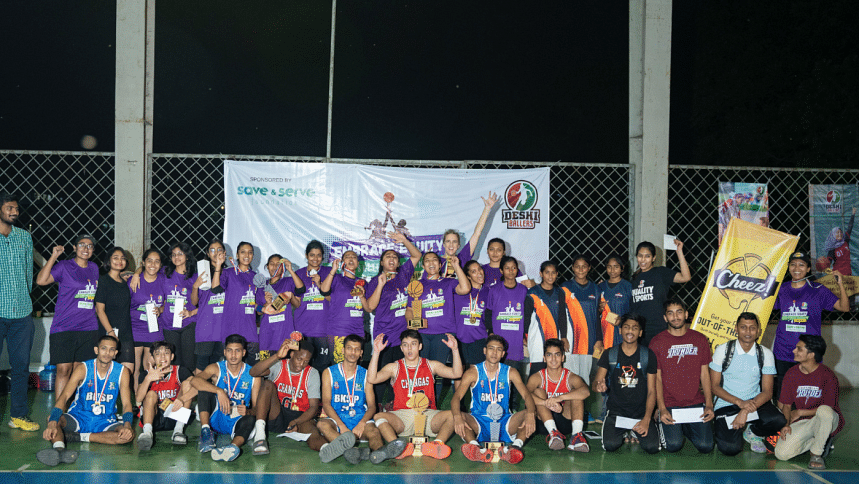 Deshi Ballers celebrated International Women's Day with the 5th season of their flagship tournament - Embrace Equity 3x3 Basketball Tournament on March 11 at the Bangladesh Krira Shikkha Protisthan (BKSP). 
Bringing together people from diverse backgrounds and cultures to celebrate diversity, build understanding, and compete in a positive and supportive atmosphere, the tournament had 20 teams of boys and girls from various schools, cities, colleges, universities, clubs, and organisations from Dhaka, Chandpur and Rajshahi. It also included international players from the USA and Cameroon. 
The main objective of this tournament was to make a statement on the importance of equal opportunities in sports. With the growth of women's basketball nationally, Deshi Ballers is now urging the national sports institute of Bangladesh (BKSP) to start women's basketball as part of their curriculum with the hope that by providing girls with the opportunity to participate in sports, especially in areas where they have traditionally been excluded or marginalised, they can help to break down barriers, challenge gender stereotypes, and promote social and economic empowerment. 
"The launch of a women's basketball program at BKSP will not only inspire aspiring players, but also coaches, referees, and sports managers amongst numerous girls in Bangladesh who aspire to pursue basketball as a profession," said Gulnahar Mahbub Monika, co-founder of Deshi Ballers. 
The tournament was inaugurated by Sean J. McIntosh, Counselor for Public Affairs, U.S. Embassy Dhaka. In his opening remarks, he said "On the occasion of National Women's History Month, I am pleased to witness the inaugural women's basketball tournament at BKSP. It is heartening to see that the values of diversity, inclusion, equity, and accessibility are being embraced in the realm of sports. It is a testament to the perseverance and dedication of the organisers, as well as the courage and commitment of the women who are stepping forward to make their mark in a traditionally male-dominated field." 
Also present at the opening ceremony was Md. Khaled Mahmud Akash, basketball coach at BKSP. He said, "I appreciate Deshi Ballers' commendable efforts to promote women's basketball in Bangladesh. As we witness BKSP boys' teams playing today, we cannot help but envision a future where girls also have access to the same opportunities to develop their skills. I will do my part to initiate discussions for us to start that journey." 
12 girls' teams and 8 boys' teams participated in the tournament. The girls' segment of the tournament saw intense competition amongst several skilled teams, with Team Knees for Threes emerging as the champions starring Natasha, Armina, Onneasha and Ashreen. Team Rajshahi which included Boishaki, Oishe, Kaniz and Orin displayed remarkable skill in the quarterfinals and semi-finals, and secured the runners-up position, while Team Messed Up took the third place spot with Radiah, Joyita, Zara and Nabila in the squad. 
In the boys' segment of the tournament, team Changas starring Saihan, Emmanuel, Arash and Aaron emerged as the champions after a nail-biting buzzer-beater, while BKSP-1 Piash, Rumman, Durjoy, and Shawon, secured the runner-up position, followed by team D-fence in third place with Araf, Arafath, Sifat and Faiyaz. Boishaki from team Rajshahi was named the Most Valuable Player among girls, and Emmanuel from team Changas was named the Most Valuable Player among boys. The shooting contest winners were Whitney from team Dunkin' Donuts scoring 6 free throws in 1 minute, and Aaron from team Changas scoring 7 three-pointers in 1 minute. 
The tournament was sponsored by Save & Serve Foundation along with Grameen Danone Foods Limited as nutrition partner, Cheez as food partner, Somoy TV as media partner, and SHOUT as digital media partner.