Bangladesh Philosophy Olympiad 2023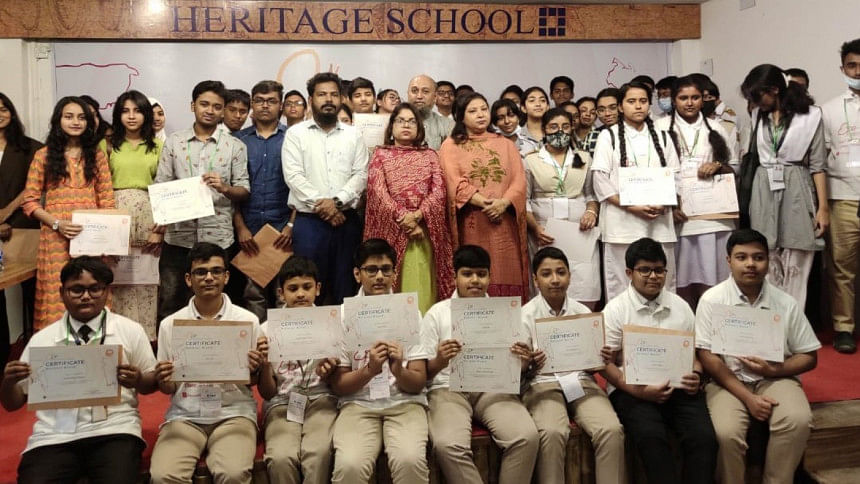 Under the initiative of the Philosophical Society of Bangladesh, the National level competition of the Bangladesh Philosophy Olympiad 2023 was held on February 28 at Narayanganj Heritage School auditorium. Contestants from different divisional cities of Bangladesh participated in this competition. 
The topic of this year's competition was "The greed of gain has no time or limit to its capaciousness. It's one object is to produce and consume. It has pity neither for beautiful nature nor for living human beings. It is ruthlessly ready without a moment's hesitation to crush beauty and life" Rabindranath Tagore.
Two finalists of Philosophy Olympiad 2023, Faisal Mahmud Arnob from Notre Dame College, Dhaka and Tajwar Zaman Ayman from Heritage School will participate in the International Olympiad to be held in Greece from May 11 to 14, 2023. Apart from Bangladesh, more than 50 countries of the world will participate in the event. 
The Olympiad conducted by the jury board Sanjida Yeasmin, Principal of Heritage School, Program coordinator of Narayanganj district Shaila Akter, Central coordinator of Philosophy Olympiad Mohammoed Hasan Khan ,  Founder of Bangladesh Philosophy Olympiad Mohammad Salim Miah, and teachers from different school. 
The Olympiad program began with the registration of candidates. Later, the main competition, introduction phase, distribution of prizes, and the speech of the invited guests concluded the event.