Fastest ever convertible: Hennessey Venom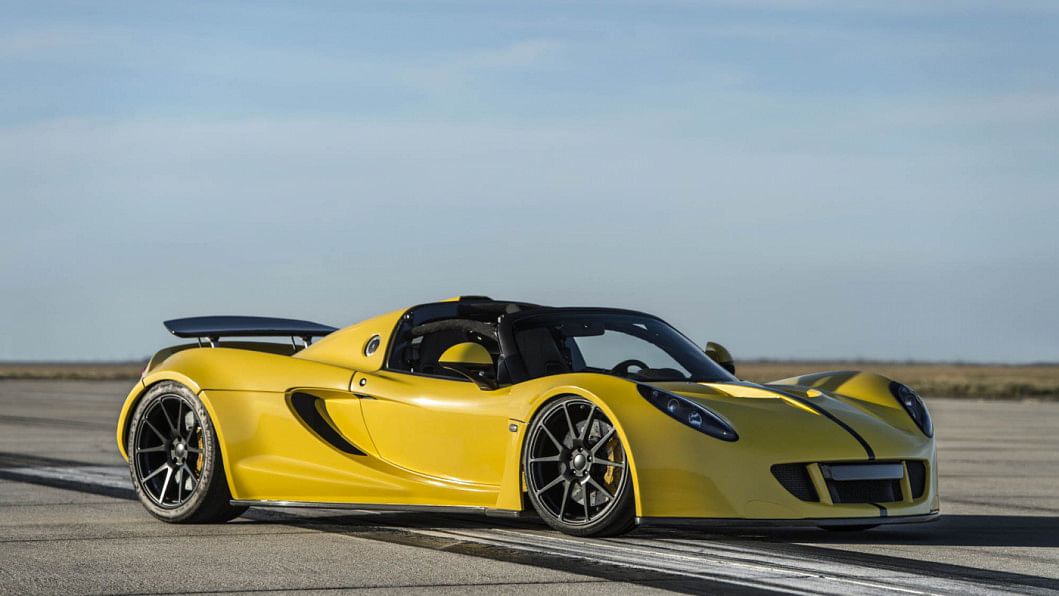 A hyper Lotus on steroids is what a Venom GT looks like. This Frankenstein's creator is the Texas based motorsports company, Hennessey. In 2014, the Venom GT coupe ran a top speed test that achieved 270.49 mph (435.31 kph), faster than anything at that time. No, not even Bugatti Veyron's Super Sport, which did 267.7 mph (430.9 kph). But the Venom GT's controversial feat came with an asterisk as it did a one way run and was only an "unofficial" record. So technically, Bugatti still held the title of the fastest supercar.
In April 2013, Bugatti Veyron 16.4 Grand Sport Vitesse roadster went on to make an insane test run that made it the fastest convertible available to the general public. Eyeing that, founder John Hennessey went on to build a convertible version of the Venom GT and did a test run in late March 2016. The Venom GT open top did a 265.6 mph (427.4 km/h) at the Naval Air Station Lemoore in California. But he waited two weeks to tease the new world record last week before making an official announcement on Monday, April 11 2016, which happens to be exactly three years from the day that Bugatti announced the convertible world speed record that Hennessey just broke. This time though, there is no "unofficial" or asterisk on the record as it is officially tested and proven in fair grounds.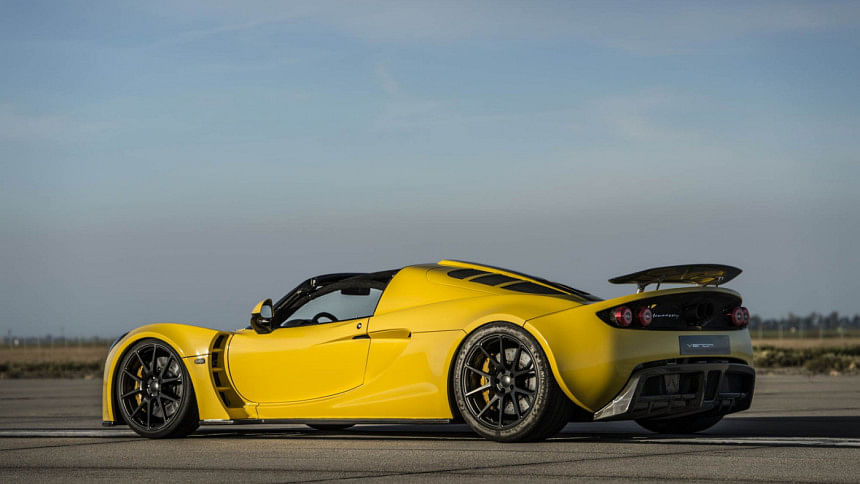 The low slung wide Venom GT Spyder boast a 7.0-liter twin-turbo Chevy LS7 V8 with 1,451 hp and 1,287 lb-ft of torque, with 0-60 mph coming in under 2.4 seconds. And you know what the top speed is already.
In the meantime a lot happened in the hypercar segment. Koneiggsegg's One:1 came boasting a top speed of 273 mph (440 kph), but officials said top speed was not of priority. Then Bugatti launched its all new Chiron in the 2016 Geneva Auto Show that does a 261 mph (420 kph) with a speed limiter, but is alleged to do beyond 288 mph (463.5 kph). All we got to do is wait it out until the official no limit top speed run happens.
Hennessey is already planning things up its sleeve with the attractive Venom F5. It is rumored to go beyond 290 mph (466.7 kph). Damn.