11th Dhaka Motor Show 2016, 2nd Dhaka Bike Show 2016 and Dhaka Auto Parts Show 2016 kicks off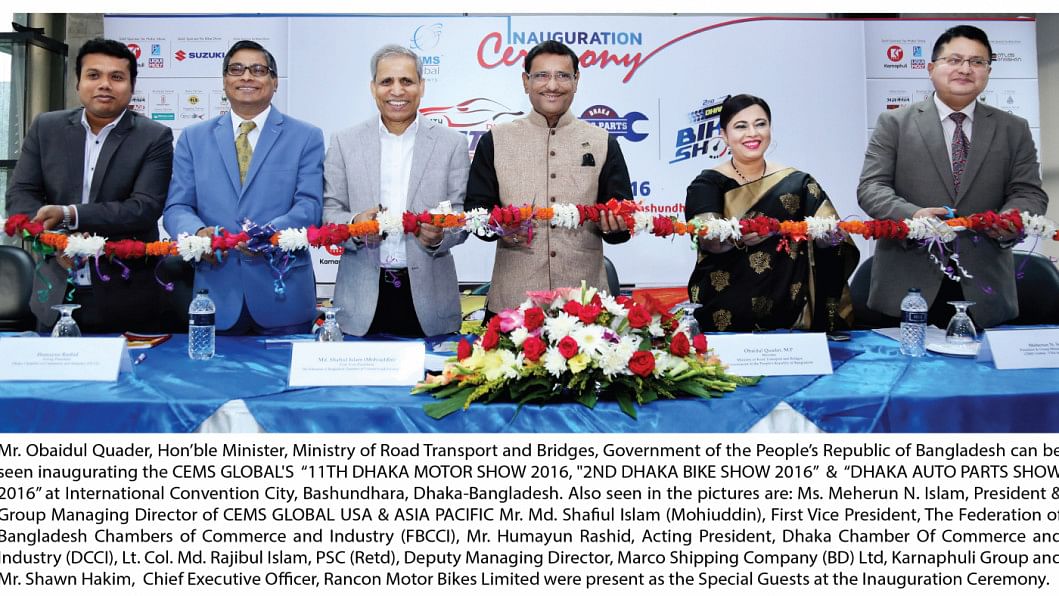 The inauguration ceremony of the 11th Dhaka Motor Show 2016, 2nd Dhaka Bike Show 2016 and Dhaka Auto Parts Show 2016 marked the start of a three day eventful program. The program was hosted at the International Convention City, Bashundhara, Kuril, Dhaka on 31st march 2016.
Mr. Obaidul Quader, hon'ble Minister, Ministry of Road Transport and Bridges, Government of the People's Republic of Bangladesh as chief guest, Mr. Md. Shafiul Islam (Mohiuddin), First Vice President, The Federation of Bangladesh Chambers of Commerce and Industry (FBCCI), Mr. Humayun Rashid, Acting President, Dhaka Chamber Of Commerce and Industry (DCCI), Lt. Col. Md. Rajibul Islam, PSC (Retd), Deputy Managing Director, Marco Shipping Company (BD) Ltd, Karnaphuli Group and  Mr. Shawn Hakim,  Chief Executive Officer, Rancon Motor Bikes Limited were present as the special guests at the inauguration ceremony.
The continuous GDP growth has influenced better lifestyle, which calls for improved transportation system. The seminar was a discussion platform for the rapid development of the transportation infrastructure of the country. The three day event will bring automotive exhibitors and consumers to engage in trade and awareness activities. The hon'ble Minister emphasized on the importance of road safety and the usage of helmets for motorbike passengers. A Road Safety program and workshop on automobile engineering was hosted at 3:00 PM at the same venue, conducted by Bangla Automobile School, hosted by Mehrab Masayeed Habib.
More value is to be added through an adventurous Rallycross event on the closing day of the event, 2nd of April at the same premises ground. Renowned and leading car & motorcycle distributors & dealers along with lubricant companies, CNG conversion companies and automotive component manufacturers & importers from Bangladesh and abroad are showcasing their products in over 200 booths.
Karnaphuli Group is the Gold sponsor of the 11th Dhaka Motor Show2016, while the Gold and Silver sponsors of the 2nd Dhaka Bike Show 2016 are Suzuki and Atlas Bangladesh respectively. SHIFT, the weekly automotive publication of The Daily Star is one of the media partners of the event. We are also present at the venue so do drop by to check us out for exclusive merchandise.
Look into SHIFT for all the happening updates on the exciting event.