No one is cheating during online exams, teachers still believe
Educators believe it is their teaching method which is leading to full marks in all exams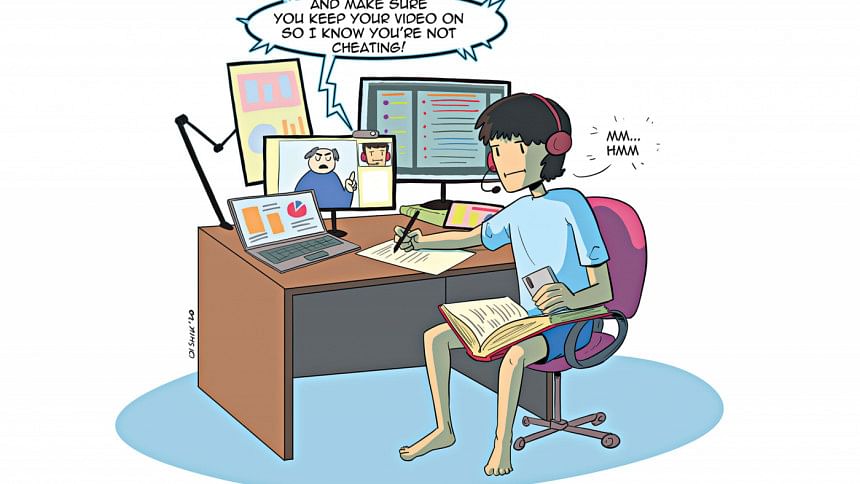 A school in the capital set a record for the highest number of toppers during an assessment conducted by the educational institution.  
As per the government order of students' results being based on the evaluation of their respective educational institutions, Holy Flour Euro-American Standard School conducted exams on all the relevant science subjects, as commerce students can wait.
The exams were taken online, but teachers swear that the students did not cheat. "They had their videos on the entire time. I could see everything," Science teacher Liza Miss told this newspaper.
"I've become an expert voyeur during the pandemic, so I doubt anything would escape my eyes," she said with a giggle to make herself seem more personable.
A Facebook group, created right before the exams, however, told a different story. The group titled "Holy Flour Science Exam Live Discussion" had students posting their questions and answers during real time. Matching the time stamp of the posts with the exam time, it was clear that most of the conversations in the group were taking place while students were giving their exams.
When the matter was brought up before Principal Rohan Singh, he immediately brushed it aside. "These are kids being kids. How can they discuss anything when we have cameras on them at all times?" he asked.
"Kids always find a way to post silly memes. But that's not cheating," he said with a laugh.
Questions were also raised after the exam paper for Chemistry was leaked hours before the test began, but this too was swept aside by the principal. "Exam papers leak all the time. They cost around Tk 100. Do you want one for next week's Math exams?" he said.
A student, under condition of anonymity, admitted to cheating but said there was more to it than meets the eye.
"Everyone cheated. But us having to pay tuition fees, plus all this brand new internet expenditure at the same time is also kind of cheating, right? Why can't telcos make internet free for students?" he asked.
Contacted, telco leader Yameen's Phone's spokesperson said they were a profit-making organisation and weren't about to give handouts in such a hyper-capitalist market.
"You can't pretend to be a socialist country when eight percent of your parliament is made up of millionaire businesspersons. Also, we do that video where you are taught very important subjects in 10 minutes, so don't look at us for more help."