Rohingya camp fire was act of sabotage
Finds govt probe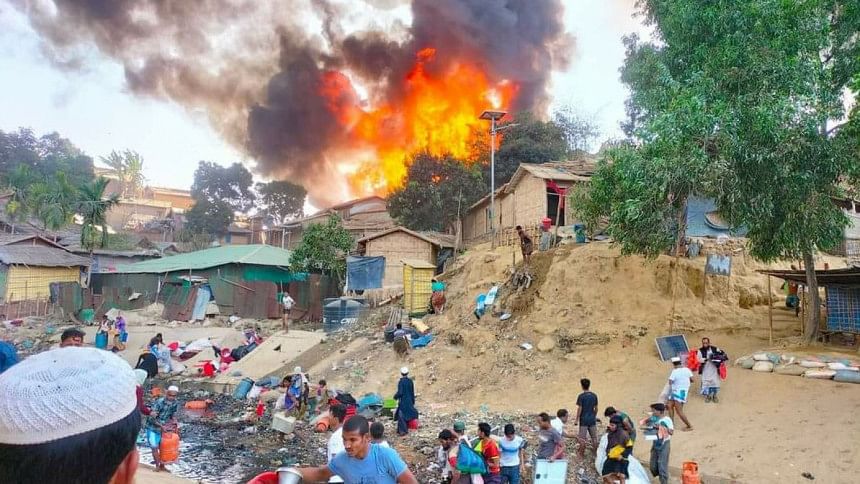 The fire that gutted nearly 2,200 Rohingya shanties and rendered around 16,000 people homeless in Cox's Bazar refugee camps on March 5 was an act of sabotage, a government probe body has found.
Some criminal groups carried out the "planned" sabotage over establishing supremacy in the camps, according to the probe body findings.
However, the committee could not identify the criminals.
Additional District Magistrate Abu Sufian, who led the probe body, shared the findings with journalists at a press briefing in the deputy commissioner office yesterday.
"The fire was originated around 2:30pm and it came under control around 6:00pm. We found evidence that the fire first broke out at a block of camp no-11 and then in five blocks of two other camps within a short span of time," said Sufian.
"A clash and an exchange of bullets took place between two groups of criminals in the Rohingya camp just a day before the fire incident," he added.
Besides, some people strategically barred Rohingyas from dousing the blaze, saying that "Run quickly and save your life first. It is better to save your life than put out the fire."
"All these incidents prove that the fire was an act of sabotage," said Sufian.
The probe committee talked to 75 people to prepare the report. The interviewees include Rohingya people, staffers of camp administration and NGOs and local representatives.
It also placed a 10-point recommendation, including further investigation to identify the criminals, and steps for preventing such incidents.