Over 3,500 Rohingyas attempted deadly sea crossings in 2022: UNHCR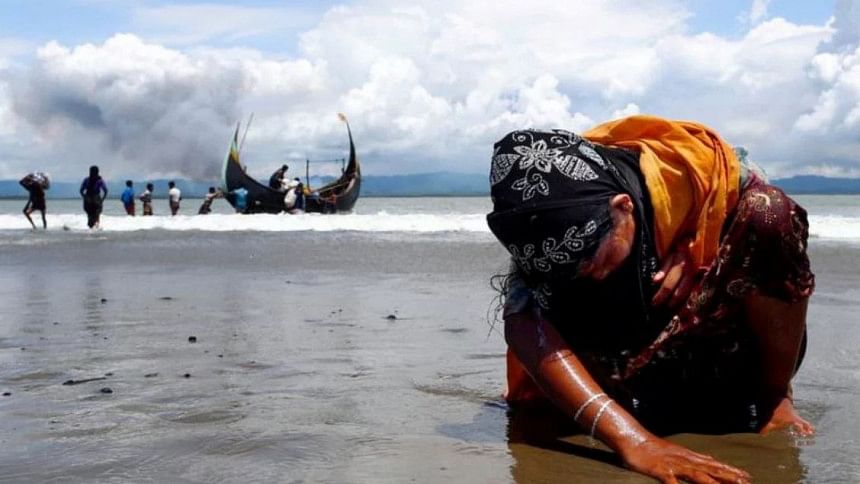 More than 3,500 desperate Rohingyas attempted deadly sea crossings in 39 boats in the Andaman Sea and the Bay of Bengal in 2022, according to the latest data from UNHCR, the UN Refugee Agency.
This represents a 360 percent increase on the year before when some 700 people made similar journeys, the UNHCR said in a statement.
It said at least 348 Rohingyas died or went missing as they attempted to cross the Andaman Sea and the Bay of Bengal last year, with the figure reaching alarming levels after the sinking of a boat in December, with all 180 Rohingya Muslims on board presumed dead.
The number of Rohingyas fleeing Myanmar or Bangladesh by sea surged fivefold to more than 3,500 in 2022 from a year earlier, it said adding that 3,040 Individuals disembarked in 2022.
"Nearly 45 per cent of those who disembarked were women and children. Up to 157 persons may still be at sea at the end of 2022," the report said.
"They undertake dangerous sea journeys seeking protection, security, family reunification, and livelihoods in other countries. Growing desperation in Myanmar and Bangladesh appears to have driven the increasing numbers undertaking sea journeys in 2022," the statement said.
It said most boats departed from Myanmar and Bangladesh, highlighting the growing sense of desperation amongst Rohingyas in those two countries.
"Among them are victims of trafficking, unaccompanied and separated children, and survivors of sexual- and gender-based violence."