'Fictitious'
Quader dismisses Sinha's allegation against govt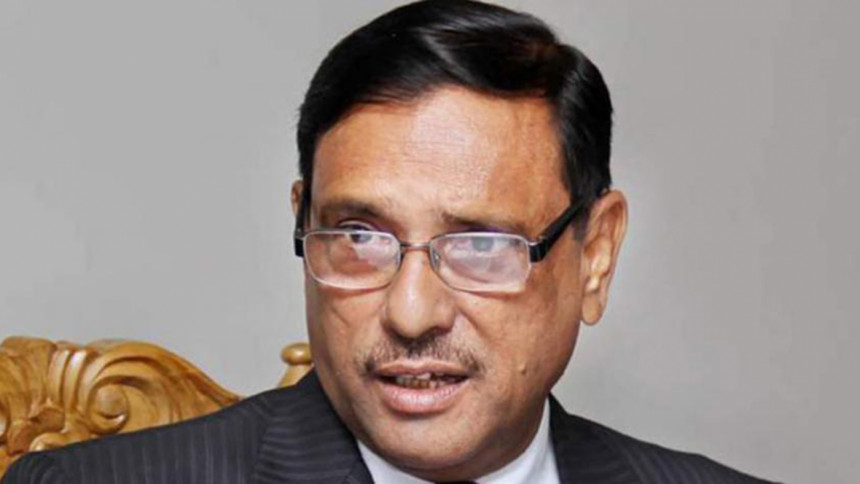 Awami League General Secretary Obaidul Quader yesterday dismissed as "fictitious" former Chief Justice SK Sinha's allegations against the government.
"We all are aware of the context in which he [Justice Sinha] resigned from his post. He can write a fictitious book while staying abroad. He has become a former [chief justice]. Heart aches when you are out of power. This happens ... it's natural ... we don't want to comment," he said.
Quader was talking to journalists before a meeting with AL leaders from Pirojpur at the party headquarters on Bangabandhu Avenue in the capital.
"If he [Justice Sinha] is speaking the truth, then why didn't he say this when he was the chief justice? Why didn't he go public and speak the truth?" he asked.
"Do we have to believe this? There is no logic behind this," mentioned Quader, also minister for road, transport and bridges.
"There is nothing to speak about someone who is writing fiction and publishing books from abroad. When you don't have power, envy overwhelms you," he added.
An autobiography of Justice Sinha, now in the US, came out on Sunday where the former CJ claimed that he stepped down in the "face of intimidation and threats".
Lalitmohan-Dhanabati Memorial Foundation holds the copyright of Justice Sinha's book titled "A Broken Dream: Rule of Law, Human Rights and Democracy".
On a recently-floated platform called Jatiya Oikyo Prokriya by Bikalpadhara Bangladesh President AQM Badruddoza Chowdhury and Gonoforum President Dr Kamal Hossain, Quader said such unity among leaders and parties cannot have any impact on people.
"Once some 76 political parties forged unity ... But could it leave any impact on people's mind?" he asked.
The AL general secretary further said they have faith in the countrymen as public opinion is in favour of Prime Minister Sheikh Hasina.
Responding to a query about several BNP leaders' recent visit to the UN headquarters, Quader said the UN secretary general didn't invite representatives of the BNP though the party claimed that he did.
"It is as clear as daylight now," he said, adding that the BNP is spreading falsehood about the invitation.