Form new EC comprising persons accepted by all: Fakhrul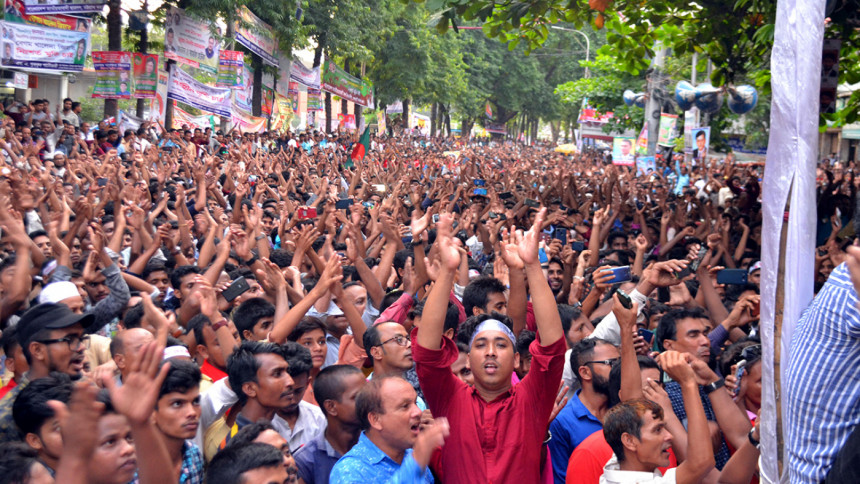 BNP Secretary General Mirza Fakhrul Islam Alamgir today demanded to nullify the present Election Commission and to form a new commission comprising "persons accepted by all".
"People do not have any trust on the Election Commission and electoral system any more. As a result, very few voters, around 15 per cent, cast their votes in the by-elections," Fakhrul said while addressing at a public rally in Chattogram.
"So, we demand cancellation of this EC and formation of a new commission comprising qualified persons who are accepted by everybody," he said.
The BNP leader was addressing the rally as the chief guest at Nur Ahmed Road in Kazir Dewri of the port city demanding release of the party Chairperson Khaleda Zia from jail.
Fakhrul also demanded re-election after cancelling the incumbent parliament.
"They [government] even interfere into the task of media," he said, adding that the government has made the judiciary, police and administration partisan.
Criticising the budget of 2019-20 fiscal year, Fakhrul said it would favour the rich and bring miseries to the poor.
"Already prices of essentials have increased after passing of the budget," he said.
Fakhrul also criticised the recent gas price hike.
Demanding release of Khaleda Zia from jail, Fakhrul said government is not providing her proper treatment.
"She is critically ill... the government will have to free her for her proper treatment," he said.
BNP National Standing Committee Member Khondokar Mosharraf Hossain said the EC published the result of the December 30 national polls after six months where it was seen that 100 per cent votes were cast at 213 polling centres.
This clearly shows the state of the polls, he said.
"Government tried to destroy BNP, but BNP cannot be destroyed," he added.
Moudud Ahmed, another standing committee member of BNP, said the government is responsible for creating a great crisis by sheltering 11 lakh Rohingya people.
"It is the diplomatic failure of the government for which no country stands by us," he said.
"Now, government is making permanent shelters for Rohingya people... they would spread terrorism after some days," Moudud also said.
"Rohingya people will have to be repatriated immediately... if the government fails in this regard, they should step down," he added.
BNP leader Amir Khasru Mahmud Chowdhury, also a standing committee member of the party, termed the incumbent government and parliament "illegal".
"When the government is illegal, the parliament is illegal, how would the other institutions of the state would perform their constitutional duties properly?" he said.
BNP leaders Mahbub Uddin Khokan, Jainal Abedin Faruk, Aman Ullah Aman and Mahbubul Alam Shamim also spoke at the programme among others.