'BSMMU couldn't submit Khaleda's medical report under govt pressure'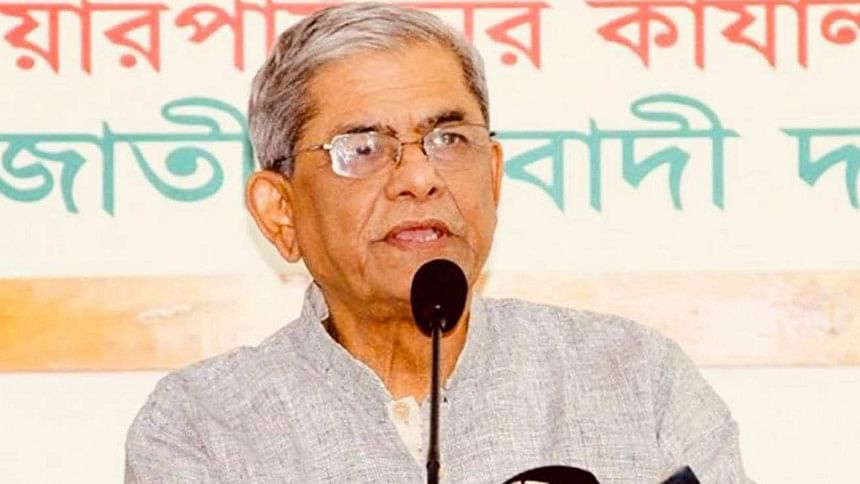 BNP Secretary General Mirza Fakhrul Islam Alamgir today claimed that Bangabandhu Sheikh Mujib Medical University (BSMMU) prepared BNP Chairperson Khaleda Zia's medical report last night, but they could not submit it before the court under pressure from the government.
"According to an unofficial source, the medical report of Khaleda was prepared by the BSMMU last night. But it (the process) was halted under the direct pressure from the government," Mirza Fakhrul alleged at a press conference at the party's Nayapaltan office today.
The entire nation was disappointed after the court rejected the lawyers' plea for hearing Khaleda's appeal today and later deferred the date of hearing, he also said.
"We were observing with utter surprise and concern that BNP chairperson was denied facilities at the prison cell from the very beginning of the case," he alleged.
Terming the rejection of Khaleda's bail as inhumane and against the existing law, Fakhrul said, "In such case, the bail is supposed to be granted within seven days. But it was not happened in the context of Khaleda rather her bail appeal has been obstructed in every steps."
About Prime Minister Sheikh Hasina's comment against Khaleda, Fakhrul said the premier is interfering in the judiciary.
The prime minister yesterday came down heavily on BNP chief Khaleda and termed her the "godmother of terrorism" in the country.
With that remark, the PM and her government showed fear to BSMMU authorities as they (government) do not want bail of Khaleda.
"Release of Khaleda is not a matter of kindness rather it is her legal right. Everything is planned to keep her away from politics which is completely illegal," he further claimed.
The BNP leader said there is a death risk of Khaleda, if she was not treated properly and the government will be responsible for not treating her.