BNP to participate in UZ polls scheduled for Oct 14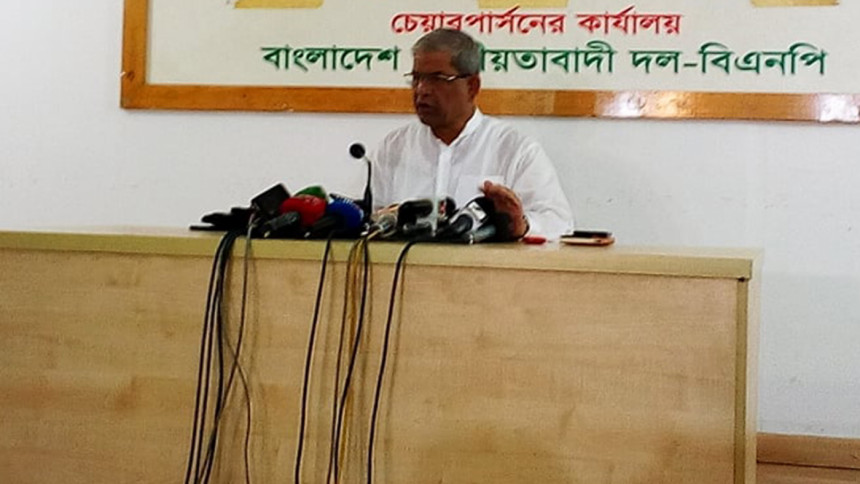 BNP has decided in principle to participate in the eight upazila parishad elections scheduled to be held on October 14.
"Election at eight upazila parishads will be held on October 14 and we will participate in the polls with our party's electoral symbol sheaf of paddy," said BNP Secretary General Mirza Fakhrul Islam Alamgir.
Fakhrul was addressing a press conference at Khaleda Zia's Gulshan office in Dhaka tonight.
After the 11th parliamentary election held on December 30 in 2018, BNP boycotted all elections under the management of the current government bringing allegations of vote rigging and ballot stuffing.
BNP held a meeting of its national standing committee, the highest policy-making body, at the Gulshan office around 5:00pm and took the decision, staying aside from its stance.
BNP demands govt's clarification on Assam NRC
Several Indian newspapers have been publishing different types of reports quoting ministers of Assam and Indian central government that the 19 lakh people, who have been excluded from the NRC, are Bangladeshi citizen, Fakhrul said.
"We condemned such type of statements and at the same time, we want our government's clear clarification. We think such type of remark is motivated, but it is unfortunate as our government is keeping mum in this regard," Fakhrul said.
Indian foreign minister during his recent visit to Bangladesh has told Bangladesh foreign minister that the final list of NRC is India's internal issue, Fakhrul said.
But this is not an internal issue of India when it is being claimed that the people who have been dropped from the NRC are Bangladeshi citizen and they will be sent to Bangladesh," he said.
"Öur government should come up with a clear clarification without keeping the nation in the dark," the BNP leader said.
India on August 31, published the NRC that excluded over 19 lakh people most of them are Bangla speaking.
A day after publishing the NRC, Assam Finance Minister and senior Bharatiya Janata Party (BJP) functionary Himanta Biswa Sarma in an interview to News18 said, "We will approach Bangladesh and ask them to take their people back, but during that time we will not allow them to vote and give them certain amenities."