Age demo: Expelled JCD leaders say they are 'innocent'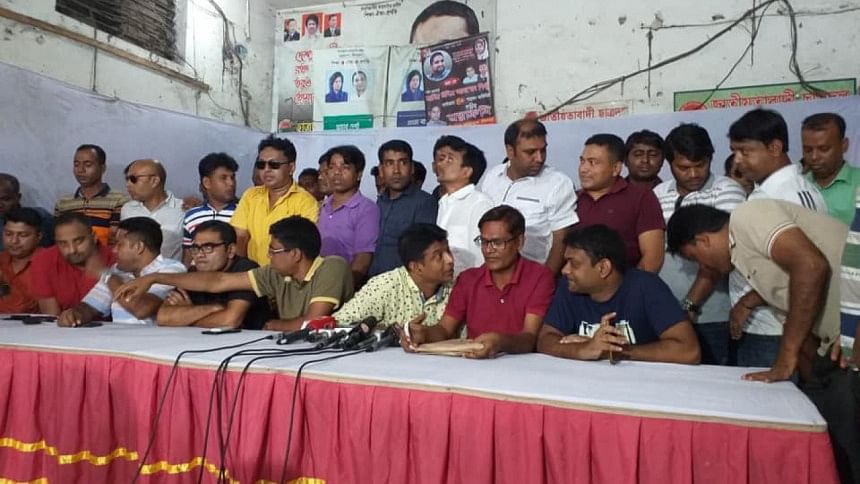 The Jatiyatabadi Chhatra Dal activists, who were expelled on charge of breaching the organisational code of conduct, today claimed that they were not involved with the recent unrest around BNP central office.
The 12 expelled JCD leaders said this in a statement, which was undersigned by some of their followers.
They also said that they would accept all decisions by the party chairman.
WHY WERE THEY EXPELLED?
On June 22, the 12 leaders were expelled on accusations of breaching the organisational code of conduct following the lock down of the main gate of the BNP's central office in Dhaka's Nayapaltan demanding a provision withdrawn regarding age restriction to be a JCD member.
The protesters also cut off the power connection to the building during the lock down on June 11 which was restored later.
WHY WAS THE DEMO LAUNCHED?
A press release on June 3, signed by BNP Senior Joint Secretary General Ruhul Kabir Rizvi, said anyone wanting a JCD post will have to be a member of the student organisation and must be a student of any education institution in Bangladesh. The individual also has to pass SSC or equivalent examination either in 2000 or later.
The party also decided to elect the president and the general secretary of a new JCD committee through a council within the next 45 days, according to the release.
The announcement, especially on the age restrictions, left a section of JCD leaders furious leading to the lockdown incident on June 11.