'Govt to procure rice directly from farmers from next season'
Agriculture minister says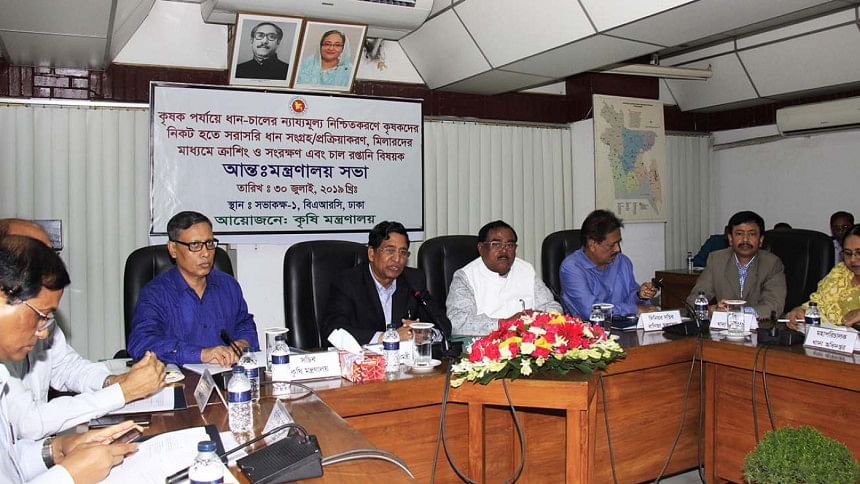 Agriculture Minister Dr Abdur Razzak today said the government will procure rice directly from farmers from the next season, and called upon all for suggestion on how to implement the decision effectively.
He also said the government will give 20 per cent incentive on rice export, according to a press release of the ministry.
The minister said this at an inter-ministerial meeting on steps taken to ensure fair price of rice to the farmers today at Bangladesh Agricultural Research Council conference room.
Mentioning that the agricultural sector is making significant contribution to the country's economy, Minister Abdur Razzak said the farmers will be benefitted if the rice could be procured from them directly.
"The farmers cultivate rice through a lot of hard work and sacrifices. We cannot let it happen that the farmers are deprived of fair price for their output," he said.
"Although the price of rice is low in the world market at the moment, still we have to go for rice export. If necessary, we would buy the rice from the farmers directly and then sell it at a low price to the country's poor people," the minister also said.
"The government is prepared to prevent any untoward situation over rice price in the next season," he said.
He stressed that the cost of production has to be lowered in order to make agriculture a profitable venture.
The government would provide the farmers with the necessary equipment for planting and harvesting rice, Minister Abdur Razzak added.
Speaking at the meeting, Food Minister Sadhan Chandra Majumder said 40 lakh tonnes of rice was imported during the 2017 flood in Haor areas, which still remains in the market and hence influenced the rice price in this year's Boro season.
He also suggested to stop giving incentive to Aus paddy cultivation.
"The government is taking steps for permanent solution to save the farmers. A total of 162 food storehouses of capacity 7-8 lakh tonnes will be built across the country," the minister said.
He also mentioned that the Ministry of Commerce has given approval for exporting 41,000 tonnes of rice.
The minister also stressed for implementing more effective technology for the development of the agriculture sector.