Drums of development being played all the time: Fakhrul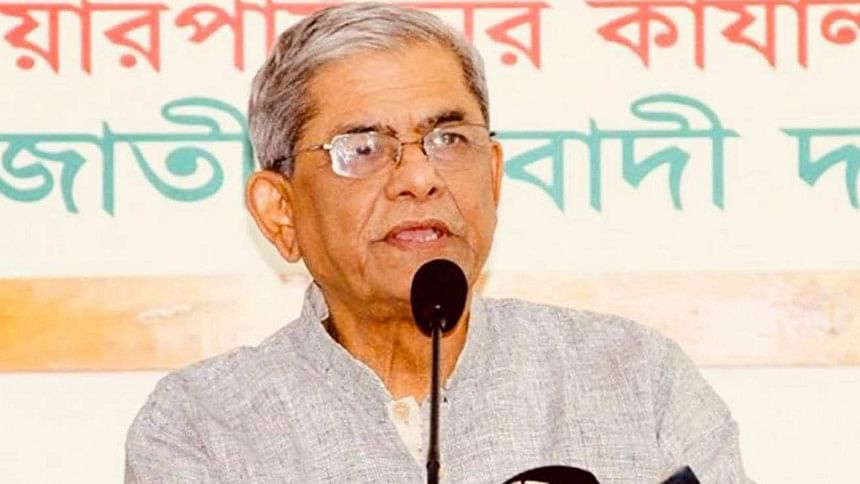 BNP Secretary General Mirza Fakhrul Islam Alamgir today slammed the prime minister for her explanation on gas price hike and said the price has been increased to ensure the interest of some people within the ruling quarter in the name of development.
"You are seeing that drums of development are being played here all the time. But we have seen very carefully that money is being taken from people's pocket and these are being used for the interest of some people within the ruling party," Fakhrul said.
Prime Minister Sheikh Hasina, at a press conference yesterday, said people should accept the gas price hike for the sake of the country's development as the government had to import LNG at a higher cost.
"If you (people) truly want economic development, you will have to accept it [gas price hike]," said Hasina, also president of ruling Awami League.
Rejecting the PM's explanation, Fakhrul said, "We must know that there is a cost of development. But the common people will have to be beneficiary of the development."
In her press conference, Hasina said the import cost of per cubic feet LNG is Tk 61.12, but it is being sold at Tk 9.80/cf by providing a huge subsidy. "Even after increasing the gas price, over Tk 10,000 crore has to be given as subsidy."
"The gas price has been hiked to give subsidy to the LNG importers who are either ministers, advisers or their dear ones," the BNP leader said.
Blaming the government for establishing a one-party rule, Fakhrul said the government is above the accountability and it has been hanging on to power forcibly by destroying the country's all democratic institutions including the judiciary.
Fakhrul was addressing a programme organised by Doctors' Association of Bangladesh (DAB), a pro-BNP doctors' front marking its central council -2019 at the Ladies Club in Dhaka this afternoon.