Anti-graft drive to be carried out in all sectors: Quader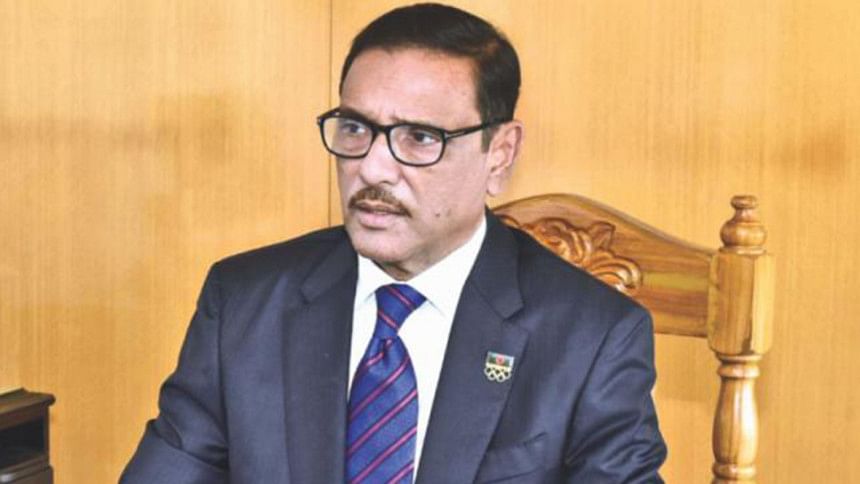 Awami League General Secretary Obaidul Quader today said the ongoing anti-graft drive will be carried out in all sectors in the country including political parties.
"Not only in Awami League, but the purification drive will also be carried out against people of other political parties and administration who have become wealthier through corruption," Quader said warning that the corrupted people in all sectors will be traced out.  
 He was addressing the council of Dhaka City South Unit of Awami Swechchhasebak League at Institution of Engineers, Bangladesh (IEB) auditorium in Dhaka.
"Sheikh Hasina's anti-graft action has begun. Bangabandhu's daughter [Sheikh Hasina] has proved that she belongs to honest courage and thus she initiated the anti-graft drives from her own house [AL]," Quader also the road transport and bridges minister said.
Claiming that the prime minister is marching forward with her dedication and achievement, Quader said, "Like her father Bangabandhu, she is heading forward amid life risk. No evil force will be able to halt her progress if we are united under the ideology of Bangabandhu."
BSS adds: Quader also said a single bad work can spoil 10 good works. That is why, he said, "Prime Minister Sheikh Hasina initiated the drives against wrongdoers to bring them to book".
AL Organising Secretary AFM Bahauddin Nasim, Science and Technology Affairs Secretary Engineer Md Abdus Sobur, AL Deputy Publicity and Publication Secretary Aminul Islam Amin, Swechchhasebak League's Council Preparatory Committee Convener Nirmal Ranjan Guha and its Member Secretary Gazi Mesbaul Hossain Sachchu and Dhaka City South Swechchhasebak League General Secretary Muhammad Arifur Rahman Titu, among others, were present on the occasion.
Dhaka City South Swechchhasebak League President Debashish Biswas chaired it.
The AL general secretary urged the leaders and workers of Swechchhasebak League to refrain from corruption, drug abuse, terrorism, tender manipulation, extortion and land grabbing.
He said there will be no room for extortionists, drug peddlers and corrupt people in the fresh committees of the Swechchhasebak League.
"Do not bring any opportunist in the organization only to increase the number of leaders and workers. We do not want opportunists, rather we want those workers who were with us in our bad time," he said.
Quader said the committees of Dhaka City South and North units of Awami Swechchhasebak League will be announced on the day of the organization's national council slated for November 16.
Earlier, the AL general secretary inaugurated the council of Dhaka City South unit of Swechchhasebak League by releasing balloons and pigeons.