Freedom of speech is not just a right!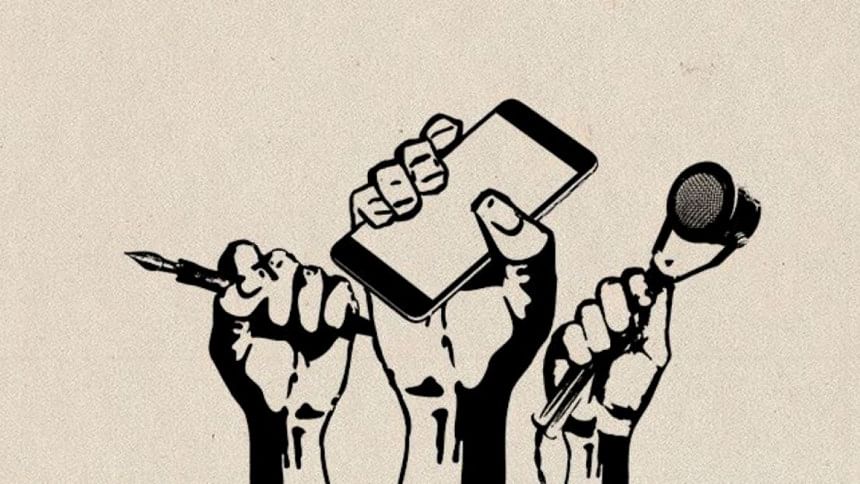 A large number of people in the world today no longer believe in the sanctity of people's absolute right to unfettered and unrestricted speech; preferring speech, rather, to have some restrictions—as people increasingly find more and more types of speech offensive. In Bangladesh, with the adoption of various laws such as the Digital Security Act, 2018, that is now literally the case.
In fact, even some (so-called) proponents of free speech themselves nowadays believe that the right to free speech should be subjected to "reasonable restrictions", ignoring the obvious, of course; which is: who defines what these reasonable restrictions should be?
Given that it is obvious that what is "reasonable" can vary substantially from person to person, what is scary is that people who are expressing such views, in regards to who decides, are most likely referring to themselves—that it is they who should get to decide what reasonable restrictions should apply to everyone's speech. And no matter what cover of "humanitarian and moral values" it comes enshrouded in, this, clearly, is an indication of a totalitarian mindset, albeit one which perhaps doesn't yet fully recognise itself.
Their opponents, on the other hand, argue that there should be no restriction on speech because that would violate the whole idea behind this most historically important right. And while I do stand on the side that says speech should not be restricted—apart from when it is intentionally and falsely defaming and except when it incites violence, both of which already have laws through which they can be dealt with—it is not only because of the problem of who gets to define/decide what restrictions on speech there should be, nor because it is simply an invaluable right. But because unlike most other rights, (free) speech is not "just" a right, but is a tool that humans use to shape, understand, articulate, and communicate their perceptions of what the world is like, their reality, who they are, and what they could be. Which means that not only do people explain themselves to others via speech, but they also explain themselves, the world and everything in it, to themselves, through it.
Additionally, it can also be argued that speech is the mechanism through which people of different opinions battle each other's views to find necessary compromises between them, instead of battling each other, literally. And through which differing views can clash with each other to bring greater clarity to our overall understanding of the nature of truth, and what the truth is, instead of enforcing acceptance of the naïve idea that truth is simply readily available to someone in particular, or someone belonging to a particular group or school of thought/belief, in its entirety, which is almost never the case.
But it goes even deeper than that as, according to Clinical Psychologist and Professor of Psychology, Dr Jordan Peterson, "Speech isn't precisely a mechanism," but is a process "by which all ideas are generated," as it is largely through speech that we think and/or formulate our thoughts. This is because the world simply presents everyone with an overwhelming amount of information, as "there is a lot of the world and there isn't very much of" us individually. All individuals are, therefore, a very "narrow channel" for an ocean of information to pass through and be processed or be understood by.
Unfortunately, there isn't a lot that we can do about that "except, listen and talk to other people." Because interacting with other people is one of the ways that we get to check whether what we believe to be true is actually true or not. And it is precisely because of this that "true speech is not possible without free speech," says Peterson. As without being able to "stumble around" and "sound foolish" which we are bound to when we "first start formulating ideas", we can never come up with ideas that are essential for human development and progress once they have been refined later either by ourselves or others. This means that without free speech, not only is true speech not possible, but neither is "true thought".
One of the greatest authors of the 20th Century, Aleksandr Solzhenitsyn, in his book The Gulag Archipelago, highlights this as one of the main reasons for the Soviet Union's decades of internal repression. According to Solzhenitsyn, it was the fact that people were constantly not only lying to others, but to themselves primarily regarding the society that they were living in that led to the Gulags of the Soviet Union, where any individual who had dared to speak the truth (and look under the veil of social falsities) were cruelly expelled to years of inhuman treatment—in many cases till death.
Having envisioned where such a society was destined to go, the great British author George Orwell also wrote in his famous dystopian novel 1984 that, "Thoughtcrime does not entail death. Thoughtcrime IS death," tying, once again, the lack of one's ability to speak their truths as they see fit with its unavoidable and ultimate outcome, the death of one's thought and of one's individuality and emotions with it altogether.
This is why, "speech", according to Dr Peterson, "has to be as untrammelled as possible so that people can be wrong and they can be biased and still express their opinions, including their darker ones, and then allow themselves to be subject partly to improvement by the world" which, "if you say things that are too stupid and act them out, will smack you a good one," and partly to other people. As without being "exposed to such corrective feedbacks" people tend "to drift and become subject to their own idiosyncratic insanities." 
And we see glimpses of that already within the sphere of social media where people are always pretending to have the most perfect lives; but, as research shows, are more depressed. This is because although people may truly not recognise such lies for what they are, their subconscious can and does. And, its ultimate result is that the social media culture—or the practice of everyone lying to everyone else, as well as to themselves—is now "ripping apart the social fabric of how society works" by curating people's "lives around this perceived sense of perfection"—open acceptance of falsities over truths—according to one former executive of Facebook, Chamath Palihapitiya.
This is why freedom of speech is not just a right, but is also a tool that humans use to function in the world and a most important means through which they make sense of themselves, the world and their place in it. It is what people use to assign meaning to their lives—something that no individual or government should ever be granted the power to take away from them. And so, for all those who want restrictions on speech because they find certain types of speech offensive, here is a solution: "choose not to be offended."
---
Eresh Omar Jamal is a member of the editorial team at The Daily Star.
---
Follow

The Daily Star Opinion

on Facebook for the latest opinions, commentaries and analyses by experts and professionals.
To contribute your article or letter to The Daily Star Opinion, see our

guidelines for submission

.
---