Battling poverty today and further down the road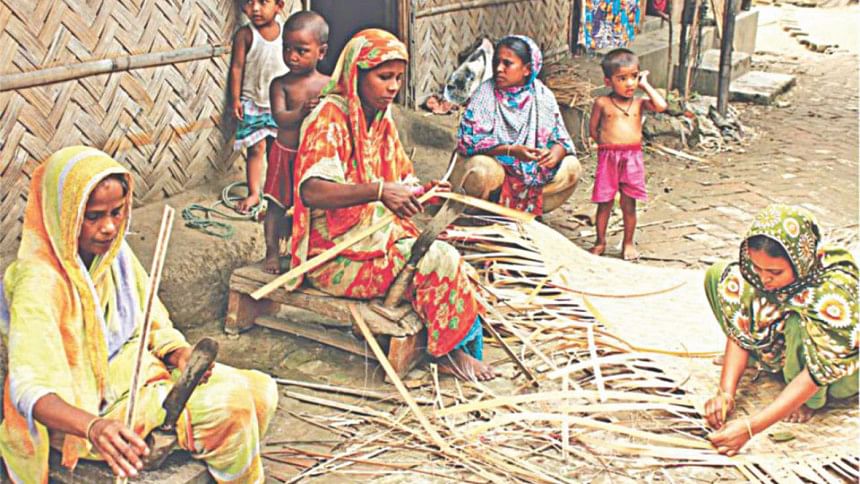 A government survey report made public on October 17 confirmed what has been suspected for some time now; that the poor's share in the national income decreased in the past six years, while the richer segment of the population's increased. Whereas the poorest five percent had 0.78 percent of the national income in their possession back in 2010, it has now been reduced to a meagre 0.23 percent. The richest five percent, in contrast, increased their share of the national income to 27.89 percent from 24.61 percent only six years back, showing, as the report noted, that inequality in terms of wealth accumulation between the rich and the poor has increased over this period quite substantially. 
But an even bigger concern is the slowdown in the rate of poverty reduction which the report highlights. Especially, as this happened over a period when Bangladesh maintained an exceptionally high GDP (gross domestic product) growth rate. Because what this indicates is that the fruits of this growth have disproportionately gone to the richer sections of the population compared to the poorer ones and, most importantly, that the state's policies in addressing income inequality over the years have also failed miserably. Yet, if we are to believe the finance minister's latest assurance delivered at an international seminar in New York, Bangladesh is set to eradicate poverty by the year 2024!
However, once rhetoric is pushed aside and such a prospect is looked at objectively, what has to be admitted is, for that to truly transpire, substantial changes must be made in governance and that too urgently. Besides that, the government also needs to implement better policies and be more focused on some key areas that can quicken the rate of poverty reduction.
According to Dr Akhter Ahmed, who leads the operation of Washington-based think tank International Food Policy Research Institute (IFPRI) in Bangladesh, these areas of focus should include accelerating farm sector growth, shifting the "pure tenants" (the landless people) to more skilled areas of production and increasing investment in farm research and development. And this makes good sense, as according to a joint study by Brac and the UK's Department for International Development, the agricultural sector is three times as effective as non-agricultural sectors when it comes to reducing poverty—a 1 percent increase in agricultural income reduced poverty by 0.39 percent, in comparison to a decrease in poverty by only 0.11 percent when there is a 1 percent rise in non-agricultural incomes. 
Today, however, the agricultural sector faces some major challenges that include, but are not restricted to, scarcity of surface water for irrigation, a decline in groundwater level, arsenic pollution, etc., and is becoming increasingly vulnerable to natural disasters such as the floods that have recently swept across South Asia, causing immense damage to this year's crops here in Bangladesh. All the more reason for the government to support agricultural productivity, even more at this juncture, particularly given that it can be such an effective tool in reducing poverty and ensuring the nation's food security all at the same time.
Simultaneously, it is important not to forget the 2.5 million households in Bangladesh that currently live in extreme poverty. These people are in need of immediate assistance, and the only way to ensure their well-being is through social safety-net programmes, at least until they can be provided with some stable means of earning a regular income. 
In that regard, one of the major problems that we face is that the beneficiaries of such programmes often end up being those other than the ultra-poor. In other words, because of widespread corruption in most government aid programmes, resources meant for the poor are frequently diverted elsewhere. This is a concern that even the current Anti-Corruption Commission Chairman Iqbal Mahmood expressed in a recent interview with The Daily Star, saying that "many of the sufferers" of corruption "are those who are poor" (Lack of actionable evidence biggest barrier to prosecuting influential, October 19).
And that, "It is the people in rural areas that are often the worst hit by corruption," which should most oblige the government to focus on thwarting graft as its victims are those who are already the worst sufferers and, hence, are in most desperate need of government assistance (as opposed to encumbrance). 
However, providing such assistance cannot be a long-term solution. If the aim is to remove poverty in the long run, the government must focus on the structural dimensions of poverty and inequality. According to Rehman Sobhan, the chairman of Centre for Policy Dialogue, "The poor are embedded in certain inherited structural arrangements such as insufficient access to productive assets as well as human resources, unequal capacity to participate in both domestic and global markets and undemocratic access to political power. These structural features of inequality reinforce each other to effectively exclude the poor from participating in the benefits of development or the opportunities provided by more open markets."
So, to eradicate poverty and inequality, the government must address their root causes, rather than just their symptoms. This means that the government must allow for and expand "the ownership and control of the resource poor over productive assets," strengthen "the capacity of the poor to compete in the market place," democratise "their access to a knowledge based society," redesign "budgetary policy to reach public resources directly to the poor," restructure "monetary policy to deliver credit and provide savings instruments to the poor," design "institutions for collective action by the poor" and "politically empower" them.
Otherwise, not only is Bangladesh likely to fail in its endeavour to eradicate poverty by 2024, but poverty also will continue to haunt the nation further down the road.  
---
Eresh Omar Jamal is a member of the editorial team at The Daily Star.
---
Follow

The Daily Star Opinion

on Facebook for the latest opinions, commentaries and analyses by experts and professionals.
To contribute your article or letter to The Daily Star Opinion, see our

guidelines for submission

.
---