A travesty of justice
The jailing of Reuters reporters is a new low for global press freedom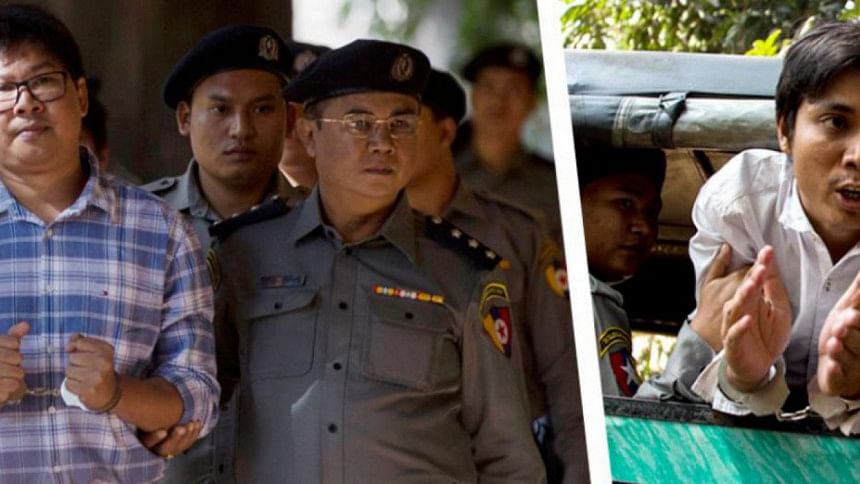 The sentencing of two Reuters journalists to seven years in prison by Myanmar should enrage anyone who cares about basic human rights and press freedom. Not only was it a gross miscarriage of justice but also yet another reminder of Myanmar's obstinate determination to prevent or punish anyone for unmasking the brutality unleashed on its Rohingya minority.
The two incredibly brave journalists, Wa Lone and Kyaw Soe Oo, accused of violating the Official Secrets Act, were investigating a massacre of Rohingya Muslims when they were arrested in December 2017. After the rigorous sentencing, Wa Lone firmly stood his ground, saying: "We performed according to media ethics. We didn't do anything harmful towards our nation. We didn't commit any crime…This is directly challenging the democracy and media freedom of our country...Since we didn't do anything, we have no fear."
Courageous would be an understatement to describe what Wa Lone and Kyaw Soe Oo, both Myanmar nationals, were trying to do. They were investigating the murder of 10 Rohingya men by Buddhist villagers and Myanmar troops in Rakhine State. The Reuters report that came out as a result of their investigation revealed the chilling details of the killings—how Rohingya men were bound together, hacked or shot to death, and buried in one grave, some apparently still alive when buried. The reason this report is so significant and perceived to be so threatening by the Myanmar government is that it not only draws on accounts of villagers who confessed to torching Rohingya homes and killing Rohingya Muslims but this was the first time that soldiers and paramilitary forces were implicated by security forces themselves. By arresting the journalists, the Myanmar government was desperately trying to stop the report from ever seeing the light of day. Although they didn't succeed—it is naïve to think that an atrocity of this magnitude could be so easily suppressed in the digital age—what they did manage to do is induce fear among journalists in Myanmar and send a clear message.
Wa Lone and Kyaw Soe Oo will now remain confined within prison walls for the next seven years just for doing their job. This is an ominous sign for independent journalism and an attack on a core institution of Myanmar's young democracy. In the face of overwhelming evidence of the mass atrocities committed against the Rohingya—satellite imagery of burnt villages and survivor accounts of rape and killings—the charges against Wa Lone and Kyaw Soe Oo for "possessing state secrets" seem almost laughable. In fact, the Reuters report had only lent credence to the nightmarish stories recounted by Rohingya refugees and a long list of well documented crimes against humanity committed by the Myanmar army. The investigative report's lurid shocking details of the crimes only substantiated the fact that there is no moral red line—no boundary not to be crossed—for Myanmar's state apparatus. It is a cruel irony that the journalists who uncovered the pre-planned killings of the 10 Rohingya men are now languishing in prison while those who killed the innocent Rohingya men are happily roaming free.
Myanmar's convenient branding of information acquired by the journalists as "possession of state secrets" is not much different to its insistence that the Rohingya be called "displaced persons" instead of "Myanmar nationals". It seems to be part of its longstanding strategy to use manipulative semantics to bend the truth. In a just world, killing the innocent could never have been defended by calling it an act of "violating the state secrets law".
Global freedom of press has plunged to a new low in recent times. Freedom of speech in dozens of countries is on the decline. Journalists are increasingly facing violence, government censorship, prosecution, and commercial pressure due to the growth of the Internet. And attacks on the media in the name of "fake news" jumpstarted by Donald Trump have almost had a contagion effect. It has given repressive states fresh ammunition to dismiss and discredit reporting that doesn't suit their agenda by calling it "fake news". This dangerous rhetoric has made the job infinitely tougher for journalists who are increasingly being seen as the enemy of the state rather than as part of a fundamental institution of any democracy. In this context, the fearless journalism of Wa Lone and Kyaw Soe Oo, in the face of state repression, is nothing short of heroic.
The throttling of the media is nothing new. Governments have always been cautious of granting the fourth estate "too much freedom". And with the dawn of digital and citizen journalism, the threat of independent journalism as perceived by authoritarian states has heightened. But just as journalism has evolved with the rise of the Internet, so have tools of state repression—monitors, filters, firewalls—for greater control of the online world.
Journalists like Wa Lone and Kyaw Soe Oo are considered to be part of this very threat to the powers that be—and even more so when the crimes in question are state-sponsored. Some viewed this episode as a litmus test for press freedom for Myanmar but it has failed the test miserably. The jailing of Wa Lone and Kyaw Soe Oo not only signals the beginning of the demise of press freedom in the country but also proves that its security apparatus can conduct itself with absolute impunity. One is only left to wonder how sincere Myanmar is about its ambitions of "transitioning" from a repressive pariah to a "democracy".
---
Nahela Nowshin is a member of the editorial team at The Daily Star.
---
Follow

The Daily Star Opinion

on Facebook for the latest opinions, commentaries and analyses by experts and professionals.
To contribute your article or letter to The Daily Star Opinion, see our

guidelines for submission

.