How volunteering can help the youth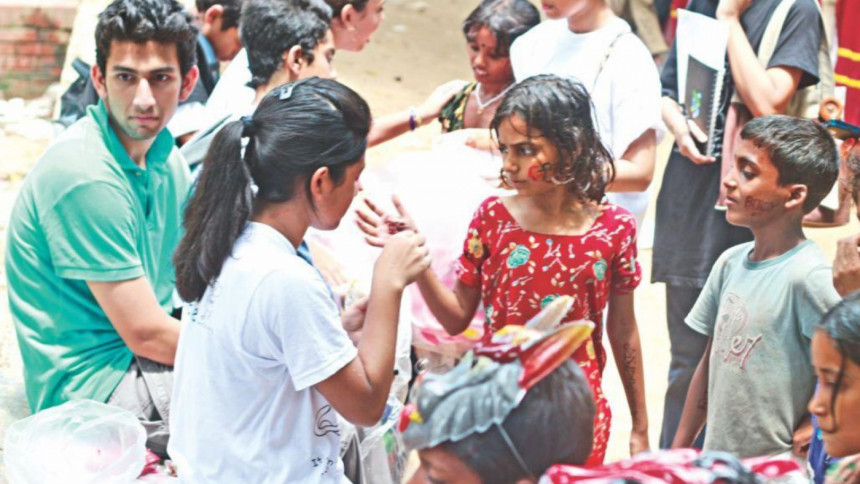 Each year, more than one billion people are engaged in volunteering worldwide. Their actions have economic, private and social values. You may wonder how helping others has economic value when no monetary transaction is involved. Well, when volunteers give up their time to feed the poor or build a shelter for tornado victims, what is the value of the output they are producing? How much would we need to pay for these jobs if they did not do these for free?
The private value of volunteering is a lot trickier to measure. Studies suggest that it is great for personal well-being. Helping others makes us happy. And then there are social benefits. Helping people in distress, has, in terms of economics, substantial "positive externalities"—improved employment and income opportunities, fewer crimes, lower risk of mental-health problems, and so forth.
Why do people give up precious time to help others? Why is it that we offer to volunteer or donate instinctively after a natural or man-made disaster? One reason is that as humans we have evolved to survive in groups, not alone. Rallying together makes us less alone in that experience. When something terrible has happened which threatens our survival, we tend to reach out and connect with people around us. We show empathy. It is fundamental to human nature, says Christine Carter, a sociologist at the University of California, Berkeley.
It is not only in countries like the US, Canada and the UK, that a lot of people dedicate their time to social causes for free; in fact, the top two countries in terms of participation in volunteering time are Turkmenistan and Sri Lanka where approximately 56 and 45 percent of the population engage in some kind of voluntary work. Governments in these countries encourage citizens to do so.
In our country, it can be an effective way to engage the youth. Young men and women, gasping to be part of something bigger than themselves, will find a sense of purpose by serving others. We lack in adequate numbers of libraries, sports facilities, gardens and outdoor activities. Many private universities and colleges do not have a campus. Cultural activities seem to be on the decline. In the alleyways of the residential areas of the capital, it is a common sight to see young men sitting idly by the roadside looking transfixed at their cell phones during the afterhours. They are on Facebook trying desperately to "connect" while the best days of their lives go by. They have nothing better to do. Someone has decided that it is more important to fill their pockets than enrich their souls.
While individual acts of generosity are good, voluntarism is most effective when organised through a formal channel. In North America, organisations select voluntary workers based on skills just like in the real jobs. Volunteering experiences are given equal credit by employers during hiring process. Opportunities are aplenty in Bangladesh—in hospitals as a visitor, helping elderly people with grocery shopping, feeding the homeless, tutoring underprivileged students, etc.
Now let me share a personal experience of how I benefitted from volunteering during a most difficult time of my life.
Last year, soon after arriving in Canada as an immigrant, I found myself in a state of confusion. A great confusion that arose from physical and psychological abuse. It came from someone I had vowed to live the rest of my life with. I moved out with the help of a friend. I managed to get a full-time job. The days were long and the nights mine alone. At times, I experienced numbing grief.
I had to turn myself around. I sought counselling. I tried reading more. Still feeling a void inside, I decided to reach out. So I signed up as a volunteer for a local organisation. Once a week I would visit an isolated, elderly person for conversation. They found a match in "M" who I was told has bipolar disorder. Born in a conservative country in the Middle East, he is 75. He is diabetic and without a family.
M was funny. M was also intelligent. He could see through the brave face that I put on every time I visited him. One day he wanted to know why I volunteered to see him. He asked about my family. I briefly told him what I was going through. I said that I wanted to stay positive. I had to be useful to people and myself.
M would always greet me outside his tiny apartment with a big smile on his face. One day he announced that he would like to start a business from home. A month later, he said that he wanted to become a professional model. On another occasion he said that he would like to create a podcast. Surely, he had a lot of ideas. And his energy was contagious.
The colourful summer slowly turned into a pale winter. I was now visiting M once every two weeks. His health deteriorated. One day I went there only to learn that he was in a hospital. He is back home now, weaker.
M did not become an entrepreneur or a professional model. But he managed to do something magical. Despite his age and poor health, he was able to inspire a much younger, healthy person. "I said all those things to motivate you," he said.
All this time I thought I was helping someone in need. Who knew that I would be the one being helped?
Amitava Kar is a mechanical engineer.