Agriculture on steroids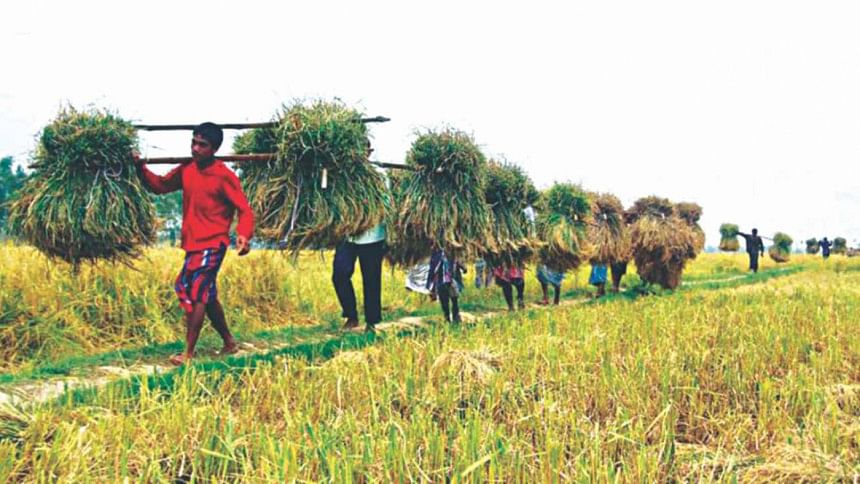 The agricultural sector which still employs about 47 percent of the labour force and comprises 16 percent of the country's GDP, is going through a sort of a crisis, despite the phenomenal success it has achieved. Extensive irrigation, high-yielding crop varieties, mechanisation, improvement in markets enabled by policy reforms and investment in agriculture research and human capital have driven a miraculous growth in Bangladesh's agriculture. Today, the largest share of public expenditure for agriculture goes to subsidies. 
At the same time, a large number of farmers are overusing pesticides and chemical fertilisers, creating environmental and health hazards. According to a recent report in this newspaper, farmers in Ishwardi upazilla of Pabna have been using as much as five times the recommended dose of pesticides on beans, seemingly in fear of losing their investment due to pest attacks. 
The report reminds me of something Sir Fazle Hasan Abed shared with me in an interview in 2014. "Excessive use of pesticides on vegetables is a big problem," he said. BRAC wanted to grow vegetables for European markets. These vegetables would have to meet the European standards which meant that the amount of pesticides used on the produces would have to be within a certain limit. But farmers started spraying so much pesticide on the crops that at one point BRAC had to send workers to the fields to "confiscate" the sprayers. 
Do our farmers have an "obsessive compulsive overuse disorder"? Why do they do it? It's not like they get pesticides for free. As preposterous as it may sound, they do it because they are not aware of its harmful effects. They also do not seem to know that crops sprayed with insecticides should not be harvested for eating or for sale until 15 days after spraying. Or, they do not care. Do they know that the more they use, the more resistance the pests grow to the chemicals, prompting them to use an even higher amount the next time? Then there's another problem. Unscrupulous businessmen allegedly sell substandard or fake pesticides which are cheaper, yes, but injurious to public health. How do these toxic chemicals get into the market? 
Excessive use of pesticides, according to experts, increases the risk of high level of toxic residues in crops and vegetables which slowly affect many of our organs such as kidneys, lungs, eyes, stomach and even the brain. Hazards also include gradual contamination of air, soil, water. Since these adverse effects are not immediately visible, most of us are overlooking the risks. 
What could be done to keep them from spraying sprees? Legal actions should be taken against farmers who endanger public health, suggested an expert, according to the report. Maybe. But won't it look a little weird if we start jailing farmers for spraying too much while rapists walk free? How about providing them with more training instead on precautions when buying, transporting and storing pesticides, properly calibrating sprayers before use, wearing correct protective clothing, what to use and when to use, disposal of empty containers and so on? 
It's a challenging task and will have to be done with care. When it comes to farmers, often called the most hidebound of managers, diffusion of knowledge has to take place through participatory communication and in a joyful environment keeping in mind that they are famously and sensibly sceptical of change, since the cost of getting things wrong (messing up an entire season's harvest) is so high. 
They need to be trained on Integrated Pest Management (IPM) which is more environment-friendly and has less adverse effects on crops. They should be introduced to new technologies like Leaf Colour Chart (LCC) which will reduce their heavy dependence on fertilisers such as urea. They need crop insurance that will protect them against the loss of crops due to natural disasters or the loss of revenue due to declines in the prices. If the bean farmers of Pabna were insured, there would be less chance of them overusing insecticides in order to prevent losses due to pest attacks. 
In an impressive move earlier this month, three officers of the Department of Agricultural Extension developed mobile apps aimed at helping farmers prevent pest attacks and control diseases that eat up a large portion of crops each year. Innovations like these will no doubt help farmers grow crops more efficiently using digital technology. And yet they need more policy support. There should be more coordination between farmers and the Department of Agricultural Extension in order to prevent overproduction which results in sharp decline in prices. They need support in building organised forums which will empower them to bargain prices. 
The brow of the Bangladeshi farmer is wet with honest sweat. He has performed miracles not only here but also overseas, in the Middle East and in Africa, turning miles of barren land into fertile fields with dancing crops. He is a risk taker. His trade is more complex than we tend to think. It can be viewed as a branch of matrix algebra. A farmer must constantly juggle a set of variables, such as the weather, moisture levels and nutrient content of the soil, competition to his crops from weeds, threats to their health from pests and diseases, and the costs of taking action to deal with these things. If he does the algebra correctly, or someone else does it for him, he will optimise his yield and maximise his profit.
The goal of smart agriculture, then, is twofold. One is to measure the variables going into the matrix as accurately as possible. The other is to relieve the farmer of as much of the burden of processing the matrix as he is comfortable with ceding to technology. 
The writer is a member of the Editorial team, The Daily Star.